Hundreds of Rutgers University students and their parents held a rally on the university's New Brunswick, New Jersey, campus on May 21 to speak out against the school's COVID-19 vaccine mandate for students.
The event was organized by Turning Point USA, Young Americans for Liberty, and NJ Stands Up, a medical freedom advocacy group, in response to the university's new requirement—introduced in March—that all students enrolled for in-person classes for the 2021 fall semester must be vaccinated for COVID-19.
The mandate doesn't apply to students enrolled in fully remote online programs; it also allows exemptions from vaccination on medical or religious grounds, according to a statement at the time the requirement was announced.
While the university's faculty and staff aren't required to get vaccinated, Rutgers Executive Vice President and Chief Operating Officer Antonio Calcado has strongly urged them to receive the vaccine.
"We are committed to creating a safe campus environment in fall 2021, and to support the health and safety for all members of the Rutgers community, the university has updated existing immunization requirements for students to include the COVID-19 vaccine," Rutgers spokeswoman Dory Devlin told The Epoch Times via email. "The university's position on vaccines is consistent with the legal authority supporting this policy."
State lawmakers, some of whom attended the rally, have responded to the mandate by proposing measures to prohibit forced vaccination, as well as discrimination against unvaccinated individuals.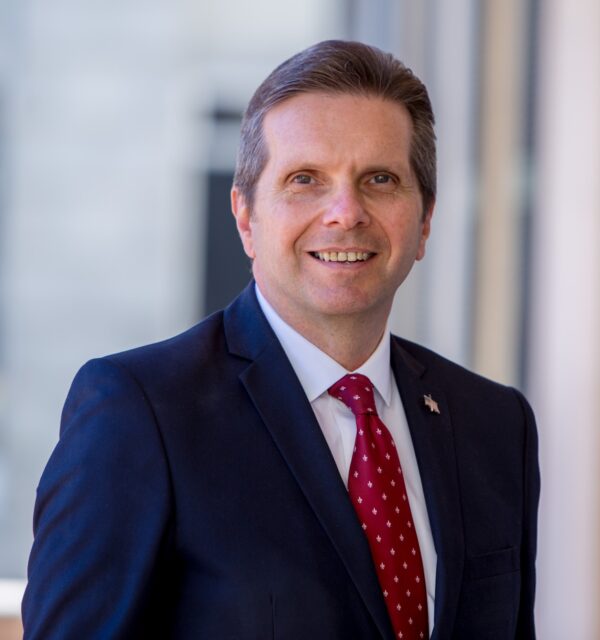 New Jersey Assemblyman Gerry Scharfenberger, a Republican, has introduced legislation to prevent the usage of vaccine passports and prohibit discrimination against individuals who haven't received the COVID-19 vaccine.
The bill, also sponsored by two other GOP Assemblymen, Gregory McGuckin and John Catalano, seeks to "combat the implementation and the very notion of mandating individuals acquire 'vaccine passports' before taking part in common societal activities as well as preventing the discrimination of those who do not wish to disclose such information," Scharfenberger said in a statement.
The legislation would make it unlawful to ask a person whether they received a vaccine against COVID-19, the disease caused by the CCP (Chinese Communist Party) virus, commonly known as the novel coronavirus.
It also prohibits any individual who hasn't received a COVID-19 vaccine from being denied a right to conduct any business, to travel, to receive health care services, receive education, enter any place of business, such as a store or restaurant, any public place, or to attend any entertainment or sporting event.
The bill also prohibits any discrimination against those who don't disclose their vaccine status.
A proposal by GOP state Assemblywoman Serena DiMaso would (pdf) prohibit colleges and universities that receive state or local funding from mandating COVID-19 vaccines or discriminating against students who have not received the vaccine.
Speaking at the rally, Scharfenberger warned that every time people pull back some of their freedom, even if only temporarily, it is gone forever.
"You will never get it back," he said.
"Allowing them to mandate vaccines to get into Rutgers University is a slippery slope. They're going to keep moving the goalposts until they dictate every aspect of your life," Scharfenberger added.
To prevent that, Scharfenberger called on rally attendees to ask their legislators to co-sponsor his bill and have them demand to bring the bill to the Assembly floor for a vote. He also encouraged the audience to vote in the November election, saying that 70 to 80 percent turnout is needed to exercise people's power.
"How can they mandate students get the vaccine but not the faculty?" said state Sen. Michael Testa Jr., a Republican. He urged the audience to contact their legislators, "inundate their offices with letters, emails, show up like today—not just on these issues, on every single issue."
Phil Rizzo, who is running as a Republican for New Jersey governor, said at the rally that if he's elected, his administration will send a message to Rutgers that if it doesn't drop its vaccine mandate, the state will pull $1 billion from the university until the students' liberty is assured.
"I trust New Jersey residents and business owners and parents to make decisions for themselves with their doctor to keep themselves healthy," he said. "It's not the government's job to keep you healthy. It's the government's job to keep you free."
Medical Community Reacts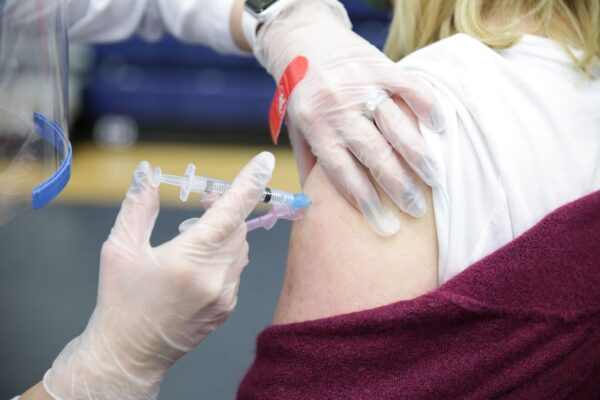 "The COVID-19 vaccines have proven to be safe and effective in preventing serious illness, hospitalization, and death," Brian Strom, chancellor of Rutgers Biomedical and Health Sciences and executive vice president for health affairs, said last month. "Vaccination is key to stopping the current pandemic and to the return of campus instruction and activities closer to what we were accustomed to before the pandemic.
However, members of the medical community and activists expressed their concern about the directive.
Dr. Hooman Noorchashm, M.D., Ph.D., a physician-scientist and an advocate for ethics, patient safety, and women's health, sent an open letter to Rutgers officials in March warning of a potential safety risk of the COVID-19 vaccine. While Noorchashm agreed in his letter with the university's policy of seeking to ensure maximum immunity for all students and faculty, he raised concerns about administering the vaccine to students who achieved natural immunity.
Natural immunity can be developed through contracting COVID-19 and the percentage of naturally infected individuals could be higher in the population of college-aged persons, the letter stated.
"Some experts believe that natural immunity may even be more robust than vaccine immunity—but at least equally effective in the vast majority of those naturally infected," Noorchashm said.
He advised that naturally immune students should be excluded from mandatory vaccinations.
Moreover, "indiscriminately vaccinating persons with recent COVID-19 infections poses a risk of clinical harm to recently infected persons. There have been some very prominent young deaths following vaccination—and it is becoming clear that adverse event [reaction] rates are higher in the previously infected," he said.
Natural immunity can be detected through tests for antibody presence, he added.
Meanwhile, the Association of American Physicians and Surgeons (AAPS) issued an open letter to universities asking them "to reconsider [their] new policy mandating COVID-19 vaccination of students prior to returning to campus."
The letter, signed by AAPS President Dr. Paul Kempen, M.D., Ph.D., stated that the three COVID-19 vaccines that were granted emergency use authorization (EUA) by the Food and Drug Administration (FDA) "are not FDA approved to treat, cure or prevent any disease at this time.
"Clinical trials will continue for at least two years before the FDA can even consider approval of these vaccines as effective and safe," the letter stated.
Positive COVID-19 test results "may be false-positive testing errors or asymptomatic infection that is not clinically proven to spread disease." the association stated in the letter. "There is outpatient early treatment for the disease that "has been demonstrated effective in adults.
"Both unvaccinated and vaccinated students should be permitted on campus," the letter concluded.
Robert F. Kennedy Jr., chairman of Children's Health Defense, sent a letter to Rutgers President Jonathan Holloway, noting that federal law prohibits mandating products approved under the U.S. Food and Drug Administration's EUA.
Federal law requires that the person to whom an EUA vaccine is administered be advised, "of the option to accept or refuse administration of the product," Kennedy said in the letter. "The reason for the right of refusal stems from the fact that EUA products are by definition experimental.
"Under the Nuremberg Code, no one may be coerced to participate in a medical experiment," Kennedy said, warning the university about "the liability for forced participation in a medical experiment."
The Nuremberg Code was created after World War II and sets the standard for regulating human experimentation.
The Centers for Disease Control and Prevention (CDC) says on its website that COVID-19 vaccines "are effective at preventing COVID-19 disease, especially severe illness and death … and reduce the risk of people spreading COVID-19."
The CDC is still learning about how effective the COVID-19 vaccines are against variants of the virus, how well the vaccines protect people with weakened immune systems, and how long they can protect people, the website said.