Democratically elected governments must play a role in regulating social media, a UK minister said on Monday in the wake of Twitter's removing of U.S. President Donald Trump's account, and ahead of the introduction of a new UK bill to regulate online space.
In an op-ed published in The Times of London on Monday, Digital, Culture, Media, and Sport Secretary Oliver Dowden said that democratic societies have to seek a balance between protecting vulnerable people from harm and protecting free speech, and "find ways to impose consistency, transparency, and fairness in the online sphere."
Dowden said that the past decade has been largely defined by the power of social media, whose "unprecedented ability to spread ideas and bring people together" catalysed the Arab Spring 11 years ago and may have played a role in the storming of the U.S. Capitol on Jan. 6.
"Put simply, we have a new printing press—but it's an invention whose implications society and governments are just beginning to grapple with," he wrote.
Dowden said that the new ways with which people consume news and information gave the few social media monopolies "vast power" in shaping how people see the world.
"To an outsider, it doesn't always seem this power is wielded transparently or consistently," he said.
"Iran's supreme leader has a Twitter account, while the elected president of the United States is permanently suspended from holding one," Dowden cited as an example of the inconsistencies in social media's rule enforcement.
As to the debate in recent years on whether social media should be defined as a "platform," which is comparable to a utility, or a "publisher," which is responsible for the content it publishes, Dowden said neither definition works realistically.
"Holding companies liable for every piece of content—for 500 hours a minute of uploads on YouTube alone—would break social media," he said.
"But equally, when these companies are curating, editorialising, and in some cases removing users, they can no longer claim to be bystanders with no responsibility whatsoever."
Online Safety Bill
Dowden said the UK government's upcoming online safety bill will be one of the first steps to address the dilemma, and that the UK wants to work with its democratic allies to "forge a coherent response" as it takes up the G7 presidency.
On Dec. 15, 2020, the UK government announced that new rules would be introduced to penalise tech companies if they fail to protect people from "harmful content," and to protect free speech.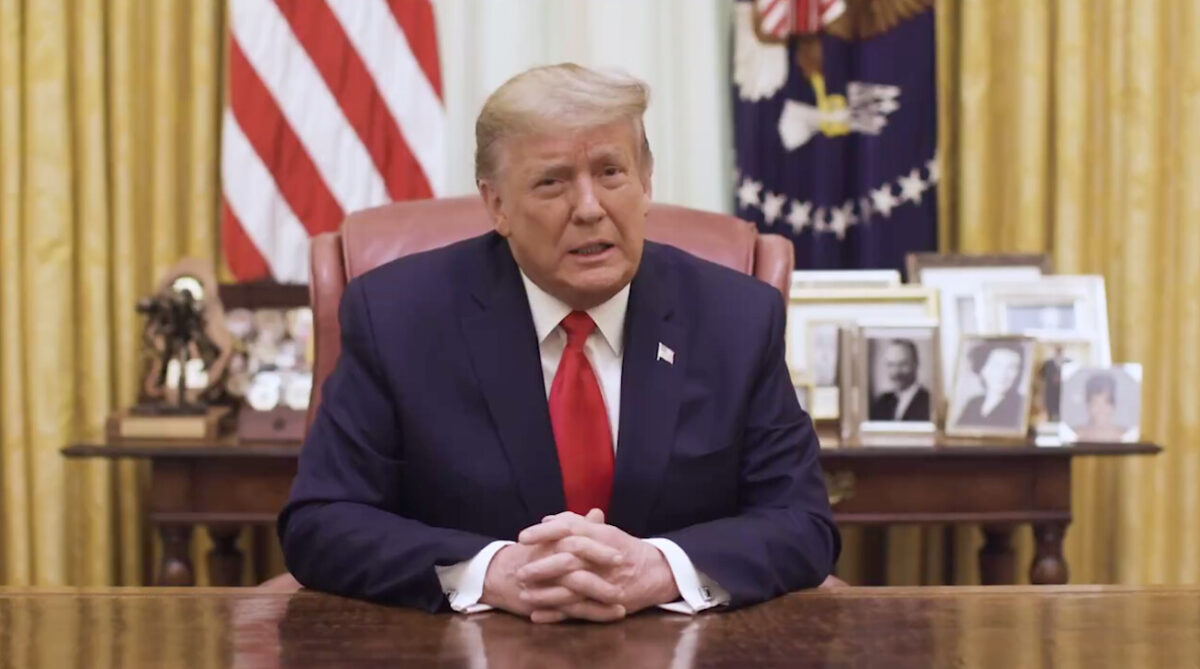 Twitter permanently removed Trump's account from its social media platform on Jan. 8. YouTube on Jan. 12 removed new content from Trump's account and suspended his channel for at least a week, saying that the channel violated its policies for "inciting violence." Snapchat joined in on Jan. 14 permanently removing Trump from its platform.
The deplatforming of the U.S. president has caused concerns over censorship and security around the globe.
World leaders including Mexican President Andrés Manuel López Obrador, German Chancellor Angela Merkel, and Acting Australian Prime Minister Michael McCormack have condemned the move.
Experts have told The Epoch Times this censorship by Big Tech could cause countries to consider developing their own platforms rather than depend on a handful of private U.S. companies that have the ability to cut off communication to millions.
Mimi Nguyen Ly, Bowen Xiao, and Alexander Zhang contributed to this report.