A newly-elected Georgia congresswoman says she will submit articles of impeachment against President-elect Joe Biden on Jan. 21.
"On Jan. 21, I will be introducing articles of impeachment on Joe Biden for abuse of power," Rep. Marjorie Taylor Greene (R-Ga.) told The Epoch Times, accusing Biden of withholding foreign aid to Ukraine and pressuring them to complete a deal with his son Hunter Biden.
"When he was Vice President of the United States, he abused the power of his office," she said, "by basically saying that he would withhold a billion dollars of foreign aid to Ukraine until he got a deal for his son, Hunter Biden, with a Ukrainian energy company."
The article of impeachment will also focus on "widespread evidence" that came to light through Hunter Biden's laptop, referencing allegations from former business partner Tony Bobulinski that the Biden family was "engaging in deals with Chinese energy companies, with communist China."
Greene believes she can get support for impeachment in the House because "there's huge support among Republican voters and the American people are fed up with corruption."
"We cannot have a man in office in the most powerful seat of our country and arguably the world, who is willing to sell out America, sell out his position just so that his son Hunter Biden can get a paycheck," Greene added.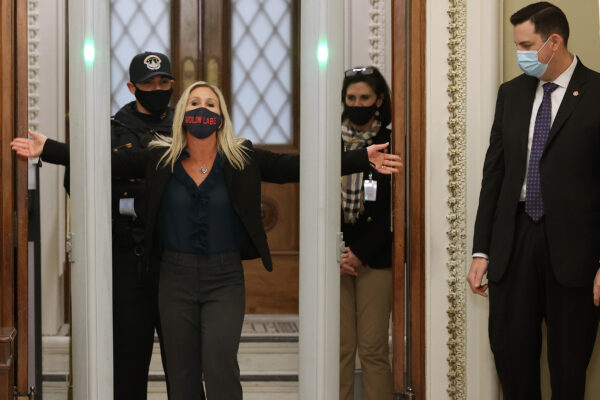 The subject then moved on to the recent second impeachment of President Donald Trump.
"Nancy Pelosi has lowered the bar of impeachment, basically to the basement, by what she did yesterday, which was the final show of a 4-year-long witchhunt that they started on day one with President Trump. President Trump was guilty of no crimes and they impeached him twice," she said.
Democrats in the House of Representatives, joined by 10 Republicans, voted to impeach President Donald Trump for a second time, in a 232–197 vote on Jan. 13. The single article of impeachment alleges that the president incited an insurrection that resulted in the breach of the U.S. Capitol on Jan. 6.
"They impeached him when he told his supporters at the rally at the White House to march to the Capitol peacefully and patriotically," Greene said.
Greene believes that it is actually Democrat party members who are "guilty of inciting violence."
"Democrats are the ones who are guilty of inciting violence in this country and they should be held accountable for that.
"They support violence, Antifa, BLM, violent riots that caused billions in damage over the past year, burned cities, attacked police officers, occupied cities, ruined people's businesses and their livelihoods, and took over police precincts."
Greene also expressed astonishment at Republicans who may have benefitted from Trump but subsequently voted to impeach him, adding that "Republicans all over the country are taking notes."
Ivan Penchoukov contributed to this report.