Falun Gong adherents have delivered a petition signed by over 20,000 Canadians to Immigration Minister Marco Mendicino urging him to refuse immigration or visitor visas to Chinese officials involved in the persecution campaign against the spiritual group in China.
Delivered to Mendicino's office by email on Nov. 25, the petition is part of the group's national campaign calling the government to use the Magnitsky Law and the Crimes Against Humanity and War Crimes Act to sanction and bar entry to Chinese officials responsible for gross human rights violations of Falun Gong adherents in China.
"For the past 21 years, we've had many, many accounts of crimes against humanity happening to people who practice Falun Gong. … We have a list of perpetrators, and we are here to ask the minister of immigration to stop visitor visas and immigration visas to the people on the list," said Joel Chipkar, spokesperson for the Falun Dafa Association of Canada, at a press conference outside Mendicino's constituency office in Toronto.
"We want our Canadian government to implement the Magnitsky Act to stop these Chinese government officials in China who have been responsible for the persecution of Falun Gong."
The petition notes the incarceration in China of Canadian citizen and Falun Gong adherent Sun Qian, who has been sentenced to eight years in prison, as well as another eight Falun Gong practitioners with Canadian ties who are currently imprisoned for their belief, serving sentences of up to 16 years.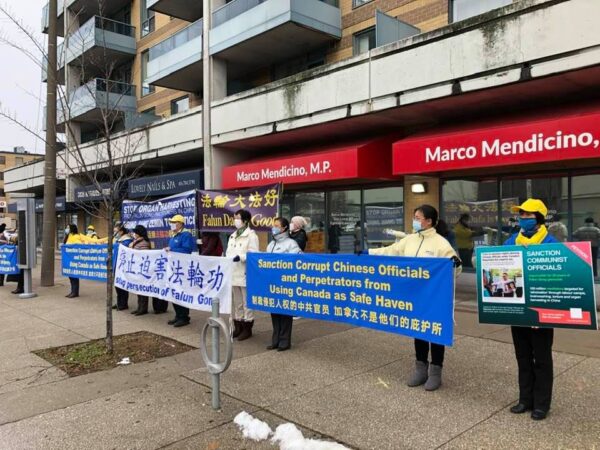 The 14 Chinese officials listed in the petition include former Chinese Communist Party (CCP) leader Jiang Zemin, the main perpetrator of the persecution campaign, who sought to eradicate Falun Gong due to fear that the practice's immense popularity would overshadow his own legacy. It also includes a former minister and director of public security, present and former members the Central Politburo Standing Committee, governors, deputy governors, mayors, and two medical doctors accused of spearheading the practice of forced organ harvesting from Falun Gong prisoners of conscience.
In September, Falun Gong practitioners presented a similar petition to Minister of Foreign Affairs François-Philippe Champagne, calling for the government "to deploy all legal sanctions" against the perpetrators, including "the freezing of assets and the barring of entry to Canada."
Last week, Champagne's office tabled a response, saying Canada "has publicly voiced concerns about the intimidation and repression of ethnic minority and religious groups, as well as Falun Gong practitioners, and will continue to do so at every appropriate opportunity." The response also said the government has repeatedly raised human rights concerns with Chinese officials "at the highest levels," but did not mention whether the government plans to apply sanctions. 
Falun Gong, also known as Falun Dafa, is a traditional meditation practice whose followers adhere to moral standards based on the principles of truthfulness, compassion, and tolerance.
In China, regime statistics showed 70 to 100 million people had taken up the practice in the 1990s. Since the start of the persecution in July 1999, however, adherents have been subjected to systematic arrest, unlawful imprisonment, brainwashing, and torture, according to human rights groups. More than 4,000 practitioners are confirmed to have been killed as a result of persecution, but the actual number is believed to be far higher, due to the difficulty of getting information out of China.
Further, in the explosive 2006 report "Bloody Harvest," investigators concluded that Falun Gong prisoners of conscience were being killed en masse and their organs forcibly harvested in order to supply China's lucrative organ transplant trade.
Last year, an independent tribunal in England found that Falun Gong practitioners imprisoned in China continue to be killed for their organs. Among its conclusions, the tribunal found that "Forced organ harvesting has been committed for years throughout China on a significant scale and that Falun Gong practitioners have been one—and probably the main—source of organ supply."
The Falun Dafa Association of Canada has been calling on Ottawa to use the Magnitsky Act to sanction Chinese officials since December 2018, when it submitted a list of the same 14 Chinese officials' names to Prime Minister Justin Trudeau and former foreign affairs minister Chrystia Freeland, along with nearly 300 pages of supporting documents. The documents detail evidence of the crimes and human rights violations committed by these officials in the wide-ranging persecution campaign.