The New Zealand government has announced an ambitious 90 percent vaccination target for its population.
On Oct. 22, Prime Minister Jacinda Ardern revealed the new "COVID-19 Protection Framework" that will take over the current "Alert Level" system that has kept the country under tight lockdown for the last few months.
Ardern said residents in NZ's most populous city, Auckland, will begin receiving "freedoms" and transitioning to the new framework once 90 percent of all individuals—12 years or over—across the city's three district health boards (DHBs) are fully vaccinated.
NZ has divided its country into 20 DHBs to monitor progress with its vaccination targets.
Residents outside of Auckland will need to need to wait until all other DHBs reach the 90 percent threshold before they can transition to the new system.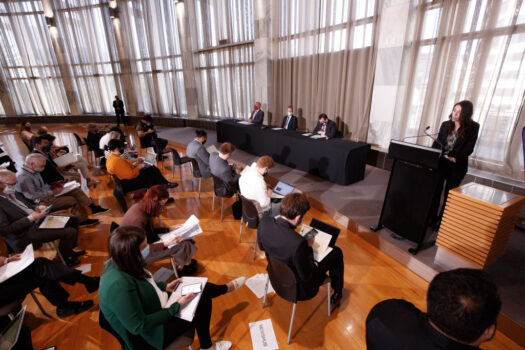 The government's framework (pdf) includes a traffic light system with green, orange, and red levels that will outline what restrictions—including vaccine passports and social distancing—individuals and businesses must follow.
"These new requirements are a strong incentive for those who still haven't had their first dose to do so quickly. The choice is clear for anyone who wants to go to a bar, restaurant, gym, or to attend gatherings," Ardern said in a press release on Oct. 22.
"The framework maintains the ability to move up levels when needed to control an outbreak but is more flexible than the current alert level system," she added.
"If you are still unvaccinated, not only will you be more at risk of catching COVID-19, but many of the freedoms others enjoy will be out of reach. No one wants that to happen, but we need to minimise the threat of the virus, which is now mainly spreading amongst unvaccinated people."
The prime minister also promised NZD$940 million per fortnight to assist businesses and NZD$120 million to accelerate Māori vaccination rates.
New Zealand's target is higher than other parts of the world, including Australia's New South Wales, which began opening most of the state at the 80 percent mark. However, Ardern believed Auckland could hit the 90 percent target within weeks.
NZ Opposition leader Judith Collins said the government's targets would be difficult to achieve and would condemn "every Kiwi to months of more lockdowns and uncertainty."
"It's great we now have 86 percent of Kiwis who have had at least one dose. But the reality is this last four percent will be the hardest to achieve. Then to achieve this in every DHB in New Zealand could take months," she wrote on Twitter.
"National's plan is clear: at 85 percent full vaccination or by Dec. 1, whichever comes first, we reopen our economy again both domestically and internationally. This pathway is a safe way forward if NZ invests in vaccine certificates, rapid antigen testing, and contact tracing," she said.