Sixteen cases of a new variant of the CCP virus have been identified in the UK, Public Health England (PHE) revealed on Thursday.
The new variant, VUI-202102/04 (lineage B.1.1.318), has been designated by PHE as a "variant under investigation".
This variant, understood to have originated in the UK, was first identified on Feb. 15 through genomic horizon scanning. All individuals who tested positive and their contacts have been traced and advised to isolate, PHE said.

The variant contains the E484K mutation, which is also found in the South African and Brazilian P.1 variants and is expected to make existing antibodies less effective.
But it does not feature the N501Y mutation, which is potentially linked to increased transmissibility.
A "variant under investigation" can be designated a "variant of concern" after a risk assessment with the relevant expert committee.
PHE also said that, as of March 3, a total of 59 cases of the South African variant (VOC-202012/02) have been found in England where no travel links could be established.
On Sunday, PHE said six cases of the Brazilian P.1 variant had been detected in the UK, three in England and three more in Scotland.
Five of these cases have been self-isolating, but one case in England could not be traced as they did not complete their test registration card.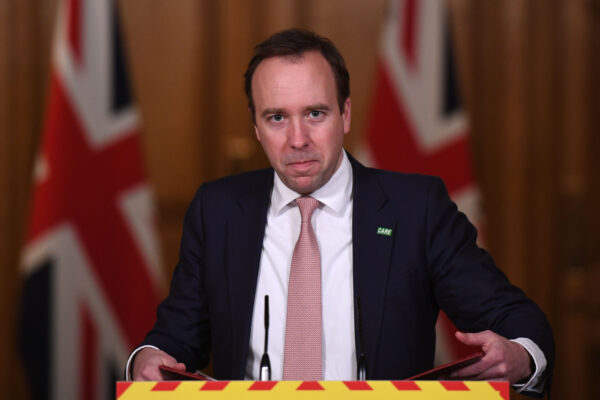 Health Secretary Matt Hancock said on Tuesday that the search for the missing case had narrowed down to just 379 households in southeast England.
Scientists are concerned that the P.1 variant is not only more resistant to antibodies, but may also be able to re-infect CCP (Chinese Communist Party) virus patients more easily.
The UK government has adopted strict travel controls to prevent CCP virus variants from entering the country.
People arriving in England from 33 countries on the UK's "red list", including southern Africa, South America, Portugal and the United Arab Emirates, must enter the country through a designated port and have pre-booked a quarantine package to stay at one of the government's managed quarantine facilities.
In Scotland, the devolved administration is enforcing stricter measures than in England, requiring travellers from all countries except Ireland to quarantine in hotels.