Treasury Secretary Steven Mnuchin said Congress and the White House could come to an agreement on more economic relief measures, including direct stimulus payments, amid the CCP virus pandemic if Democrats are willing to negotiate.
"I think there is a compromise if the Democrats are willing to be reasonable. There is still a lot of things we need to do and that we've agreed on," he said in a televised interview on Aug. 10.
Mnuchin stressed that there's more room for compromise on a deal for more COVID-19 aid, adding that legislation should be passed to address the economic downturn. In the interview, he didn't say when talks would resume.
"If we can get a fair deal, we'll do it this week," he said.
Last week, negotiations between Mnuchin, White House chief of staff Mark Meadows, House Speaker Nancy Pelosi (D-Calif.), and Senate Minority Leader Chuck Schumer (D-N.Y.) collapsed. The main points of contention were the expanded unemployment benefits, liability protections, and funding for state and local governments.
That prompted President Donald Trump to take executive action on unemployment benefits, payroll taxes, evictions, and student loans. His Democratic critics said the executive orders did little to address some of the outstanding issues and provide relief for some Americans who have been hit hard during the pandemic, including food and housing insecurity.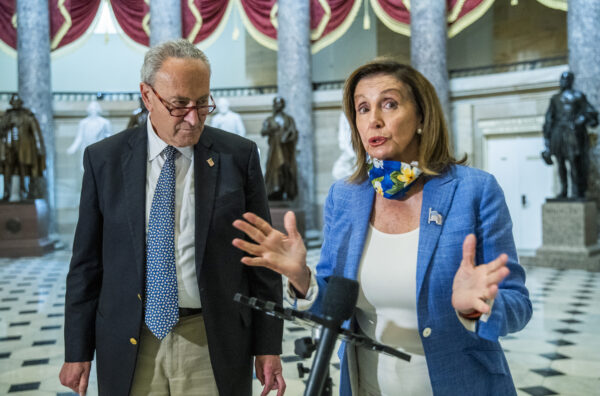 Stimulus checks and payments of up to $1,200 for individuals and $500 for children appeared to have bipartisan support. Trump's executive orders weren't able to address the stimulus payments.
Trump's order on Aug. 8 would also authorize $400-per-week payments to unemployed individuals. Democrats had sought an extension of the $600-per-week payments until January of next year.
Mnuchin, Schumer, and Pelosi on Aug. 9 signaled a willingness to meet in order to reach a deal.
"I think they're willing to compromise," the Treasury secretary said on Aug 10.
And Trump also wrote on Twitter that he's willing to come to an agreement.
"So now, Schumer and Pelosi want to meet to make a deal. Amazing how it all works, isn't it. Where have they been for the last 4 weeks when they were 'hardliners,' and only wanted BAILOUT MONEY for Democrat run states and cities that are failing badly? They know my phone number!" he said on Aug 10.