Sen. Joe Manchin (D-W.Va.) told "Axios on HBO" in an interview published March 8 that he'll block President Joe Biden's next major legislative initiative unless more effort is made to include Republican voices.
Manchin told the outlet that the $1.9 trillion COVID-19 relief bill that cleared the Senate this weekend could have won some Republican backing if just a few concessions had been made. Instead, the package was adopted along a strict party-line vote that Republicans denounced as a partisan "wish list" padded with spending unrelated to the pandemic.
In a March 5 press conference, Sen. Lindsey Graham (R-S.C.), Senate Minority Whip John Thune (R-S.D.), and several other Senate Republicans criticized what they said was a partisan process around passing the bill, calling Biden's previous calls for unity "hollow," and denouncing the package as "bloated, wasteful, and partisan."
"They've chosen a partisan path. And the reason we're not doing it together now is they don't want to do it together. They've got a wish list that's unrelated to COVID that none of us are going to buy into," Graham said.
"They see this as an opportunity to appropriate money for their liberal wish list using COVID as the reason."
As the bill underwent a marathon voting session that lasted more than 24 hours, Democrats rejected all but three Republican amendments to it, including one minor technical issue and another that was later overridden by a similar Democrat amendment.
One of the Republican amendments to be adopted was amendment No. 1092, which would reduce the unemployment insurance add-on to $300 from $400, introduced by Sen. Rob Portman (R-Ohio) and backed by Manchin.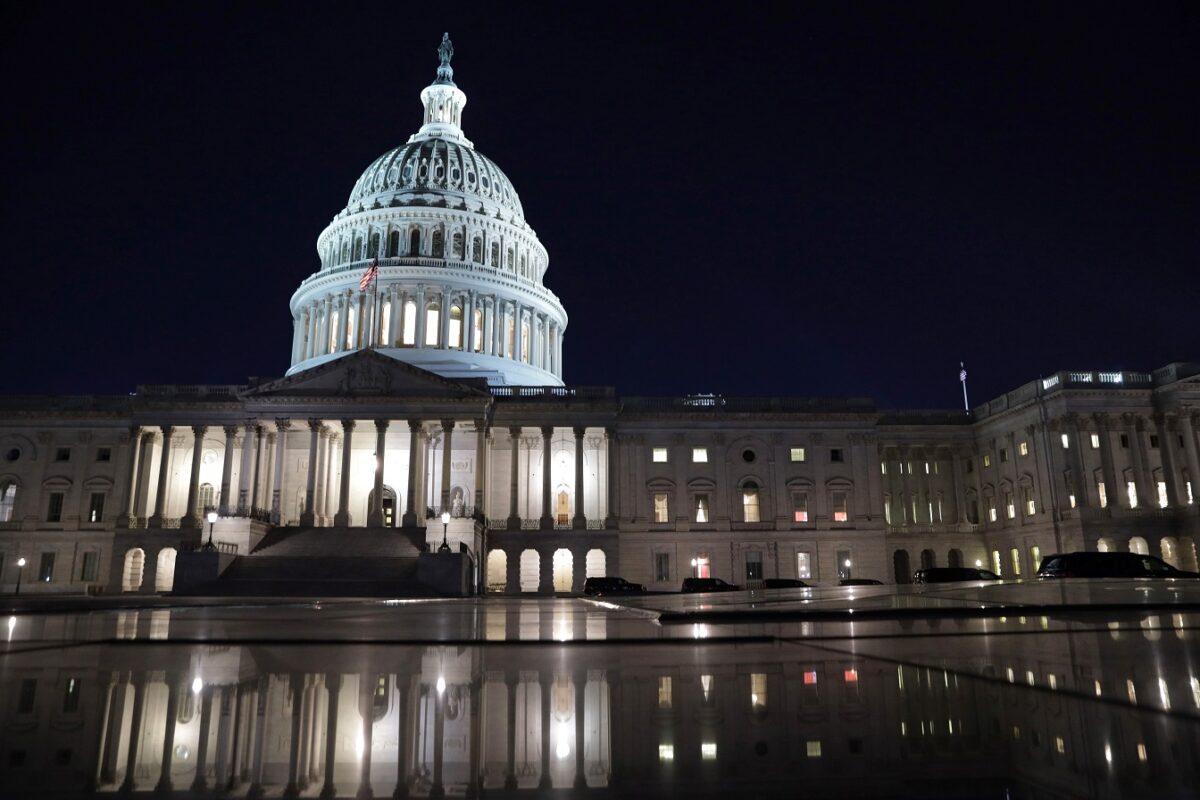 Portman's amendment, which provided the extra jobless benefit until July 18, was short-lived, however. About an hour later, Democrats passed their own related amendment, which overrode Portman's by extending the benefits through Sept. 6.
Manchin voted with all 49 Republican senators present to approve Portman's amendment, although he later voted with his Democratic colleagues on the superseding amendment that additionally made the first $10,200 in unemployment benefits tax-free for some households.
The Senate ultimately approved the $1.9 trillion stimulus package with all 50 Democrats voting for, and all present Republicans voting against. Dan Sullivan (R-Alaska) had to leave to go home for the funeral of his father-in-law and was absent for the vote.
The bill, also known as the American Rescue Plan or H.R. 1319, was approved by the House on Feb. 27 by a vote of 219–212, with all Republicans and two Democrats voting against it.
The bill will be returned to the House for reconciliation, which is expected to happen this week.
Following the passage of the American Rescue Plan, attention is turning to the next major Democrat legislative thrust, an infrastructure bill estimated at between $2 trillion and $4 trillion.
Manchin said in his interview on Axios that he will oppose the infrastructure package if greater efforts aren't made to include Republicans' views.
"I'm not going to do it through reconciliation," a process that would require only a simple majority, as the American Rescue Plan did, Manchin said. "I am not going to get on a bill that cuts them out completely before we start trying."
Echoing his earlier position on the issue of getting rid of the Senate filibuster, the regulation that makes most bills subject to a 60-vote supermajority to pass, Manchin had words of caution for his Democrat colleagues.
"I would say this to my friends. You've got power. Don't abuse it," he told Axios. "And that's exactly what you'll be doing if you throw the filibuster out."
The 50–50 split Senate has catapulted Manchin—with his crucial swing vote—to a prominent position as kingmaker, with many conservatives hoping the West Virginia senator will serve as a check on the Democrats' more radical policy impulses.