The risk level of Nangong city, one of the COVID-19 epidemic hotspots in China's Hebei Province, has been lowered on Feb. 8. However, the extreme lockdown measures continue to be implemented, and residents struggle to cope with the situation.
The Epoch Times learned from Nangong residents that every household has been under lockdown, and the latest government notice says the measures will continue till the end of the month. This means that residents will spend Chinese New Year, which begins on Feb.12, confined at home.
A city-wide mass COVID-19 testing was conducted on Feb. 6, which is the 10th nucleic acid test that all Nangong residents have taken, according to Chinese media outlets.
Family With a Newborn Struggling in Lockdown
The father of a newborn in Nangong shared his family's ordeal under lockdown in the past month with The Epoch Times.
After the total lockdown in the city started last month, Chen Yu (alias)'s wife was in labor. He said, "At the end of January, Nangong was a high-risk area. The hospitals in the city were closed, except the Health Center for Women and Children and the Traditional Chinese Medicine Hospital. However, the health center wouldn't admit my wife because there was a suspected case in our area, despite telling them that my wife was about to give birth!"
Chen said that after he called many levels of government from the local city hotline such as Xingtai city (Nantong is a county level city under the jurisdiction of Xingtai), Shijiazhuang city (provincial capital), and Hebei provincial government, his wife was eventually admitted into one hospital and gave birth to a child by caesarean section.
Then, when they got home from the hospital, it was difficult to get infant formula while being confined at home. Chen said, "Because my wife did not have breast milk, we had to call the official who's in charge of the lockdown of our area and ask him to help buy baby formula. He couldn't help me and he said that `the city government (website) does not have this item on it and I cannot get it for you.'"
On Feb. 5, Chen's newborn baby fell ill with diarrhea. He said, "I tried to go out and buy some medicine for my baby, but I was not allowed to do it. As soon as I went out, the Xingtai Special Police caught me. Then I went to the community office to get an official permission letter to go out. But I was only able to take the baby out of our community's checkpoint and was stopped by authorities at another checkpoint. I made calls to government hotlines for help but it was no use. In the end, I had to make a scene at the checkpoint, and they eventually let us pass to go to the Health Center for Women and Children to get prescription and medicine for my baby."
Chen said that his wife is still recovering and needs nutritious food, but the rationed food provided by the government is bad quality and very expensive, "Some vegetables are rotten, the onions already turned black and some of the meat are spoiled."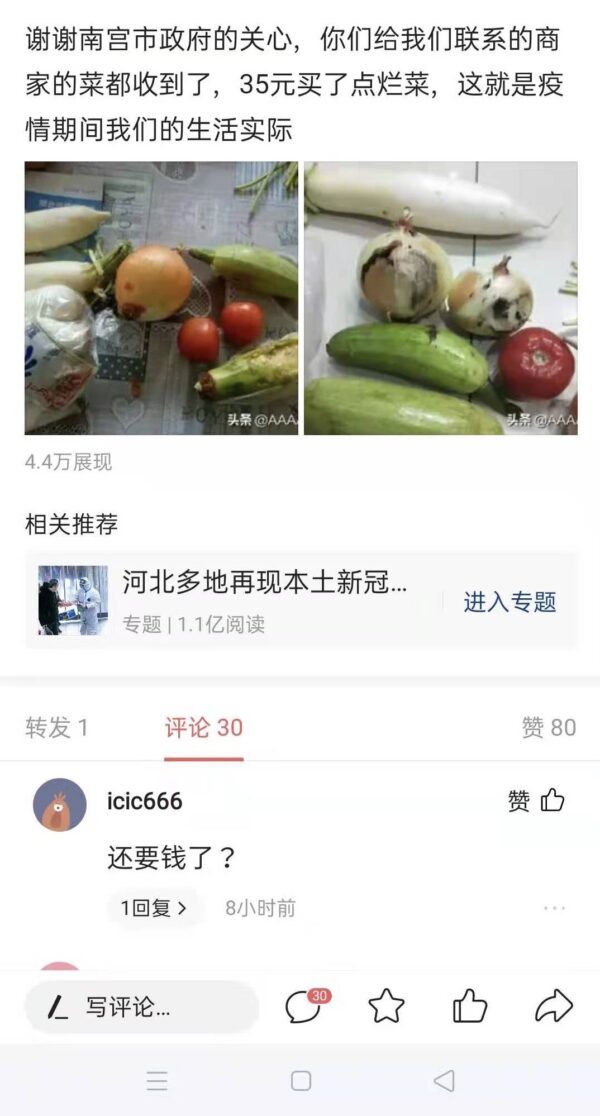 Chen said that to put it bluntly, the government is now "lazy" and takes "no action." "They (Chinese officials) just want to keep their positions, and don't care if people die. They don't care how people survive. Their slogan for joining the [Communist] Party is 'serving the people,' but they are not 'serving the people' at all. Legally speaking, they cannot do it [impose the lockdown], restricting the personal freedom of the people. "
Government Employee Sealed Off Inside Mobile Cabin Hospital
Mr. Sun is a government worker in Nangong city. He told The Epoch Times that he was assigned to carry out nucleic acid tests on residents in the Feifeng community where infected cases were reported. Afterwards, he was sent to a mobile cabin hospital for quarantine on Feb.1, despite the fact that he was not infected nor had contact with someone who tested positive for the CCP virus, commonly known as novel coronavirus.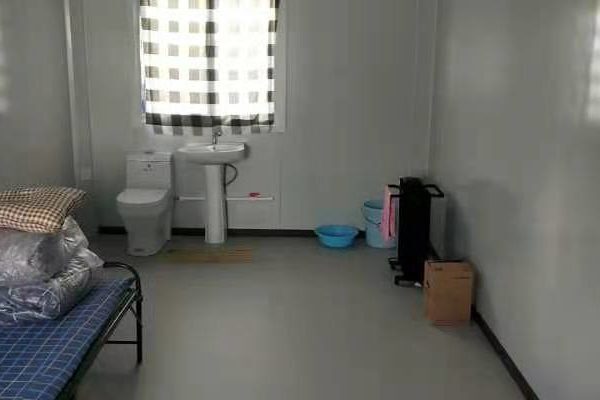 He complained that the toilet, sink and bed are in a small room without any partition. No bathing or showering is allowed. The door of each room is shut with a seal and there are guards who monitor the seal. Only the staff removes the seals when delivering the meals and puts them back on after the delivery.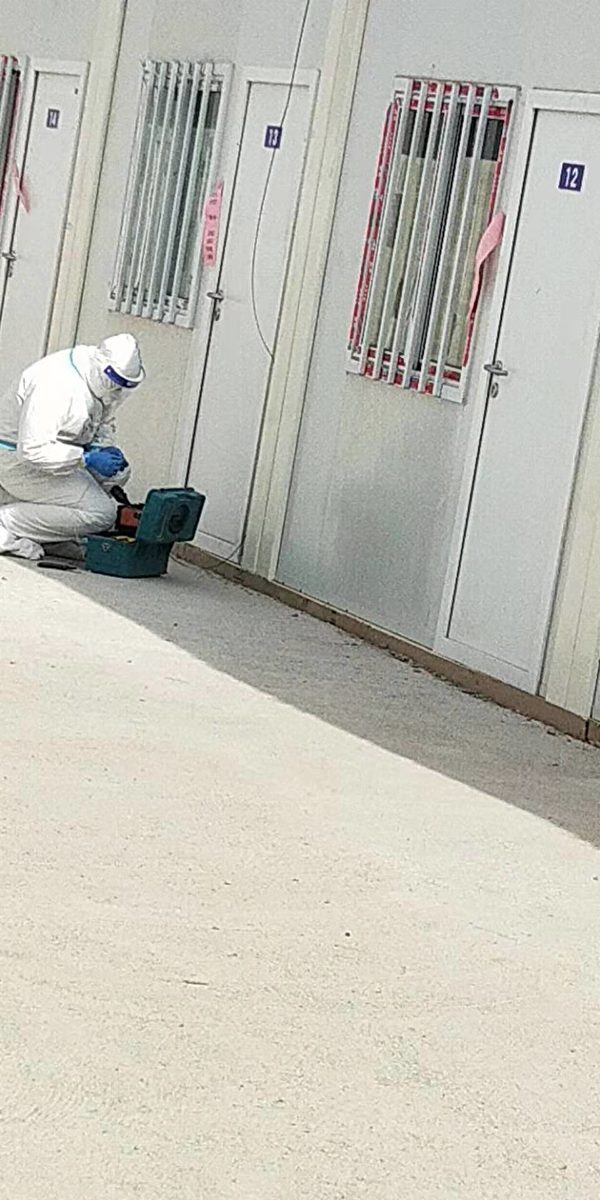 Sun revealed that there are very few staff in the mobile hospital, however, there are more than 2,600 rooms, all of which have been occupied. People who are quarantined there have to take a nucleic acid test everyday or every two days, according to Sun.
The Epoch Times also obtained a video showing staff working inside of the mobile hospital.

In early February, The Epoch Times exclusively obtained internal documents of the Hebei government that showed that Nangong city began to implement strict lockdown measures on Jan. 16. All the residents are locked inside their residential communities, quarantined at home, and not allowed to go out. All essential workers have to eat at and stay in their work units and they are prohibited from returning home during the lockdown period. Some people were not allowed to go to the hospital for treatment for serious illnesses such as cancer, heart disease, kidney failure, and died at home.
Hu Yuanzhen, Gu Xiaohua and Zhang Yujie contributed to this report.