The term drain the swamp is originally associated with a method of destroying disease-carrying mosquitoes.
Yet, drain the swamp also has a figurative meaning of exterminating something harmful, toxic, or abusive. 
Therefore, drain the swamp is applied to corruption, government waste, fraud, or deceptiveness.
Just as mosquitoes can transmit disease, unscrupulous individuals in positions of authority, with a toxic addiction to power, can be venomous to society. 
America Requires an Ethical Renaissance
When Thomas Jefferson authored the Declaration of Independence, he began with these immortal words:
"When in the course of human events."
Jefferson continues with enumerating grievances against the corrupt British crown.
He ignited fire in the hearts of patriots hungry for liberty, freedom, and human rights.
The heart of Jefferson was reechoed in 1858 with the senatorial campaign of Abraham Lincoln.
Lincoln described Jefferson's words as "the electric cord … that links the hearts of patriotic and liberty loving people together."
As in the times of Jefferson and Lincoln, America is experiencing corruption, greed, and abuses of power.
The swamp must be drained, not by impotent words, but by actions built on pillars of moral courage, transformational leadership, and persuasive character. 
Only these principles can conquer our culture of corruption and lead us to an authentic ethical renaissance.
Public Corruption Undermines America's Security
As we make efforts to reawaken the nation by remedying our culture of corruption, we must again turn to Lincoln.
On Jan. 27, 1838, in Springfield, Illinois, Lincoln addressed the reality of dangers, not from outside America, but from within. 
In his address titled "The Perpetuation of Our Political Institutions," his words against the destructive ability of a tyrant demand our attention:
"Is it unreasonable, then, to expect that some man possessed of the loftiest genius, coupled with ambition sufficient to push it to its utmost stretch, will at some time spring up among us? And when such a one does, it will require the people to be united with each other, attached to the government and laws, and generally intelligent, to successfully frustrate his designs. Distinction will be his paramount object, and although he would as willingly, perhaps more so, acquire it by doing good as harm, yet, that opportunity being past, and nothing left to be done in the way of building up, he would set boldly to the task of pulling down."
The reality of Lincoln's words are upon us. There are many in positions of power that violate the public trust.  They are not honoring their sacred oaths to serve. Instead, reprehensible examples of greed, self-aggrandizement, arrogance, superficiality, and self-centeredness are wreaking havoc on our moral compass. 
America must remember that it is built on the foundation of "We the People."
We must stand against this culture of tyranny and reignite principles of ethics, character, and leadership in the heart of America.
Public Corruption: A Swamp of Tyranny  
Tyranny corrupts society when individuals use authority to exercise power oppressively or unjustly.
America is experiencing a swamp of tyranny as illuminated by this information on the FBI website:
"Public corruption, the FBI's top criminal investigative priority, poses a fundamental threat to our national security and way of life. It can affect everything from how well our borders are secured and our neighborhoods protected to how verdicts are handed down in courts to how public infrastructure such as roads and schools are built. It also takes a significant toll on the public's pocketbooks by siphoning off tax dollars—it is estimated that public corruption costs the U.S. government and the public billions of dollars each year. The FBI is uniquely situated to combat corruption, with the skills and capabilities to run complex undercover operations and surveillance."
These are only a few examples from the FBI site, from the last 30 days alone, highlighting the magnitude of our swamp of tyranny.
Former State Representative Indicted on Fraud Charges
Former Treasurer of Mahopac Volunteer Fire Department Pleads Guilty to Fraud, Tax Fraud, Obstruction of Justice, and False Statement Charges Arising from His Embezzlement of More Than $5.6 Million
Former Postal Employee Convicted of Soliciting Bribes During Election
Former New Jersey Attorney General and Chairman of Port Authority Board of Commissioners Sentenced to One Year of Home Confinement for Bribery
Fulton County Contract Supplier Guilty of Giving Kickbacks Tied to Construction of Fulton County Detention Center
Two Corrections Officers Sentenced for Smuggling Drugs Into Middleton Jail
Former Arkansas State Senator and Two Others Charged with Bribery and Fraud Scheme
Seven Baltimore City Police Officers Arrested for Abusing Power in Federal Racketeering Conspiracy
Seven Defendants Plead Guilty to Millions of Dollars of Fraudulent Sales to Defense Department
Former Ville Platte Detective Sentenced for Filing False Police Report to Cover Up Civil Rights Violation
Former North Carolina State Senator Pleads Guilty
Former Bayonne Official Sentenced to 21 Months Prison for Accepting $65,000 in Bribes for Awarding HUD Grant Funds
Igniting America's Ethical Renaissance
The conclusion of my article for the Feb. 6, 2015 edition of the Epoch Times titled "America's Corrupt Culture Beckons Ethical Renaissance" deserves reflection again.
"America will be the nation of character it is destined to be when these words become the heartbeat of the nation:
"Inspiring an ethical renaissance in America is a daunting task but we must rise to the occasion. Our country has had seemingly insurmountable trials before and we have risen to the occasion.
Related Coverage
"Corruption is a crisis that runs deep within the arteries of many public servants. Our first step toward renewal is to accept the crisis of character as a reality without denial.
"When we make an honest assessment of this crisis, we can commit ourselves to reawakening the nation through accountability in the criminal justice system, ethics initiatives throughout every level of society, and a world-class, second-to-none character education initiative for every American student.
"If we are serious about America, we will be fully dedicated to its ethical renaissance and find no excuses for changing the course of the nation."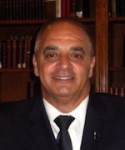 Vincent J. Bove, CPP, is a national speaker and author on issues critical to America. Bove is a recipient of the FBI Director's Community Leadership Award for combating crime and violence and is a former confidant of the New York Yankees. His newest book is "Listen to Their Cries." For more information, see www.vincentbove.com
Views expressed in this article are the opinions of the author and do not necessarily reflect the views of The Epoch Times.