Then-Minneapolis police officer Derek Chauvin used an unreasonable amount of force on George Floyd, who was accused of using counterfeit money and then resisted arrest, an expert told jurors in Chauvin's trial on April 12.
"Both the knee across Mr. Floyd's neck and the prone restraint were unreasonable, excessive, and contrary to generally accepted police practices," Seth Stoughton, an associate professor at the University of South Carolina School of Law who was paid to testify by the prosecution, said in Hennepin County's courthouse.
"No reasonable officer would have believed that that was an appropriate, acceptable, or reasonable use of force," added Stoughton, who worked for five years as a police officer in Tallahassee, Florida.
Chauvin and three other officers on May 25, 2020, encountered Floyd in Minneapolis following a 911 call regarding the use of money believed to be fake.
Floyd was handcuffed but resisted being placed into a patrol car and was ultimately restrained on the ground. Chauvin knelt on Floyd's back and neck while two other officers grabbed his lower body.
Floyd complained he could not breathe before being on the ground and when restrained. He ultimately stopped breathing. Floyd was eventually declared dead and his death was ruled a homicide from law enforcement restraint, with the drugs in his system and a heart condition deemed contributing factors.
Stoughton told the court on Monday that officers not only acted unreasonably in their restraint but in their failure to render aid "as his increasing medical distress became obvious."
Under cross-examination, Stoughton said he was in his assessment not looking at whether Chauvin was following his training, but was analyzing whether he was complying with "the professional norms that we expect."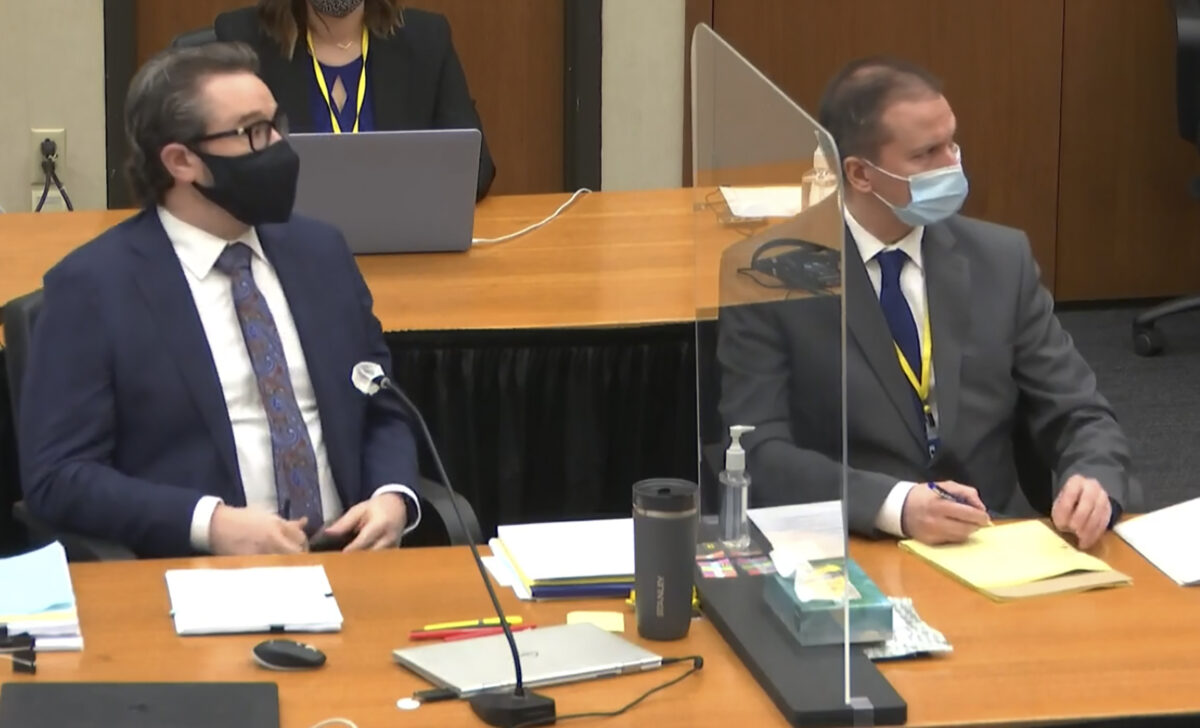 Eric Nelson, Chauvin's lawyer, noted that his client was aware when responding to the scene last year that officers had tried but failed to place Floyd into a police vehicle. He received an affirmation from Stoughton when asking if a reasonable officer would take such information into account when applying force.
Stoughton also said he felt officers never should have placed Floyd in a prone position, claiming Floyd, who had been thrashing and resisting, did not present a threat of escape.
"The officers used some amount of force to put him into the car. And I have no issue with that. But putting him in the prone position, especially on the street side of the car was unreasonable and excessive and contrary to generally accepted police practices," he said.
Asked if reasonable minds could disagree on that point, Stoughton said, "no."
Sgt. Jody Stiger, a Los Angeles Police Department use-of-force expert also paid by prosecutors, previously testified that it was reasonable for officers to place Floyd in the prone position.
Chauvin is facing charges including second-degree murder.
Stoughton was the prosecution's last witness in the case. Nelson will begin calling witnesses on Tuesday.