The former senator who while in office objected to electoral votes in 2005 said Thursday she doesn't regret what she did while insisting this time is different.
"I do not regret it for one half a second," former Sen. Barbara Boxer (D-Calif.) said during an appearance on CNN.
Boxer teamed with Rep. Stephanie Tubbs Jones (D-Ohio) to challenge Ohio's electoral votes during the Jan. 6, 2005, joint session of Congress that convened to count votes from the 2004 presidential election.
The Congressmembers objected to draw attention to alleged election irregularities, which they alleged led to the disenfranchisement of voters, particularly in Ohio.
"I, thank God, have a senator joining me in this objection, and I appreciate Senator Boxer's willingness to listen to the plight of hundreds, and even thousands of Ohio voters, that for a variety of reasons were denied the right to vote," Tubbs Jones, who is no longer in office, said during the joint session.
A number of Democrats voiced support for the challenge, which fell short.
Sen. Josh Hawley (R-Mo.) and some 39 members of the House of Representatives plan similar challenges on Jan. 6.
This time is different because unlike John Kerry, President Donald Trump has not conceded, Boxer contended.
"We have a president here who's orchestrating kind of an overthrow of the election," Boxer said, asserting she and Tubbs Jones "said up front, we had no interest in overturning the election."
"All we wanted was to focus on voter suppression that we saw in Ohio," she added. There's no comparison between 2005 and 2021, she said. "And maybe this is a moment for people to really look at different ways we can use the laws that we have," she said.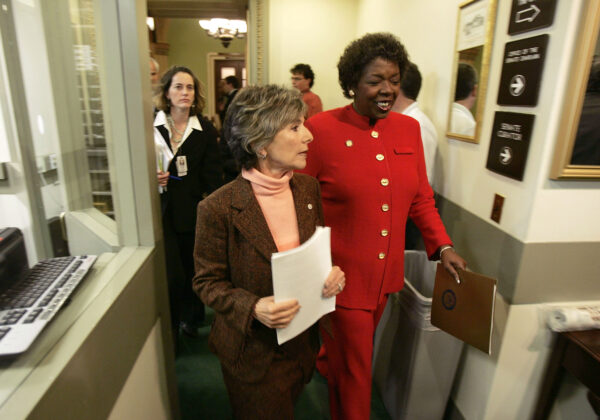 Boxer retired in early 2017 after not seeking reeelection. She was succeeded by Sen. Kamala Harris (D-Calif.). Tubbs Jones died in 2008 while still in office.
Republicans say they will challenge votes because states didn't follow their own election laws in the 2020 presidential election. Some allege election fraud occurred.
Hawley has challenged Democrats who criticized his plans to file an objection, noting many supported the 2005 challenge.
A group of Missouri Republicans said in a statement Thursday that Georgia failed to verify signatures while Pennsylvania accepted mail ballots after the legal deadline set by its state legislature.
"The right to freely cast your vote in elections is a sacred privilege afforded to us as Americans because of the sacrifices of the patriots who fought for that right. When that process is spoiled and abused by officials not following their own state law, it violates that right and jeopardizes the entire integrity and foundation of 'free and fair' elections. In such instances, where voting process changes are made without the consent of the voter, we know it is our duty and our obligation to serve as a backstop to protect the power of one person, one vote—to protect your vote as a Missourian," Republican Reps. Jason Smith, Billy Long, Sam Graves, and Vicky Hartzler said.
Officials in Pennsylvania say the election is over and certified, and any changes to the results would disenfranchise voters. Officials in Georgia have claimed no widespread fraud occurred and that ample verification was carried out, along with several recounts.
A signature audit in Cobb County found no fraudulent mail ballots and found that the county's elections department had "a 99.99 [percent] accuracy rate in performing correct signature verification procedures," Georgia Secretary of State Brad Raffensperger, a Republican, said in a statement.
"We conducted a statewide hand recount that reaffirmed the initial tally, and a machine recount at the request of the Trump campaign that also reaffirmed the original tally. This audit disproves the only credible allegations the Trump campaign had against the strength of Georgia's signature match processes."