Authorities in Minnesota are imposing curfews to try to prevent violence from taking place a second night following the fatal officer-involved shooting of 20-year-old Daunte Wright.
A curfew will be in place on Monday night in Ramsey, Hennepin, and Anoka counties, which includes the cities of Saint Paul, Minneapolis, and Brooklyn Center, where the shooting took place.
The curfew goes into effect on Monday, April 12 at 7 p.m. and ends the next day at 6 a.m.
"The curfew is imposed in all Saint Paul public places. During curfew, no travel is allowed in any public street or place," reads the official announcement.
Members of the news media and people who are traveling directly to and from work are exempted, as well as anyone in an emergency situation, fleeing danger, and the homeless.
Law enforcement, emergency responders, and National Guardsmen will be deployed to keep the peace, but authorities also want to protect First Amendment rights as much as possible.
"We also want to make sure that we are protecting First Amendment rights as much as possible," said Minneapolis Mayor Jacob Frey during an "Operation Safety Net" briefing in Minnesota on Monday.

A basketball game that was to be held on Monday night between Brooklyn Nets and Minnesota Timberwolves will be postponed due to the incident, announced the NBA.
The officer who shot Wright as he was resisting arrest on Sunday meant to pull a Taser, not her handgun, a top official said on Monday.
Video footage played of police officers' interaction with Daunte Wright showed he was being handcuffed outside of his car in Brooklyn Center before he escaped from an officer's grip and jumped back into the driver's seat.
Two officers tried getting Wright out of the car when one of their guns went off.
"Holy [expletive]. I just shot him," a female officer is heard saying on the body camera footage.
The officer, who has not been publicly named, alerted both Wright and fellow officers that she was prepared to deploy her Taser before the shooting, Police Chief Tim Gannon told reporters after playing the video at a press conference.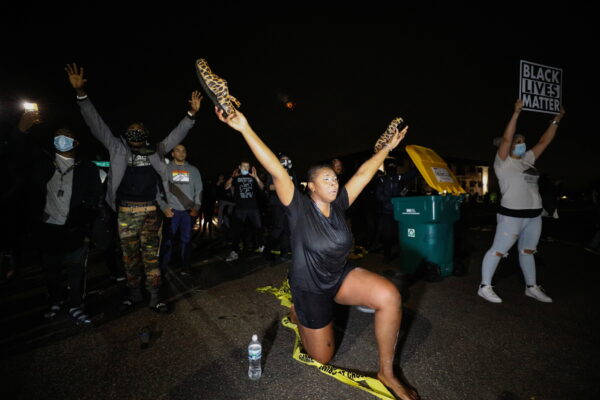 Zachary Stieber contributed to this report.