The COVID-19 outbreak has quickly worsened in China's southern Guangdong Province, where two cities have been put in semi-lockdown because of virus variants.
On June 1, the provincial capital Guangzhou city announced that 38 areas of the city of 15.3 million people were under total lockdown, while suspending individual vaccinations city wide. Two neighborhoods have been upgraded to high-risk areas, while two more areas were identified as medium-risk areas.
Meanwhile, cases of infection have been reported in the nearby megacity of Shenzhen, Foshan city that has 7 million people, and Maoming city with a population of 8 million.
Since June 1, outbound travel has been restricted from Guangzhou and Foshan. With more neighborhoods under lockdown, residents are having difficulty getting food and supplies.
The Epoch Times obtained a video showing communities in Foshan under lockdown.
On May 31, 12 new local cases were reported in Guangzhou, which brought the total number of infections in this round of outbreak in the city to 42, while 6 local cases were reported in Foshan and 1 case reported in Maoming.
According to the Guangzhou city government's announcement, the entire area of Zhongnan Street in Liwan District, and the 37 epidemic spots were put in total lockdown. Residents are not allowed to leave their homes, and schools and shops are all closed. The notice stated that in any area of the city, once a new case is found, the same lockdown measure will be implemented immediately.
On June 2, Guangzhou epidemic prevention officials announced that Baihedong Street and Zhongnan Street in Liwan District were upgraded to high-risk areas, while a community in Panyu District, and one in Haizhu District were added as medium-risk areas.
On May 31, Guangzhou Deputy Mayor Li Ming said at a press conference that individual vaccinations were suspended city wide. Only group vaccination appointments for essential personnel would be accepted. Li explained that the suspension was to reduce the risk of group infection, meanwhile allowing authorities to concentrate medical resources on large-scale COVID-19 nucleic acid testing.
"Won't the large-scale nucleic acid testing cause group infection too?" Chinese netizens asked. "There must be other reasons to stop the vaccination, and they just don't want to let people know."
Spreading to Other Cities, Outbound Travel Restricted
The outbreak spread to the nearby Foshan city, when the first 4 cases were reported on May 28, which were related to a dim sum restaurant cluster in Guangzhou. A neighborhood in Chancheng District was upgraded to a medium-risk area on May 31.
On June 1, Foshan reported 3 more locally transmitted cases.
On June 1, Shenzhen reported 2 more cases in Yantian District, bringing the total number of infected in this round in the city to 15 cases.
On the same day, Shenzhen Airport announced that all passengers who are residents of Guangzhou and Foshan must have a green health QR code on their phones and a negative nucleic acid test certificate within 72 hours to depart from Shenzhen Airport.
Outbound travel restrictions have been implemented in Guangzhou since 10 pm on May 31, requesting the green health code and negative test result in 72 hours to take airplanes, trains, buses, and to drive private cars to leave the city.
Foshan implemented the same travel restrictions on June 1.
As of 10:00 am on June 1, more than 660 flights have been canceled at Guangzhou Baiyun Airport, almost half of all flights.
Cities in Semi-lockdown, Food Supply Issues
Since June 1, several more areas in Chancheng District and Nanhai District in Foshan city have been put under total lockdown. Residents are forbidden from leaving their homes. Deliveries including food and groceries are not allowed in the locked-down areas.
Wang Qiang (alias), a resident in Guicheng Street of Nanhai District in Foshan, told The Epoch Times that their community was sealed off on May 28, and they could only enter but cannot exit. "Our apartment doors and the unit doors are also sealed off. Anyway, all the doors in the community are sealed."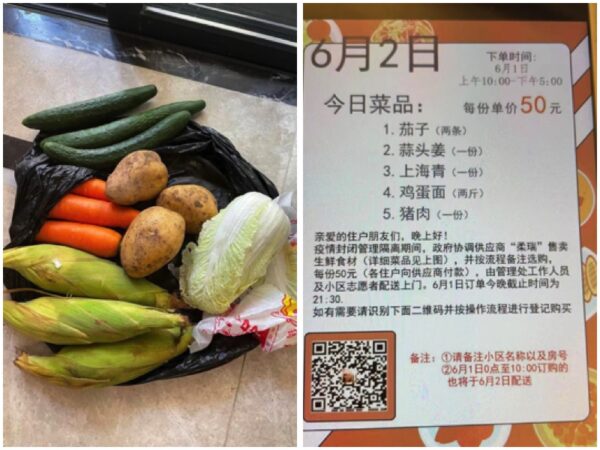 Earlier, the officials announced that the more deadly Indian variant of the virus was spreading in Guangzhou and Foshan. Some communities have been locked down for several days already. A resident in Guangzhou told the Epoch Times that the Guangzhou Steel New City has been sealed off for three days, but the food supply has been very slow. Now it is unknown how long the lockdown will last. The rationed food provided by the government cost 50 yuan ($8) with only a few simple vegetables, instant noodles, and a little meat.
Many netizens complained on the Chinese social media site Weibo about the difficulties under lockdown. One posted, "I can't get out at all, even though I have a pass. I can't go out to buy food, I can only continue to eat my instant noodles!"
Luo Ya and Ling Yun contributed to this report.