The federal government is one more of transgenderism's many online promoters.
A help page on the Centers for Disease Control and Prevention's (CDC's) website lists resources from government agencies and community organizations that support LGBT-identifying children and their networks by providing online advice on sexuality, with content that promotes transgenderism, anal and oral sex, and occult superstition.
"It is critical for the parents, guardians, and other family members of LGBT youth to have access to the resources they need to ensure their LGBT children are protected and supported," the CDC's website reads.
The CDC page for "LGBT Youth Resources" offers young people and their friends and families links to websites that promote questioning of gender and sex, as well as to sites with age-inappropriate advice.
One of the links listed by the CDC is the website Q Chat Space, which is designed to be hidden. A green banner across the bottom of the site reads "Click/tap here for a quick escape." It immediately transfers site users to the Google Search page.
The Q Chat Space website hosts live chats for 13- to 19-year-olds that are "facilitated by experienced staff who work at LGBTQ+ centers around the United States," the website reads. But the staff aren't mental health professionals. They are "verified" facilitators.
The CDC's website describes Q Chat Space as a "digital LGBTQ+ center where teens join live-chat, professionally facilitated, online support groups."
Q Chat Space's Instagram page provides the schedule for the live chats, along with the subjects to be discussed with the facilitators.
These subjects include sex change surgeries, a transgender and "nonbinary" sex ed night, an introduction to drag culture, a chat on "having multiple genders," as well as oral and anal sex advice.
Other chats discuss binge drinking and how teens can drink safely.
"If you do choose to drink underage, it is important to be as safe as possible, have a trusted adult nearby and or the potential to contact emergency services if needed," Q Chat Space's post reads.
Other chats discuss the use of condoms, oral contraceptives, intrauterine devices, preexposure prophylaxis against HIV, as well as other devices.
Many chats promote astrology, tarot cards, and other occult ideas. The site recommends "Self Discovery in Astrology," "Queering Tarot," and "vibes + auras."
A disclaimer at the bottom of the CDC's webpage states, "These links do not constitute an endorsement of these organizations or their programs."
The nation's health protection agency explains further: "Links to non-Federal organizations found at this site are provided solely as a service to our users. … CDC is not responsible for the content of the individual organization Web pages found at these links."
Directions for Parents
Another website on the CDC's help page is HealthyChildren.org. This site encourages parents to accept a child's claim of sexual identity without question.
"Some children have a gender identity that is different from their gender assigned at birth, and many have interests and hobbies that may align with the other gender," the site reads. "It is natural for parents to ask if it is 'just a phase.' But, there is no easy answer."
The website states that research shows gender identity can't be changed and that parents must accept the gender identity that children announce.
"When your child discloses their identity to you, respond in an affirming, supportive way," the site states.
The CDC website states that some young people who identify as LGBT are more likely to experience "negative health and life outcomes." It then recommends that parents protect and "support" children who identify as LGBT.
The CDC also links to the Trevor Project, which assists LGBTQ+ youth and young adults with crisis intervention and suicide prevention services. This website also announces that users can leave it quickly by pressing the "escape" key three times.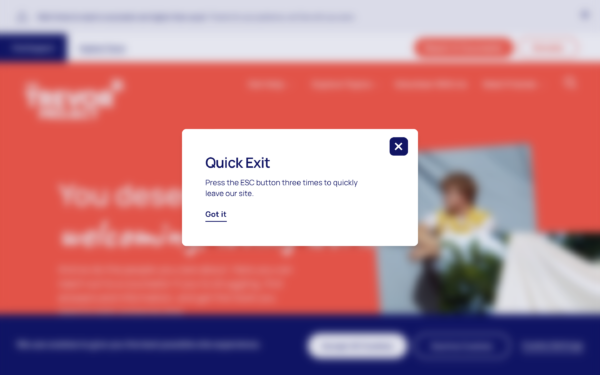 "When someone shares their gender identity with you, it's inappropriate to assume or try to deduce that person's sex assigned at birth," the Trevor Project's site reads.
The site states that doctors typically "decide" biological sex "based solely on one's genitals." Sex might not correspond to gender, the site says.
Using the right words around transgender youth can save lives, the Trevor Project says. It quotes a study that found that people who identify as transgender get less suicidal when referred to with different pronouns.
The site listed several pronouns people could use, including "they," "ze," "xe," and "ve."
The CDC didn't respond by press time to a request by The Epoch Times for comment.