MAIDUGURI, Nigeria—In a video, Boko Haram fighters and their families march in single file out of the tall grass of Nigeria's Sambisa Forest. Off-camera, members of the Nigerian army greet them, in one of several mass surrenders taking place in three countries.
The video of several hundred women and children and a few men emerging from a meadow on Aug. 15 was verified for The Epoch Times by David Otto, a UK-based consultant to the Nigerian army.
Those surrendering are seeking safety with the government, fleeing the danger posed by the ascendant Islamic State of West Africa (ISWA) insurgency that defeated the Jamāʿat Ahl al-Sunnah li-l-Daʿawah wa al-Jihād (JAS) faction (commonly known as Boko Haram) in May, according to Otto. JAS leader Abubakar Shekau committed suicide on May 19, as reported by The Epoch Times.
The ISWA group assimilated the remaining JAS fighters who would swear allegiance at the end of June, Otto said.
Otto says that some of the Boko Haram fighters who bowed to ISWA and joined their army are insecure about their future, because ISWA has been known to execute recruits who are suspected of disloyalty, and also to harm their families. That's why some of these newly acquired ISWA fighters have allowed their wives and children to turn themselves in to the Nigerian army.
"They have been surrendering in batches all through July, because the window of opportunity for them to affiliate with ISWA ended on June 30. The Nigerian army has allowed them to surrender, and they are taking it," he said. "Approximately 900 Boko Haram have surrendered in Nigeria, 400 reportedly have turned themselves in to the Cameroonian army, and an undetermined number have surrendered in Niger Republic.
"The JAS faction are taking advantage of Operation Silhu, set up by Nigerian security services to allow them to surrender and eventually to be free. This influx has been made possible by the collapse of the JAS faction of Abubakar Shekau," Otto said.
'War Is Over'
A video capturing a mass surrender in the Mafa area, which borders the Borno state capital of Maiduguri, shows women carryings bundles on their heads and some disabled men ferried out on bicycles and includes comments in the Hausa language. One of the Boko Haram returnees is heard saying "the war is over."
A narrator's voice in the background of the video says that "a jet dropped information leaflets to the fighters, telling everyone that they should go back to their respective communities."
"The indiscriminate killings of civilians and in particular of Muslims caused divisions within the Boko Haram insurgency that pledged allegiance to the Islamic State of Iraq and Syria (ISIS),  and in 2016, Boko Haram split into two groups: JAS, led by Abubakar Shekau, and the Islamic State-West Africa (ISWA), led by Abu Musab al Barnawi," Otto said.
One of the surrendered Boko Haram fighters, who called himself Abubakar Bana, told The Epoch Times their leaders are no longer united, and they are finding it difficult to feed them in various camps.
"The issue is a long story and I thank God we are finally returned safe. Let me tell you, sir, we and our leaders are both suffering. I think they are suffering from lack of sponsorship as a result of a power tussle among them.
"No food, the normal life for them is no longer there. They seem to be tired with the whole fight too, as all their sources of livelihood have been cut off," Bana said.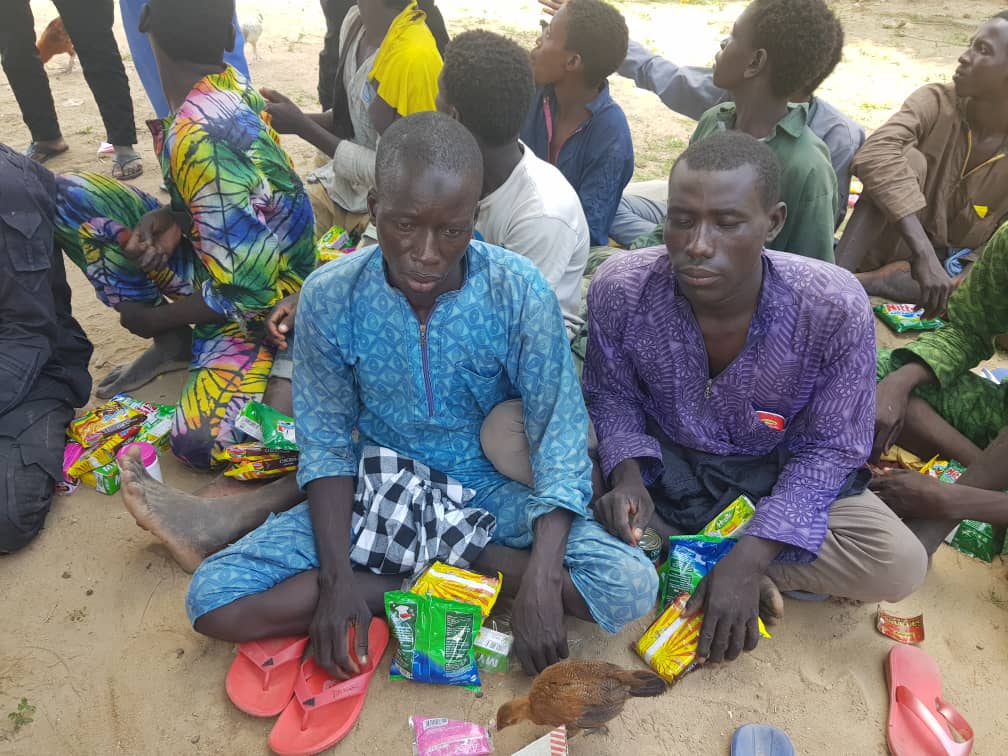 Deradicalization and Resentment
The governor of Borno state expressed the dilemma of many officials who must contend with the goal of deradicalization being met by the resentment of local citizens.
"We (in Borno) are in a very difficult situation over the ongoing surrender by insurgents," Gov. Babagana Umara Zulum said in a speech to military officers and community leaders on Aug. 14 in Bama.
"We have to choose between an endless war or to cautiously accept the surrendered terrorists, which is really painful and difficult for anyone that has lost loved ones, difficult for all of us and even for the military whose colleagues have died and for volunteers," he said.
"No one would find it easy to accept killers of his or her parents, children, and other loved ones. In the last 12 years, we have been in this war, and we have lost thousands of fellow citizens," Zulum added.
The state government nonetheless has announced plans to reintegrate the more than 1,000 repentant Boko Haram fighters into society. That prospect has angered many of the internally displaced citizens (IDP) who have suffered for years.
The Boko Haram sect has killed more than 70,000 people and displaced approximately 2.5 million others within Borno state, according to the International Crisis Group.
"What? You said pardon? This government should not dare that," Sherif Usman Nabaga, who returned recently to a house reduced to rubble by a terrorist raid. told The Epoch Times in an interview.
"I swear they are not walking in the paths of lasting peace if they will want us to cohabit a life of trust and oneness to the people that killed our parents, children, wives, and destroyed our means of livelihood," Nabaga said. "The government is trying to handle the situation with kid gloves and be merciful to those who deserve death.
"My take on this is the government should just bundle them off to well-monitored camps and allow them to end their lives and never integrate them back to society," he said.
Acknowledging this widespread sentiment, Zulum told community leaders over the weekend that accepting Boko Haram returnees has the risk of seriously offending the feelings of victims that could trigger civil rebellion, just as there's a risk that rebuffing the fighters' surrender could lead to them joining the ISWA deadly insurgency.
"On my way traveling to Gwoza and Bama, I saw many people cultivating their farmlands by the roadside, and this is an indication of emerging peace, which we have to sustain in order to salvage our people. However, we must come together to carefully analyze the two extremes and come up with a workable framework," he said.