The price of bitcoin has steadied after a spectacular flash crash pushed the cryptocurrency down nearly 19 percent intraday on Sept. 7—the day El Salvador adopted it as legal tender—but analysts say investors should brace for more volatility.
"Post liquidations can push prices around for a few days," cryptocurrency technician Daniel Joe wrote in an analytical note on CryptoPotato.
Early on Sept. 9, bitcoin was trading sideways in a narrowing wedge pattern around the $46,000 mark, a technical setup suggesting it's poised for a breakout—either up or down.
"Bitcoin price action finds near-term support, but the bias remains mixed," the crypto team at FXStreet said in an analytical note, adding that the cryptocurrency is "between two key zones that will dictate the future trend," namely around $48,000 and $44,500.
By 4 p.m. New York time, bitcoin was trading at $46,574 on Coinbase and was continuing to make tighter bounces between the trend lines as it moved toward the apex of the wedge.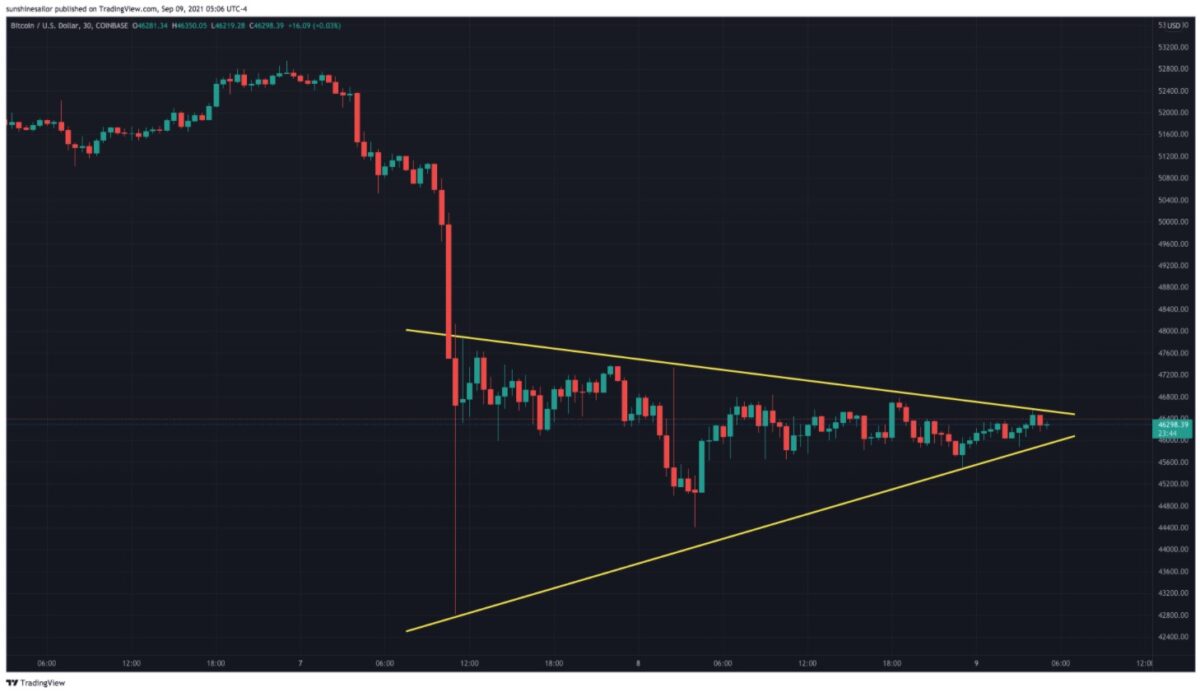 In the shorter term, the analysts at FXStreet argued for a stronger downside bias.
The longer-term outlook, according to Joe, is more optimistic.
"Although price action looks bearish near-term, the fundamental, higher time frame technicals, on-chain, and momentum remain in a bullish trend, suggesting this is only a liquidation event with bullish continuation to come," he wrote.
A new cryptocurrency research team at Standard Chartered has predicted bitcoin will double in value and hit $100,000 by early next year. In the longer term, the team believes bitcoin could be worth as much as $175,000.
While there's no clear catalyst for bitcoin's sharp selloff, analysts point to a range of factors, including investors buying the buzz around El Salvador adopting the cryptocurrency as legal tender—and then selling the fact.
"I think there was some anticipation building ahead of that event [El Salvador], similar to what we saw ahead of Coinbase listing on Nasdaq," said Henrik Andersson, chief investment officer at Apollo Capital, a crypto asset fund in Melbourne, Australia.
"Profit-taking was very much on the cards," Naeem Aslam, London-based chief market analyst at brokerage AvaTrade, told The Wall Street Journal. "In our view, that is a very healthy pullback."
Daniel Joe argued that a significant factor in the sharpness of the selloff was investors unable to fulfill the margin requirements for leveraged positions.
"The speed of the massive drop in price made it look like whales and long-term holders were dumping, but this was mostly forced liquidations all happening at once, causing prices to fall until the next bid," he wrote.
"This is the price the market pays for adding leverage and derivatives. When open interest rises quickly or a trade becomes stacked, leverage tends to be flushed out."
Meanwhile, El Salvador's experiment of making bitcoin legal tender was marred on the day of adoption by minor technical glitches hampering its use, while street protests by mistrustful citizens broke out in the country.
Reuters contributed to this report.