The government of Beijing city is intensifying efforts to contain the CCP (Chinese Communist Party) virus as a recent outbreak continues to worsen.
On Jan. 22, Beijing authorities declared at a pandemic prevention and control press briefing that all residents in Dongcheng and Xicheng districts will be required to take nucleic acid testing, with a total population of more than two million involved.
A video uploaded onto the Chinese internet shows large numbers queuing up in long lines on the street to get tested. In the video, a male voice with a distinct Beijing accent said it would take two hours to wait his turn.
Both districts are in downtown Beijing, near the seat of the Chinese regime government and administrative offices.
City authorities have announced that all international arrivals to Beijing must take serum antibody tests and quarantine for a month.
Mass Nucleic Acid Testing Overnight 
Beijing authorities ordered nucleic acid testing and symptom surveying across Daxing district, Beijing, since Jan. 20.
Several residents told the Chinese-language Epoch Times that they had to queue up for hours in the cold winter night. They called it a harrowing experience.
Other residents posted about their experience on social media.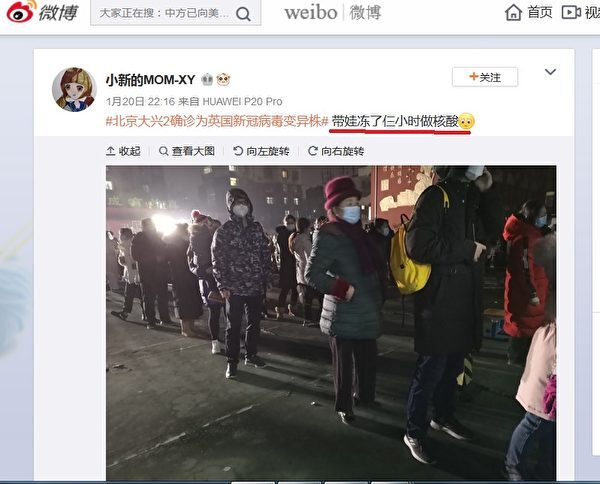 A young mother posted on the Weibo platform that she and her child kept waiting for three hours in the cold.
Downplaying Severity of Outbreak?
Beijing reported three new cases of COVID-19 on Jan. 22, in a residential compound called Ronghui, Tiangongyuan subdistrict, Daxing district.
As a result, lockdown has been expanded to another five residential compounds in the district. Before, six areas in the district were already locked down.
However, the public believes that actual infections could well outnumber what was officially announced.
A resident of nearby Hebei Province told the Chinese-language Epoch Times that mass testing betrayed the severity of the virus.
He said the pandemic in his home city, Baoding, was also serious. However, Hebei authorities were downplaying the current outbreak, telling healthcare workers that nucleic acid testing was a political task that must be completed, and that any filming or recording was banned. Anyone who broke the rule would be held legally accountable, according to him.
A doctor in central Hubei Province surnamed Wang (alias) told the Chinese-language Epoch Times that the Chinese regime might have underreported the number of diagnosed patients.
"We cannot root out the possibility that China has been doing so consistently," Wang said.
False Negatives
Wang also explained why instances of false negative tests results keep occurring in mainland China.
According to him, healthcare testers may not be skillful enough.
Also, during mass testing, ten samples may be included in one tube. If the amount of virus material is not large enough, a false negative is likely to appear, said Wang.
A false negative is potentially dangerous because an infected patient could unknowingly spread the virus in communities and within their circles of friends.
At the end of the interview, Wang emphasized the importance of wearing masks, social distancing, avoiding hand contact, and frequent handwashing, which can drastically reduce the risk of being infected.