Americans bought about 2.2 million guns last month, the second-largest March figure on record, according to consultancy Small Arms Analytics and Forecasting. After hitting an annual record of almost 23 million units in 2020, sales of firearms in the United States have continued to sustain momentum.
Gun sales are generally driven by recreation and safety, but there are also concerns over increasing government measures to control guns, with some people even moving to more freedom-friendly states.
Kim Rhode, a six-time Olympic skeet-shooting medalist, in April 2018 sued Xavier Becerra, then-attorney general of California and current U.S. Secretary of Health and Human Services, because a restriction on ammunition purchase for Californians meant she didn't have enough ammunition for her training.
In March 2020, she failed to qualify for the Tokyo Olympic Games.
"The ammunition ban and the lawsuit to overturn it against the State of California had a definite effect on my training," Rhodes wrote in an email to The Epoch Times on March 29. She said that she would focus on the Paris Games in 2024. Her case is pending in the U.S. Court of Appeals for the 9th Circuit.
"The ammunition restriction has not only interfered, and in some cases eliminated, the ability of competitive shooters to get the ammunition, but also, and perhaps as importantly, recreational shooters," Chuck Michel, Rhode's attorney, told The Epoch Times.
He said that the legislature approves a law but then passes the administration and management of the law to the Department of Justice (DOJ).
"And the DOJ is underfunded and unable to do the bureaucratic work required to make these systems function," he said.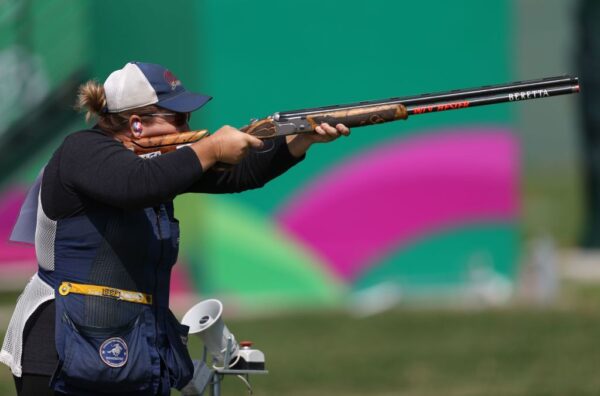 Taking Personal Safety Into Their Own Hands
Self-defense uses for guns are common, yet they are rarely reported in the mainstream media.
"Almost all national survey estimates indicate that defensive gun uses by victims are at least as common as offensive uses by criminals, with estimates of annual uses ranging from about 500,000 to more than 3 million per year," according to a 2013 report commissioned by the Centers for Disease Control and Prevention (CDC) during the Obama administration.
Heritage Foundation senior fellow Amy Swearer maintains a database that documents self-defense gun uses nationwide. In one such case, a woman with a concealed carry license shot at a man who tried to rob her in the Hyde Park neighborhood of Chicago, in January 2019.
Gun ownership is as much about property rights as gun rights for Patrick Henry, a small business owner in Virginia. He used a pseudonym to protect his business from potential retaliation from groups that may not agree with his views.
"I do believe that our founders had it right because they believe that these rights were given to us by God," he told The Epoch Times. "And I believe that those who would hand over the responsibility of keeping themselves safe, are in some degrees, making the government their god and making the government their higher power."
Scott Finley (also a pseudonym), a former government agency and current nonprofit executive, explained his expectations of the government: "We're supposed to pay taxes for things like roads to be fixed or maintain things like that. Those are the public goods. I think safety as a public good is a very dangerous idea.
"The government is certainly supposed to provide safety from foreign invaders. I don't think we would look to the federal government to protect me if someone broke into my house. That's a silly concept."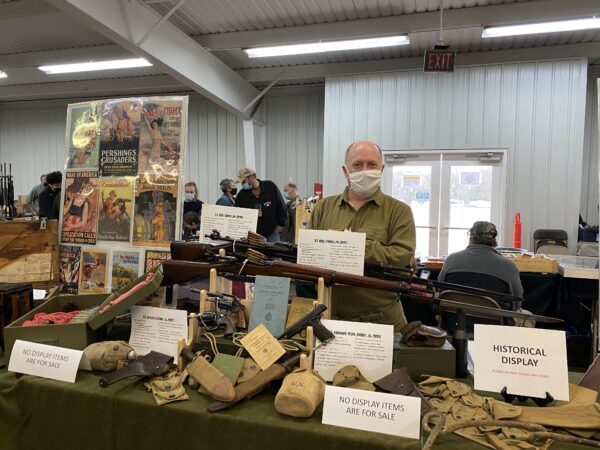 Connection to Nature and Family
Andy Galusha, a landscape architect in Fairfax County, has traced his father's footsteps in Italy and France, where he fought for two years during World War II.
"Most of those veterans are very humble, and they don't talk a lot about it, but you realize what they went through and what they sacrificed. Going through this [reenactment], I've learned about what it's like to land on a beach on a landing craft. When that door goes down, you run out of it. It's definitely an experience," said Galusha about his travels and reenactment of World War scenes.
Galusha told The Epoch Times that to him, shooting is stress-relieving.
"You come to that level, and then you become very relaxed, and you just feel like all of your troubles melt away from you. You may be having the worst day. You go to the range, and all of a sudden then everything is fine."
He highlighted the connection the sport helps him make.
"It's like for some people running or music, it calms them down and takes them to a different place. When you go out in the woods hunting, you feel connected to the past and the future. This is something that people did for hundreds of years before, obviously, not too long ago with guns, but with bows and arrows and spears for millennia."
Retired Army officer Paul Veneziano said that the World War I reenactments he and his friends take part in are a "holistic way of enjoying your firearms" in experiencing the history, camaraderie, and antique weapons. Both Galusha and Veneziano are members of the Great War Association, whose mission is to "keep alive the history of the Great War, and honor those who fought its battles, through battle reenactments and educational events."
'Vote With Our Feet'
Finley told The Epoch Times that he was "alert" as he saw freedom being squeezed by the federal government. He also observed a trend of more and more people who thought the government should tell Americans what to do congregating in the Washington metropolitan area, similar to Sacramento in California and Albany in New York.
He said that he had thought of potentially moving to a different state from his current home in Virginia.
"You look at the rules and restrictions across the country right now with a pandemic. And, you know, you look at places like New York, where you had all these rules and restrictions; meanwhile, the death toll is through the roof. Then you look at places like Florida and Texas, where there are fewer restrictions, people are doing better by all measures," he said.
"I think people are going to gravitate toward red state versus blue state. Unfortunately, it's becoming so politicized. But that's the reality," he added.
Henry shared the same concerns.
"We're seeing that in certain states like Texas and Florida, certain ideals are being highly regarded. People will choose to remain in those areas and continue to gather in those areas. And maybe we just have to vote with our feet and go and choose to live in areas that still embrace our rights more than others."