NEW DELHI—First, there was a quadrilateral security alliance or "quad" between the United States, India, Japan, and Australia in the Indo-Pacific. Now, a "Middle Eastern quad" between the United States, India, Israel, and the United Arab Emirates may be developing.
What has been described as a "preliminary" meeting between the four nations' foreign ministers was held on Oct. 18, partly in-person and partly virtually, with the aim of enhancing political and economic cooperation on issues in the Middle East and Asia.
Indian Foreign Minister Subrahmanyam Jaishankar, who was on his first trip to Israel, wrote on Twitter that the forum will work on "economic growth and global issues" and said there'll be an "expeditious follow-up." He and Israeli Foreign Minister and Alternate Prime Minister Yair Lapid joined the forum in person, while U.S. Secretary of State Antony Blinken and Emirati Foreign Minister Sheikh Abdullah bin Zayed attended virtually.
The U.S. State Department said in an Oct. 18 statement that the four foreign ministers discussed political and economic cooperation on issues pertaining to trade, the global pandemic response, climate change, energy and technology cooperation, and maritime security.
Middle East analyst Seth J. Frantzman said that the emerging close ties between the four nations as a group or "quad" are important because they "cements together key relationships of countries that share interests and which span a vast area of the world."
"This can be through technology and trade, but also could relate to security and other interests," he told The Epoch Times via email. "Because these countries are also in other partnerships regionally, they can help influence a larger network of partnered countries from the East Med to Australia and Asia."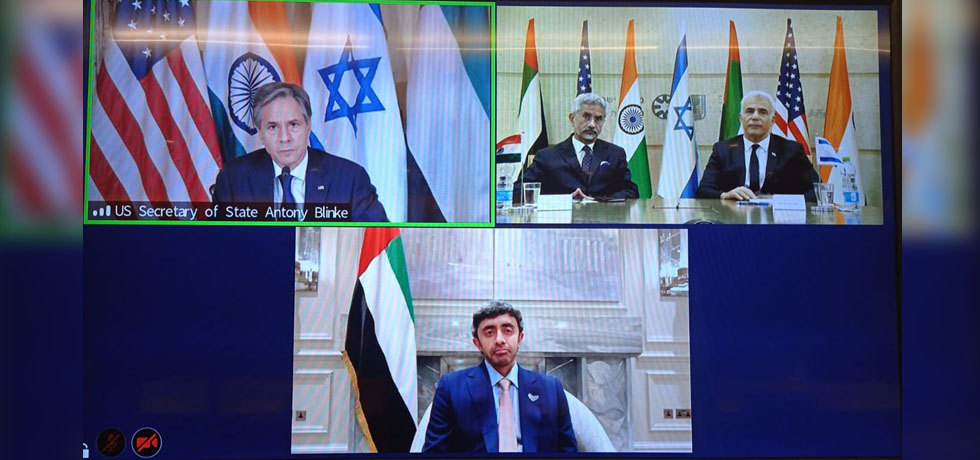 Abraham Accords
The Oct. 18 forum follows the signing of the 2020 Abraham Accords that marked the first public normalization of relations between any Arab nation and Israel.
The Abraham Accords are a joint statement between the United States, UAE, and Israel signed on Aug. 30, 2020, under U.S. President Donald Trump. It's now an umbrella term for the Israel–UAE normalization agreement and Israel–Bahrain normalization agreement.
The U.S. State Department said that during the forum, Blinken "reiterated the Biden Administration's support for the Abraham Accords and normalization agreements and discussed future opportunities for collaboration in the region and globally."
Esra Sarim, a France-based international security analyst, said that after the Abraham Accords were signed, the UAE, as a key energy supplier, became a "reliable partner" for both the United States and Israel.
"India and Israel have already had a close relationship for years. They have robust cooperation in the defense industry and this close relationship is always encouraged by the U.S. government as well as Israel's relations with the UAE," Sarim told The Epoch Times via email.
Hamid Bahrami, a Glasgow-based Middle East analyst, told The Epoch Times that the United States wants to use the forum to transfer its "security role" to an "Arab–Israeli bloc."
"The threat is currently from the Iranian regime and the growth of Islamism, which threatens Arab states. The significance is that both Israel and Arabs have found common interests, as well as the same enemy," he said.
"The Iranian regime views [the Abraham Accords] as a military alliance against itself. The mullahs' regime has today been isolated, and it seems it seeks to go closer to China and Russia."
However, Frantzman said while the four nations share broader interests in "regional stability," he doesn't believe that the group shares common interests regarding Iran.
"Israel is concerned about Iran's drive for a nuclear weapon and its destabilizing role in Gaza, Syria, Lebanon, and Iraq. India doesn't appear to have any qualms with Iran, and the UAE prefers stability over confrontation," he said.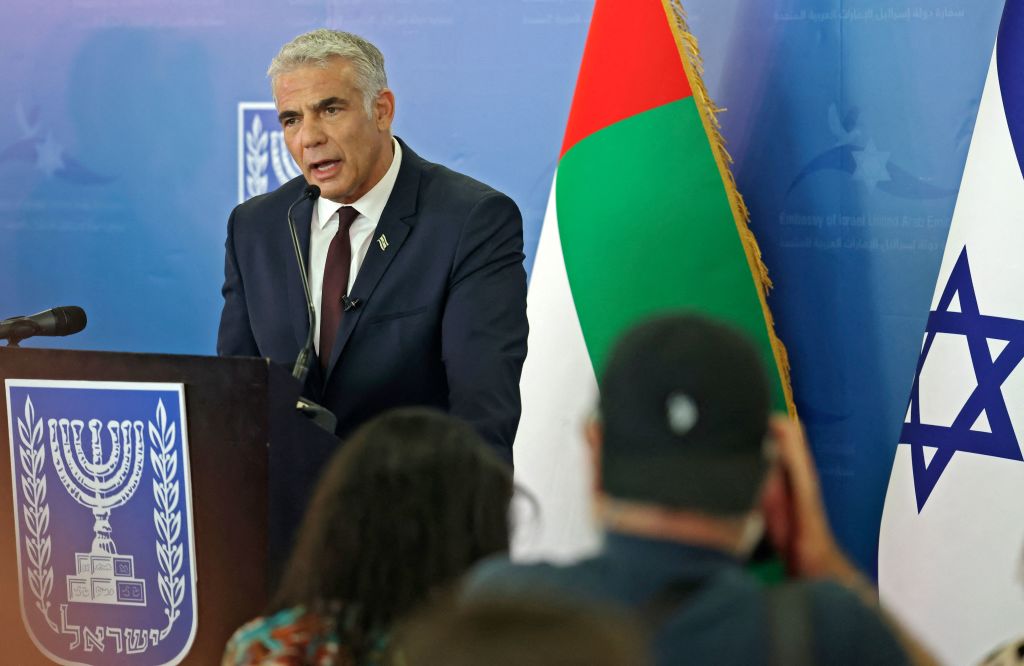 New Quad and China
Experts said the new alliance will help to maintain the U.S. presence in the Middle East and South Asia after the withdrawal from Afghanistan and will also help to create a regional balance against China and Russia.
The Oct. 18 forum comes after the first trilateral partnership between India, UAE, and Israel, formed early this year. That agreement is about Israel producing a robotic solar cleaning technology in India for a project in the UAE.
"This formation was specially made just after the AUKUS defense agreement between Australia, Britain, and the United States," Sarim said. "Through these agreements/alliances, the U.S. administration that had to leave Afghanistan aims to strengthen its axis and adopt a strong approach towards both Russia and China in order to maintain its position/presence in the Middle East and Southern Asia."
AUKUS is widely seen as a pact to counter China and involves Australia building nuclear-powered submarines for the first time in the country's history, with technology provided by the United States.
"We're taking another historic step to deepen and formalize cooperation among all three of our nations because we all recognize the imperative of ensuring peace and stability in the Indo-Pacific over the long term," U.S. President Joe Biden said after the creation of AUKUS.
Bahrami said the new quad is part of a larger Western strategy to form a wide and united camp against China.
In an earlier analysis for the Jerusalem Post, Frantzman added Greece, France, Cyprus, Bahrain, Egypt, and Jordan to the list of "like-minded countries" as an extension of the new quad.
"Greece and Cyprus have no negative issues with China. On the other hand, Greece and Cyprus are increasingly close to Israel on many interests and also working closely with the U.S. Greece and Cyprus likely share concerns about Turkey's aggressive behavior. There are good reasons for Greece and Cyprus to want to be linked to India and they already have close ties to the UAE," he told The Epoch Times.
Bahrami said Frantzman is right about the reach, and it can be expanded to other countries that have the same interests.
"However, all these countries will finally need to choose which sides they are going to stand on in the new international division in the coming years," Bahrami said. "For instance, the U.S. will need to make clear for Pakistan which side Islamabad wants to stand on. If Pakistan still provides China with a route reaching the Indian Ocean, that means Pakistan is in China's (asymmetric camp). Or if Israel still wants to have a normal relationship with China, it threatens the U.S. plan."
Sarim said that in response to these agreements, it's likely that Iran, Pakistan, Russia, China, and even Afghanistan will make multiple economic and security deals in the near future.