OTTAWA—Foreign Affairs Minister Francois−Philippe Champagne says Canada is suspending its extradition treaty with Hong Kong as part of a package of responses to the new security law China has imposed on the territory.
In a statement, Champagne says Canada will also treat sensitive goods being exported to Hong Kong as if they were being sent to mainland China.
That means outright banning some military−related goods from being traded there.
China imposed strict new controls on Hong Kong this week, in what Champagne calls a violation of the "one country, two systems" philosophy that was supposed to last 50 years after Britain returned Hong Kong to China in 1997.
Champagne's statement says Hong Kong's place in the global economy was based on that promise and needs to be reassessed.
Canada's moves follow measures taken by the United States earlier this week to tighten trade with Hong Kong and stop selling it military equipment.
On July 1, the U.S. House of Representatives unanimously passed a bill imposing sanctions on banks doing business with Chinese officials involved in the implementation of the national security law.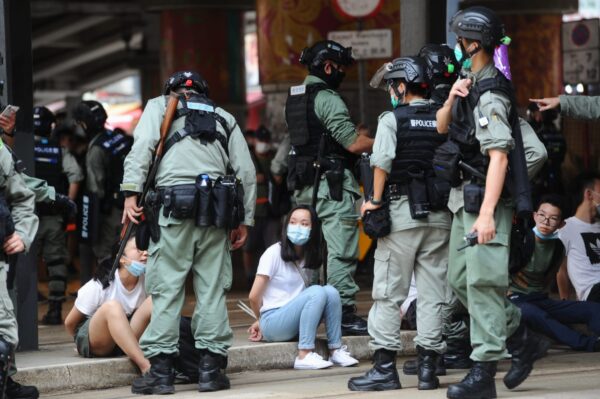 "The law is a brutal, sweeping crackdown against the people of Hong Kong, intended to destroy the freedoms they were promised," House Speaker Nancy Pelosi said at a House Foreign Affairs Committee hearing on the situation in Hong Kong.
Concerns have been raised that the legislation breaches Hong Kong's Basic Law, which guarantees that the International Covenant on Civil and Political Rights can remain in force in the territory.
The U.S. Senate last week unanimously approved a companion bill, the Hong Kong Autonomy Act, which would impose mandatory sanctions on individuals or companies that back efforts by China to restrict Hong Kong's autonomy, also including secondary sanctions on banks that do business with anyone found to be backing any crackdown on the territory's autonomy.
The United States has already taken measures to eliminate Hong Kong's special status, halt defence exports, and restrict the territory's access to high technology products in response to the new law.
According to Sky News and other British media outlets, Britain's Foreign Office chief Sir Simon McDonald summoned China's ambassador Liu Xiaoming to express its concerns over the implementation of the law.
McDonald expressed the U.K.'s "deep concern" over the move, pointing out that the law breaches the 1984 Sino-British Joint Declaration, in which the Chinese regime promised to guarantee Hong Kong a high degree of autonomy for 50 years after the territory was handed back to China in 1997.