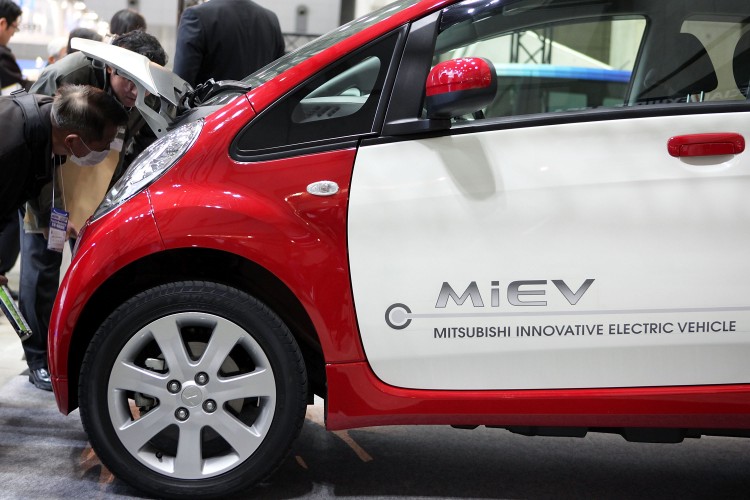 Mitsubishi Motors Corporation earlier this week announced that its 2012 model all-electric powered i-MiEV (Mitsubishi innovative Electric Vehicle) car or simply "i", will have an entry-level base price of $29,125 (excluding destination charges and federal and state tax incentives) when it begins its nationwide rollout this summer in the United States market.
The domestic version of the "i" subcompact five-door hatchback has been adapted from the original Japanese and European Peugeot/Citroën models with an elongated and wider body structure along with improved safety features. The "i's" 15 kWh lithium-ion battery, 66-horsepower and 149 pound-feet torque motor provides an estimated 62 mile range at around 126 MPGe city/99 MPGe highway (miles-per-gallon equivalency). Notably, last year the "i" was named the most efficient EPA certified vehicle in the United States for all fuels ever.
Despite its superior pricing and "greenness," the "i" is facing an ever-growing field of all-electric competition, including the Chevrolet Volt, Ford Focus EV, Honda Fit EV, Nissan Leaf, Toyota Prius plug-in, and the forthcoming Tesla S. All of which provide more spacious and comfortably refined offerings with markedly greater mileage range on a single charge.
Since being sold to select customers in November of last year in Hawaii, California, Oregon, and Washington, sales of the "i" have been nominal, but Mitsubishi is willing to bet that the electric vehicle will continue to be the trend of the future globally. Accordingly, the company has pledged to offer a plug-in option for all of its models within four years and has reached partnerships with Best Buy Co. Inc. and Eaton Corp. to create and install less time consuming at-home electric charging stations.
Given increasing alternative fuel vehicle adoption rates among consumers, expected improvements in battery and charging technologies over the course of the next decade, growth in urbanization, and the underlying concerns over global fossil fuel supply, demand, and pricing volatility, Mitsubishi is perhaps rightly wagering that the future of the car will indeed be cleaner and cheaper. 
Whether or not other vehicle manufacturers follow the inexpensive lead, or the requisite wide-scale infrastructure systems are brought to fruition by both the public and private sectors, or most importantly, whether consumers believe in the viability of the electric vehicle are all major uncertainties for the auto industry. However, if the price manages to become right, the market will likely be the charge needed to drive the world into an all-electric reality.
The Epoch Times publishes in 35 countries and in 19 languages. Subscribe to our e-newsletter.