Cindy Hyde-Smith (R-Miss.) has comfortably won the U.S. Senate seat of Mississippi at a special election runoff.
Hyde-Smith, 59, secured more than 53 percent of the vote compared to her opponent, Democrat Mike Espy, at a ballot she described to be about "conservative values."
Hyde-Smith is the first woman elected to Congress from Mississippi. If Espy had won, he would have been the first black senator from Mississippi since the Civil War of 1861-65.
Trump attended two get-out-the-vote rallies in Mississippi on Nov. 26, and extended his congratulations on Twitter, to Hyde-Smith after the race, saying that he was "very proud" of her.
Congratulations to Senator Cindy Hyde-Smith on your big WIN in the Great State of Mississippi. We are all very proud of you!

— Donald J. Trump (@realDonaldTrump) November 28, 2018
"Mr. President, thank you so much for all of your help," Hyde-Smith said in a victory speech to supporters, reiterating her win was a triumph for conservative values. "Mississippians know me and they know my heart."
Hyde-Smith's victory will help the Republican Party hold onto a 53-47 majority in the reshuffled U.S. Senate that reconvenes in the New Year.
Hyde-Smith won the election on a variety of promises including lower taxes, lighter regulations, protecting the life of unborn babies, and better support for the military, police, and war veterans.
"I have worked very hard for you, and you can count on me when it comes to your conservative values," she said at a campaign rally in Biloxi on Nov. 26.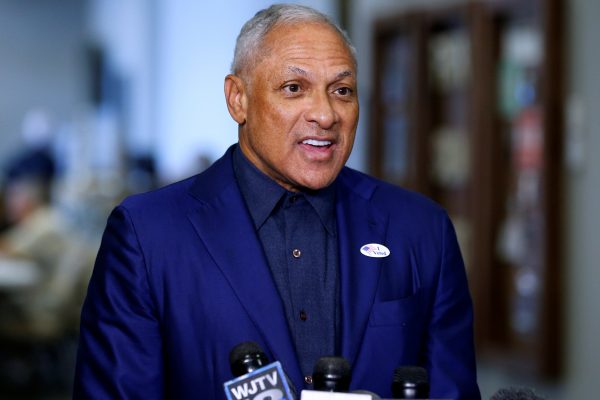 After hearing the election result, Espy phoned Hyde-Smith to congratulate her. "She has my prayers as she goes to Washington to unite a very divided Mississippi," he said.
Espy, 64, had promised to work with Trump and the Republicans to help make America great again. Fellow Democrat Doug Jones used the same election promise to win his seat on the Senate in Alabama back in 2017.
While this is not the result we were hoping for, I am proud of the historic campaign we ran and grateful for the support we received across Mississippi.

— Mike Espy (@espyforsenate) November 28, 2018
The runoff to serve the last two years of former Republican Sen. Thad Cochran's term was triggered after neither Espy nor Hyde-Smith secured more than half of the vote needed to settle the Nov. 6 special election. There were four candidates on the ballot on Nov. 6. Cochran, 80, had resigned earlier this year citing health concerns.
According to ballotpedia.org, the runoff decides through a secondary primary election, which of the top candidates from the first primary election will be elected to office.
The hotly contested election campaign created debate about the impact of illegal immigration on employment opportunities for African-American workers.
U.S. President Donald Trump had said at the Biloxi rally that illegal immigrants, such as those participating in the caravans between Mexico and the United States, are unfairly disadvantaging American workers.
"Illegal immigration is also deeply unfair to American workers, including African-American workers," Trump said. "The policy of open borders are a threat to every community."
The Economic Policy Institute found that in the third-quarter of 2018, Asian worker unemployment was just 3 percent compared to 6.3 percent in the black community, which was the highest among the most populous ethnic groups. White worker unemployment was second after Asians at just 3.2 percent, according to the institute.
The president also sent a clear message to the people in the caravans who still believe they might make it into the United States.
"To the lawless caravans and illegal trespassers marching toward our border, it is very simple: Turn back now, go back home, we will not let you in," Trump said.
Reuters contributed to this article.
Watch Next:
5 Ways China is subverting the United States
Gina and China Uncensored host Chris Chappell to count down the worst cases of Chinese subversion in America.