A missing New Jersey teen who took $1,000 and ran away two weeks ago was found safe in Philadelphia, according to news reports.
"He will need at least a night in the hospital as he's been through a lot over these last two weeks. In time, there may be more to share but, for now, we are grateful beyond words and will go quiet for a while to focus everything we can give to the long road to recovery," Nicolai Kolding, the boy's father, said about 15-year-old Thomas Kolding. He was last seen at home on Oct. 30, Patch.com reported.
Kolding ran away with a backpack filled with clothing and rode New Jersey Transit trains to New York Penn Station before heading to Camden, New Jersey. He was seen on surveillance footage in Camden.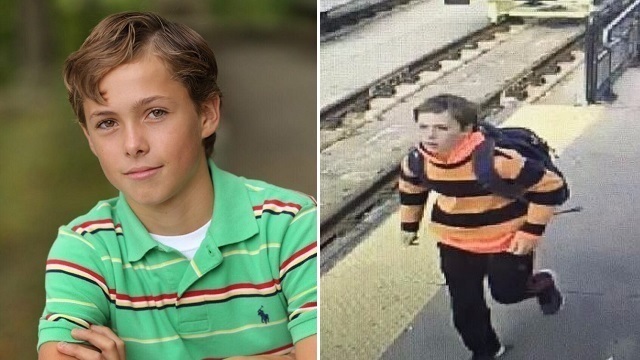 He was also spotted walking across the Ben Franklin Bridge into Philadelphia from New Jersey.
But he was found by the Philadelphia Police Department near Penrose Plaza, said spokesman Eric McLaurin to the Daily Record. He was uninjured.
An officer offered the teen pizza when he was found and he replied: "No, I'm good. I already ate," the paper reported.
"This was the best possible conclusion, and as far as we know he came to no harm," Mountain Lakes Police Chief Shawn Bennett said of the incident.
Kolding was later to Children's Hospital of Philadelphia for an evaluation.
Kolding, who is an honors student, left his home with around $1,000 following "an argument with his father about his grades," according to NorthJersey.com. The boy left behind his phone and other electronic devices, and he left notes to his family and a friend. During the search, his father issued a statement via a Facebook video, saying, "Thomas: please forgive me if this video embarrasses. It does me. Just please come home," NBC4 reported.
"To our family, our neighbors, our friends, the police, the media, and the literally thousands upon thousands who shared and cared, you all played a vital role in finding Thomas. From the bottom of our hearts: much love and thank you," Kolding's father said, Patch.com reported.
Morris County Prosecutor Fredrick Knapp issued a statement to Patch.com: "Prosecutor Knapp, Chief Wilson, and Chief Bennett extend their sincerest appreciation to the multiple jurisdictions and agencies involved in this investigation including but not limited to New Jersey Transit Police Department, Amtrak Police Department, New Jersey State Police Department, Camden Police Department, Philadelphia Police Department, Delaware Port Authority Police Department, Miami Township, Ohio Police Department, as well as transportation agencies who assisted in the coordination of a multi-state search for Thomas Kolding."