Two sisters in Michigan who were reported missing this week were found safe on Mackinac Island, said reports on Feb. 11.
Alexis Ypma, 11, and Jenna Ypma, 9, were reported missing and an advisory was sent out by police, reported The Morning Sun.
The Michigan State Police sent out the advisory at around 11 p.m. on Feb. 10.
Joel Ypma, the father of the girls, didn't drop them off at school on Feb. 10, leading their family to become concerned when they couldn't get ahold of the sisters or Joel Ypma.
They then called the Kent County Sheriff's Department, which contacted state police.
Police said the father was said to be showing signs of having a mental episode, the Morning Sun reported. Fox17, citing family members, said that Joel Ypma is "suffering from paranoia and believes he is being followed."
Police later followed up on a tip that he and the girls were staying on Mackinac Island before finding the girls safe. They are now working to get the girls back home, it was reported.
WOOD-TV reported that Mackinac Island is only accessible via airplane at this time of the year.
Officials said Joel Ypma and the girls flew to the island earlier on Feb. 10.
"The MSP created the [emergency missing advisory] in 2017, when the state defined the criteria for the AMBER Alert to only include cases of child abduction, the release states. Knowing that some cases, like this one, would not fit the new criteria, the [advisory] was created to accommodate endangerment cases similar to this one," wrote the Morning Sun about the system.
It said there have been more than 90 successful advisories sent out since 2017. It can be sent out for missing persons of any age—not just children as in the case of AMBER Alerts.
Other details about the case were not provided.
Before the girls were found, Ypma was believed to be driving a black 2012 Jeep Grand Cherokee with Michigan license plate BMK5222 and was heading towards northern Michigan and was seen in Mackinaw City, according to WOOD-TV.
If you have more information about the case, call the Kent County Sheriff's Office at 616-336-3113.
Mackinac Island is located in Lake Huron between Michigan's Upper and Lower Peninsulas. Fort Mackinac was established on the islands by British forces during the Revolutionary War in the late 1700s.
Missing Children
Under federal law, when a child is reported missing to law enforcement they must be entered into the database. In 2016, there were 465,676 entries.
"This number represents reports of missing children. That means if a child runs away multiple times in a year, each instance would be entered into NCIC separately and counted in the yearly total. Likewise, if an entry is withdrawn and amended or updated, that would also be reflected in the total," the center noted.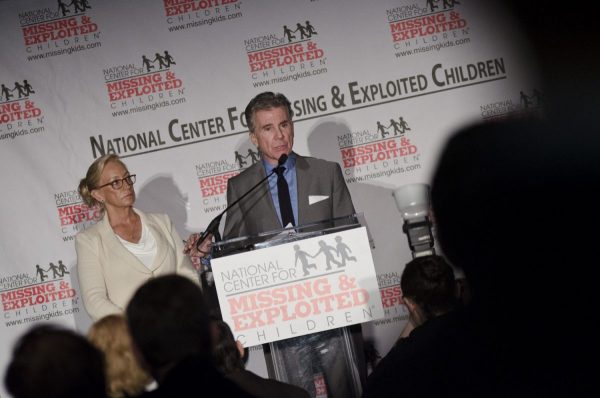 In 2017, the center said it assisted officers and families with the cases of more than 27,000 missing children. In those cases, 91 percent were endangered runaways, and 5 percent were family abductions.
About one in seven children reported missing to the center in 2017 were likely victims of child sex trafficking.