Missing Her Husband, Wife Engages in Futile Battle with China's Military Bureaucracy
September 20, 2011 1:05 am Last Updated: October 1, 2015 3:36 pm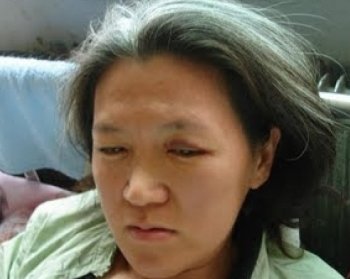 The Mid-Autumn Festival, a traditional holiday of family reunion for Chinese people, just passed. But Fu Nan, a woman with greying hair and an abyss in her heart, wasn't able to enjoy it, since she hasn't seen her husband for 14 years.
Jiang Yongqiang was a captain with the First Regiment in China's Air Force First Division, stationed in Liaoning Province, Northeastern China. He was declared missing in 1998, but the military couldn't explain why, how, or provide any other useful information.
Jiang's difficulties began after he won a design competition organized by the Central Military Commission. He held the patent rights to the architectural design for a building dedicated to the soldiers who lost their lives in the Korean War.
During the proposal collection period, Jiang's superior, Tai Yang, Deputy Director of Propaganda of the First Division, pushed Jiang to surrender the design proposal to him and put his name on it. Jiang refused, and then became a target. Pressure and intimidation led to repeated attempts at suicide. Before he went missing he would return from work and sit down and cry.
On Sept. 3, 1998, Tai Yang told Fu Nan that Jiang had gone on vacation to his hometown.
Twenty days later, Tai passed her a letter, claimed to have be left by her husband, and added that Jiang had left the troop and nobody knew his whereabouts.
Shortly since, the Air Force headquarters made the decision to remove Jiang Yongqiang's military rank and his name from the records. Fu Nan and her young daughter were forcibly removed from the military dormitory.
Fu says the Air Force should follow the military pension regulations. They should have attempted to find his whereabouts, not simply strip him of his military rank, and take away her and her daughter's pension benefits and force them off premises. The army bureaucracy was unsympathetic to her repeated appeals.
Fu, originally from Anshan City, Liaoning Province, moved to Beijing so she could more easily appeal at central government offices.
Fu told The Epoch Times that for over ten years, she visited various ranks of the military, attempting to get news of her husband's whereabouts, but was denied any information.
The Air Force and the Anshan City government joined forces to stop her from petitioning. The Anshan Municipal CCP Deputy Secretary-General Wang Wei hired thugs to assault, threaten, and detain her. She was severely beaten up many times. At times, lacking an income source, Fu collected garbage to make a living.
She says the experience has made her realize that the Chinese Communist Party is sinister: "The CCP is evil beyond belief; it is a robber and a bandit."
On Aug. 3 Boxun , a dissident website, published a letter that Fu Nan left for her daughter. It said: "If by Oct. 1, Mom still can't have the Air Force withdraw the illegal punishment given to your father, and redeem your father's honor, Mom will use her life" to push the matter. It did not state specifically what measures she would take.
The secretary's office at the Air Force First Division's Dalian headquarters was unresponsive to phone calls from The Epoch Times requesting comment.

Read the original Chinese article.