Investigators said a teenage girl missing from Florida for more than a year could be in Colorado.
Aurora Police shared pictures of 16-year-old Natalie Wilson on Monday, Feb. 25, adding, "It is believed Natalie may be in the Denver area. If you see her please call 911."
#MISSING It is believed Natalie may be in the Denver area. If you see her please call 911. https://t.co/MuCGtefTvS

— Aurora Police Dept (@AuroraPD) February 26, 2019
She was reported missing on Feb. 17, 2018, from the Tampa, Florida area, according to the Manatee County Sheriff's Office.
When she went missing she was described as white, about 5 feet, 6 inches tall, with brown hair and blue eyes. She weighed about 120 pounds at the time of her disappearance.
The Manatee County Sheriff's Office also noted that when she was last seen, the teen's hair was "dyed multiple colors."
According to the National Center for Missing and Exploited Children (NCMEC)—a national organization that works on issues that prevent and recover child victims—there were 424,066 reports of missing children made to law enforcement in the United States in 2018 alone. NCMEC notes that there is no reliable way to determine the total number of children who are actually missing in the United States since many children are never reported missing.
Of the more than 25,000 cases of missing children that NCMEC assisted law enforcement and families with last year, 92 percent fell into the category of endangered runaways.
Many missing children fall prey to crime rings that engage in sexual exploitation of minors.
"Of the more than 23,500 runaways reported to NCMEC in 2018, one in seven were likely victims of child sex trafficking," NCMEC said.
FBI Nets Sex Traffickers in Super Bowl Sting
The incident recalls the recent case of the FBI arresting 169 people during a pre-Super Bowl sting operation targeting human traffickers who in the run-up to the game flooded Atlanta with sex workers.
The bureau said in a press release that an 11-day operation beginning on Jan. 23 resulted in the arrest of 26 alleged traffickers, and 34 people accused of trying to engage in sex acts with minors. Agents also detained nine alleged juvenile sex-trafficking victims as well as nine alleged adult victims.
"The goal of operations such as these is to first and foremost rescue any children or young adults who are victims of sex trafficking," Dunwoody Chief Billy Grogan told the Atlanta Journal-Constitution. "We also want to remove those profiting from commercial sex trafficking from our streets by putting them in jail."
The victims were all provided assistance and treatment, the FBI said. The bureau added that the overarching aim of the sting was to tackle the threat of sex trafficking head-on.
"The operation's goal was to raise awareness about sex trafficking by proactively addressing that threat during the Super Bowl and events leading up to the Super Bowl," the press release read. "Sex trafficking is not just a problem during large-scale events, it is a 365-day-a-year problem in communities all across the country."
The results are in! Here are the #FBI final results of the #humantrafficking effort leading up to #SuperbowlLIII from our #MATCH #TaskForce. Thank you to all of our partners who contributed in this succes. 😀 pic.twitter.com/ETzEra0uhO

— FBI Atlanta (@FBIAtlanta) February 5, 2019
A Multibillion-Dollar Criminal Industry
Chuck Boring, Cobb County assistant district attorney told the Atlanta Journal-Constitution that human trafficking is a broad concept, and that sex crimes like prostitution are just one of its aspects.
"The definition is wider for human trafficking," Boring said. "It captures a lot of different activity."
Human trafficking is the business of stealing victims' freedom for profit. According to Polaris, a Washington-based nonprofit engaged in the global fight to eradicate modern slavery, said that "in some cases, traffickers trick, defraud, or physically force victims into providing commercial sex."
"In others, victims are lied to, assaulted, threatened, or manipulated into working under inhumane, illegal, or otherwise unacceptable conditions. It is a multibillion-dollar criminal industry that denies freedom to 24.9 million people around the world."
The Department of Homeland Security said that human trafficking is second only to drug trafficking as the most profitable form of transnational crime.
People can be trafficked for various forms of exploitation such as forced prostitution, forced labor, and forced organ removal.
Forced organ removal is also a very serious issue in China.
Organ Harvesting in China Update
In a bombshell December 2018 report released by the World Organization to Investigate the Persecution of Falun Gong (WOIPFG), of the 16 doctors who spoke on the record, 11 doctors from nine hospitals immediately admitted that their organs came from Falun Gong practitioners.

The calls are the latest research documenting forced organ harvesting in China, which developed as part of the persecution of the spiritual practice of Falun Gong, also known as Falun Dafa. In China, Falun Gong has been subjected to brutal persecution since July 1999, with widespread reports of torture, brainwashing, forced labor, extrajudicial killings, and organ harvesting in labor camps and hospitals.
A transcript from one call said, "I have another [question]. You are using Falun Gong practitioners as the donors, that is, those healthy donors, right?"
"Definitely healthy. How can it be acceptable if they're not healthy?!" the doctor responded.
'Cold Genocide'
Investigative journalist and author Ethan Gutmann was nominated for the 2017 Nobel Peace Prize for his work exposing the mass harvesting of organs in China's state-run hospitals from practitioners of the traditional spiritual practice Falun Gong.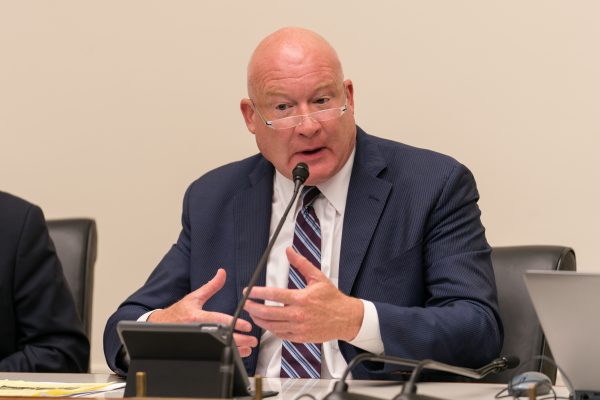 Gutmann, along with human rights lawyer David Matas and former Canadian Member of Parliament David Kilgour, released in 2016 the report "Bloody Harvest/The Slaughter: an Update," which expanded on research published in Matas and Kilgour's 2006 report "Bloody Harvest" and Gutmann's 2014 book "The Slaughter."
The updated report was based on "a meticulous examination of the transplant programs of hundreds of hospitals in China, drawing on media reports, official propaganda, medical journals, hospital websites, and a vast amount of deleted websites found in archives," according to the report's website.
The report concludes that the number of transplants done in China far exceeds the official numbers and that the main source for the organs is the killing of innocents, primarily Falun Gong practitioners.
Some researchers have described the nearly 20 years of mass killings of Falun Gong practitioners in China as a "cold genocide."