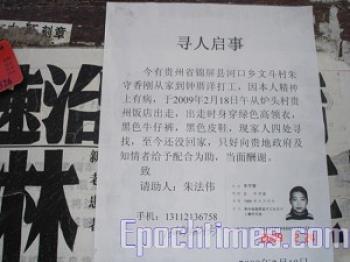 Local residents of Puning City in Guangdong Province have spent over three months verifying missing persons in more than two dozen villages. Their report lists and confirms 60 people who have been missing since 2006.
Even with the risks involved, this report was released to The Epoch Times by individual residents. They released the report under the background of the regime's recent denial of public safety issues. Officials recently announced that five suspects spreading a "murder to sell organs" rumor have been arrested and charged with "fabricating and deliberately spreading false information of terrorist crimes."
The Missing Include All Ages
According to the list, there are 60 people with various states of health, ages range from a two-year-old, to an 80-year-old, and they vary from residents to foreigners.

Forwarded to The Epoch Times, the list risks the safety of the many local residents who conducted the investigation in over 20 villages, amongst them—Jieyang City and Shantou. One of the residents mentioned to The Epoch Times that authorities had issued oral warnings to local regimes and schools not to reveal any news regarding the missing. The penalty for disregarding the warning will be three to five years in prison.
The majority of the missing were psychologically stable. The youngsters also account for a certain proportion. One 68-year-old man named Wu Quenfa, from Jeidong County, has been missing since October of 2008. He went out one morning to walk the dog, and never returned. The dog reported back without its owner. Nineteen-year-old Chen Ganglei, from Shantou City, has been missing since an evening out on September 30, 2008.
Locals Resent Regime's Propaganda
Last October, Jieyang City Public Bureau published a statement indicating there had been no missing persons report. Further more, organ trafficking was reported to be unscientific nonsense, according to a series of investigations through 21 primary and secondary schools, 7 hospitals, and the neighborhood committees of cities and urban areas.
The Puning City local residents were furious by this statement, saying, "The elderly are horrified to go out alone. They now go out in groups for morning exercises. The schools even issued notices, requesting parents to pick up their own children. The schools claim they hold no responsibility for the missing students."
A school worker said, "Many elementary schools informed the parents just recently that they must take their kids home themselves, and that the school holds no responsibility for the students' whereabouts. I work at a school and I know all these things. The police don't care. A kid missing from school isn't an abnormal thing. It has been going on for a couple of years now. It's only just recently been exposed. And yet, these happenings are still not allowed to be revealed. I suspect it's to make the authority look as though it's not involved."
Puning City residents also revealed that according to some statistics, there are at least 500 ads about the missings from Jieyang Daily, radios, TV, and other means of local media, in the past few years. They further indicated, "Jieyang City officials have banned the missing ads on newspaper, TV, and radios. They even have the streets and posts cleaned by tearing off the missing ads."
Residents added, "There are a total of 1,635 villages, and 487 neighborhood committees in Jieyang City. If an average of three people were missing per village, there would be around 5,000 people missing. It is not just a few."
They appeal to the media to look into this matter and ascertain whether or not there is a systematic crime and gang involved, such as murder and organ trafficking.
Read original article in Chinese.