The party-state in Beijing is again revealing its totalitarian colors to the world through its conduct toward Canadian citizen Anastasia Lin.
Lin, 25, has for several years been a vocal critic of China's government for its brutal persecution of spiritual minorities, most notably the Falun Gong, Christian, Tibetan Buddhist, and Uyghur Muslim communities.
Lin uses her media platforms as a multilingual part-time film actress and model to speak out on the issue of religious freedom generally. She earlier lobbied successfully, along with many others, for the creation of Canada's new ambassador for religious freedom.
She is also studying a double major in international relations and acting at the University of Toronto. With more than 20 credits in film and television, many with messages of freedom and transparency, she was the female lead in "Beyond Destiny" (2010), which won Mexico's Golden Palm Award and California's Indie Fest Award of Merit.
A practitioner of Falun Gong—the exercise and meditation discipline China's then Communist Party boss Jiang Zemin, banned in mid-1999—Lin was born in China's Hunan Province and lived there before moving to Canada at age 13 with her mother. Her father today has a second family in China.
Within days of her winning last month over 52 other contestants in the Miss World Canada competition, Lin began receiving text messages from her father, saying she would lose his support if she continued speaking out about freedom of religion.
"He said," added Lin, " that the security services threatened him with turning my family into something from the Cultural Revolution," referring to the violent period in the 1960s when Mao, seeking to destroy his political opponents under cover of social chaos, encouraged family members to denounce one other.

Confident from past situations in China that "naming and shaming" Beijing's party-state is the most effective strategy from abroad to protect her father, Lin continues to stand her ground. "I think the best way to protect my father at this point is to continue speaking out about it; to raise awareness about the issue and hopefully they will back away."
I think the best way to protect my father at this point is to continue speaking out about it.
Bob Fu, founder of U.S.-based China Aid, a Christian international human rights group, appears to concur: "My father was beaten after I released documents containing top government secrets and stories of government-sanctioned persecution in 2002. … The government's intended message to me is clear: 'Unless you, Bob Fu, shut your mouth, we, the Chinese security forces, will not stop harassing your family members.'"
By speaking out, Lin helps raise the profile of the issue, said Urgyen Badheytsang, national director of Students for a Free Tibet Canada. "When Miss World Canada gets threatened with something like this, it really hits home. Now Canadians suddenly feel like one of their own is being affected by the human rights situation in China," said Badheytsang.
Kayum Masimov, a Uyghur-Canadian in Montreal, has no family in China but has received telephone death threats and the relentless cyberattacks common to critics of Beijing. He sympathizes with Lin's experience, grateful that she is drawing attention to the threats. "What happened to Miss Canada is common. … Persecution goes beyond the physical boundaries of China. This is not the fantasy of a few marginalized people—this is very common."
Joel Chipkar, a leader in Toronto's Falun Gong community, said many of fellow practitioners have pointed to Canada's closed-door discussions on human rights with China as the culprit. "If Canada openly called for China to stop harassing its citizens and their families, China would start respecting Canada's borders a little more. … This is not a big dissident group standing up and attacking the Chinese government. This is a girl who has been crowned Miss World Canada."
In fact, Ottawa has since voiced support for Lin: "Canada commends Ms. Lin for her efforts to raise awareness regarding these issues," said Foreign Affairs spokeswoman Amy Mills in an e-mailed statement. Ottawa's backing of Lin does ratchet up the diplomatic stake.
Canada commends Ms. Lin for her efforts to raise awareness regarding these issues.
China will host the Miss World final on Dec. 19 in Sanya, China, but Lin, who now has her own government's support, will require a visa to participate. Her principled stand adds drama to the contest. "Stay tuned and see if they give me the visa," Lin noted.
Onward, Canada's Anastasia.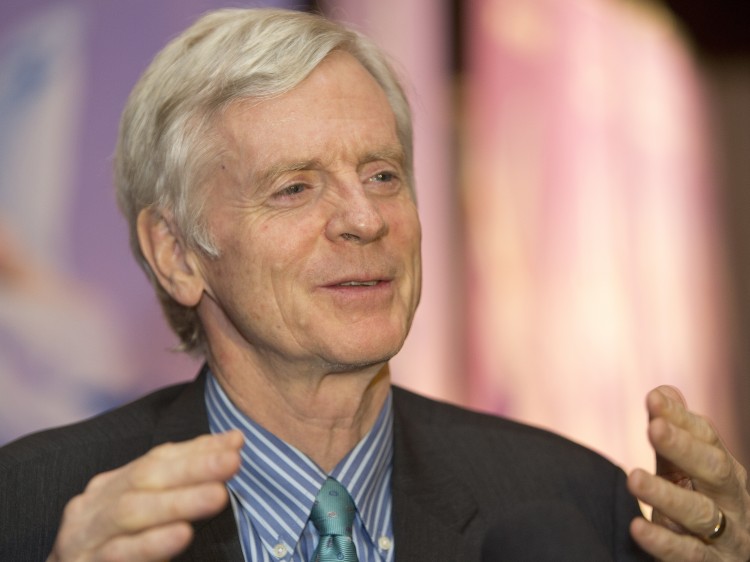 David Kilgour, a lawyer by profession, served in Canada's House of Commons for almost 27 years. In Jean Chretien's Cabinet, he was secretary of state (Africa and Latin America) and secretary of state (Asia-Pacific). He is the author of several books and co-author with David Matas of "Bloody Harvest: The Killing of Falun Gong for Their Organs."
Views expressed in this article are the opinions of the author and do not necessarily reflect the views of The Epoch Times.