Miss America Winner 2014: Nina Davuluri, Miss New York
September 15, 2013 11:01 pm Last Updated: June 24, 2015 8:27 pm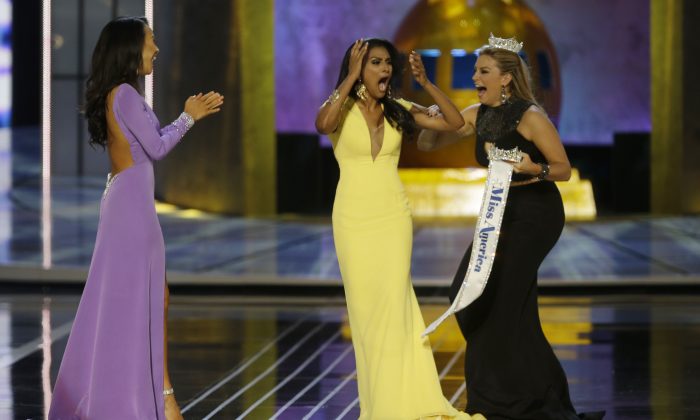 Nina Davuluri, Miss New York, has won Miss America 2014. 
Davuluri, 24, graduated from the University of Michigan and lives in Syracuse, New York.
Her platform issue is "celebrating diversity through cultural competency," according to her Miss America page. She also hopes to attend medical school. 
Davuluri will head to Seaside Park and Seaside Heights Monday afternoon to support reconstruction efforts after more than four blocks of the iconic boardwalk were destroyed by a raging wind-whipped fire on Thursday.
The visit will come after the new Miss America does the traditional frolic in the Atlantic City surf Monday morning, the day after winning the title.
The pageant on Sunday pitted 53 contestants—one from each state, plus the District of Columbia, Puerto Rico and the U.S. Virgin Islands—in swimsuit, evening gown, talent, and interview competitions.
Davuluri's talent was classical Bollywood fusion.
Davuluri succeeds another Miss New York, Mallory Hagan, whose tenure was cut short when the pageant moved back to Atlantic City after a six-year stint in Las Vegas, where winners were chosen in January.
Much attention had been given to Miss Kansas, Theresa Vail, who is believed to be the first Miss America contestant to openly display tattoos. She has the Serenity Prayer on her rib cage and a military insignia on the back of a shoulder. While other contestants wore glamorous costumes and elaborately decorated footwear during Saturday night's "show-us-your-shoes" parade on the Boardwalk, Vail wore camouflage gear and Army boots.
In a Twitter message Sunday, Vail wrote: "Win or not tonight, I have accomplished what I set out to do. I have empowered women. I have opened eyes."
Vail made it to the Top 10 and won a nationwide voters' choice award propelling her into the semi-finals.
Another noteworthy contestant was Miss Florida, Myrrhanda Jones, who made it into the top 5 while wearing a bejeweled knee brace. She tore ligaments in her knee while rehearsing her baton twirling routine on Thursday. Sunday night, she performed the routine flawlessly.
The runner ups were:
1st runner up is Miss California 2013 Crystal Lee
2nd runner up is Miss Oklahoma 2013 Kelsey Griswold
3rd runner up is Miss Florida 2013 Myrrhanda Jones
4th runner up is Miss Minnesota 2013 Rebecca Yeh
The Associated Press contributed to this report.