A Minnesota man was sentenced to three years in prison after his wife died during a meth-fueled "death party," according to reports.
Duane Arden Johnson received his sentence in Brown County District Court after pleading guilty to neglecting his wife before his wife, Debra Lynn Johnson, died at their home in January 2019, reported the Mankato Free Press.
Johnson was accused of giving his wife the methamphetamine that killed her. He told officials that his wife begged him to take her home from a nursing facility to let her die, the paper reported.
He then removed Debra, 69, from the care center against the advice of the medical professionals who worked there.
Then, they held a "death party" at their home and used meth. She also stopped using her medication at the time of her death, the news outlet reported.
Officials discovered her body at their home, which had several seemingly random words painted on their front door, according to the Free Press.
Police found Johnson in a bathtub, and he told them he was trying to clean little white and black "things" from his skin.
Officials also found 47 guns and hundreds of rounds of ammunition inside the home, the report said.
An autopsy found that she died of methamphetamine toxicity, it was reported.
In June, Johnson pleaded guilty to criminal neglect, dismissing a third-degree murder charge as part of a plea deal.
This week, a judge ruled that he must serve three years, of which 19 months are to be in prison.
Huge Stash of Meth Found in Washington
A massive stash of methamphetamine was found stuffed in two suitcases in a Washington forest with an estimated street value of $1 million.
A sergeant with the Okanogan County Sheriff's Office and his K-9 partner found the two suitcases containing 186 pounds of methamphetamine in the Okanogan National Forest on Monday, June 17, according to Gazette-Tribune.
The sheriff's office was assisting the Department of Homeland Security with an air smuggling investigation near Mazama, Wash., King5 News reported, when the deputy made the unusual find.
King5 posted the story on its Facebook page, where it garnered numerous reactions.
"Good Lord, thankful it's in the right hands now," wrote one commenter. "Bless you and the work you do. Cannot thank you enough. Glad it's off the streets."
"Outstanding work," commented another. "Thank you to all involved and working together with local and federal agencies, the way they should be allowed to work together."
Facts About Crime in the United States
Violent crime in the United States has fallen sharply over the past 25 years, according to both the FBI's Uniform Crime Reports (UCR) and the Bureau of Justice Statistics (BJS) National Crime Victimization Survey (NCVS) (pdf).
The rate of violent crimes fell by 49 percent between 1993 and 2017, according to the FBI's UCR, which only reflects crimes reported to the police.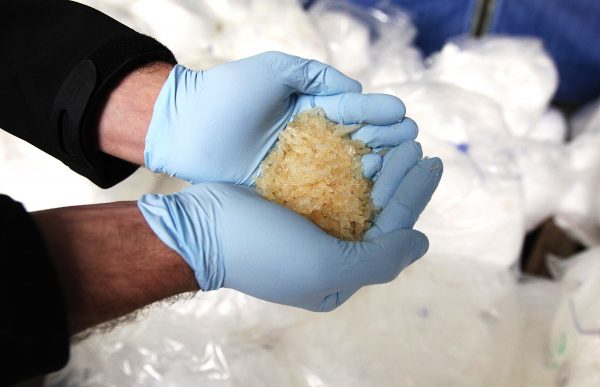 The violent crime rate dropped by 74 percent between 1993 and 2017, according to the BJS's 
NCVS
, which takes into account both crimes that have been reported to the police and those that have not. The FBI recently released preliminary data for 2018. According to the 
Preliminary Semiannual Uniform Crime Report
, January to June 2018, violent crime rates in the United States dropped by 4.3 percent compared to the same six-month period in 2017.
While the overall rate of violent crime has seen a steady downward drop since its peak in the 1990s, there have been several upticks that bucked the trend.  between 2014 and 2016, the murder rate increased by more than 20 percent, to 5.4 per 100,000 residents, from 4.4, according to an Epoch Times analysis of FBI data. The last two-year period that the rate soared so quickly was between 1966 and 1968.
Epoch Times reporter Tom Ozimek contributed to this report.