Minnesota Gov. Tim Walz signed an executive order to send the state's National Guard to the Minnesota-North Dakota border, citing threats of violence in the area.
He announced that troops will be sent to Clay County, noting that local law enforcement has become aware of "threats that violent activities during demonstrations planned in North Dakota could spill into nearby Minnesota communities."
"The Minnesota National Guard stands ready to provide protection for all Minnesotans," Walz added in a statement. "While Minnesotans turn their attention to rebuilding our communities and reexamining racial inequities in the wake of George Floyd's death, our administration is committed to providing protection for our neighborhoods, businesses, and families in order for those meaningful conversations to happen."
Walz didn't elaborate on the "credible threat" in the area, nor did officials in North Dakota. It's not clear if it is in relation to protests and riots sparked by the death of George Floyd, who died in police custody in Minneapolis.
The National Guard general will work with local agencies to provide equipment, personnel, and facilities to respond. Meanwhile, the state's emergency operations center was activated and "implemented the Minnesota Emergency Operations Plan. The SEOC will support this mission in addition to its current support of security operations in other communities and the State's COVID-19 response," according to his statement.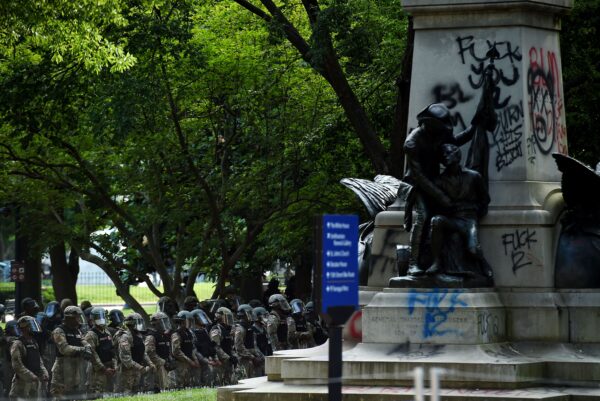 The National Guard was already activated to deal with unrest following Floyd's death. Some protests at times turned violent, with businesses being looted and buildings being burned down.
Many of the protests were largely peaceful, but they were rocked by bouts of violence, including deadly attacks on officers, rampant thefts, and arson in some places. In Minneapolis alone, more than 220 buildings were damaged or burned, with property damage topping $55 million, city officials said.
Calmer protests followed a decision by prosecutors to charge three more police officers and file a new, tougher charge against the officer at the center of the case. The most serious new charge Wednesday was an accusation of second-degree murder against former Minneapolis Police officer Derek Chauvin, who was caught on video pressing his knee to Floyd's neck. The three other officers at the scene were charged for the first time with aiding and abetting second-degree murder and second-degree manslaughter.
The Associated Press contributed to this report.