Mine Accident in China Leaves 74 Dead, 32 Missing
December 18, 2005 12:00 am Last Updated: December 18, 2005 12:00 am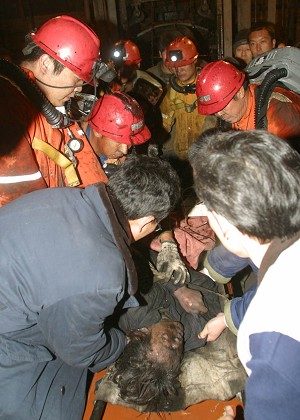 On the morning of December 8, there were 74 confirmed deaths in the Liuguantun mine explosion in Kaiping district, Tangshan City, Hubei Province. Thirty-two people were declared missing.
At about 3:30 p.m. on December 7, there was a big explosion at the Liuguantun coal mine. According to authorities of the mine, 82 people were able to make it out safely shortly after the accident, but 104 people were stranded in the mine shaft.
According government authorities in Tangshan, 71 bodies were found. Rescuers were able to get 32 people out, but three of them died in the hospital. At present, there are 32 people still missing in the mine shaft.
Rescue teams from Kailuan City have sent 152 rescuers into the shaft. Rescue work is difficult, however, because the gas concentration in the shaft exceeds the safety standard. Rescuers have to increase the air circulation to reduce the gas concentration. They are also researching a rescue plan. Technically, the 32 miners can still be alive, but the possibility cannot be determined.