Mindy Kaling has just revealed that B.J. Novak will be a part of her life forever—as her 16-month-old baby girl Katherine Swati's godfather.
The two shared the screen together in the NBC hit show "The Office" where they starred as onscreen lovers playing Kelly Kupoor and Ryan Howard.
Their onscreen romance sparked rumors that the pair were dating off screen as well.
"If I was on the outside looking at it, I would think the same thing," Kaling recently told Good Housekeeping. "The truth is that B.J. is so much more like family now than a platonic friend. He's the godfather to my daughter."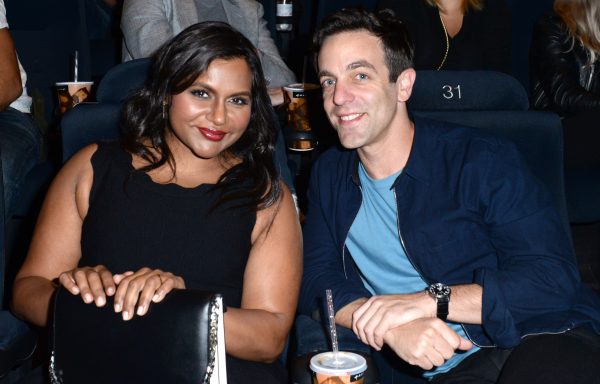 She added that he often comes over to see the baby girl.
"He comes over like once a week. Sometimes he'll come over just to hang out with her," she said.
Her most recent photo of her daughter was from March 31, where she posted a photo on Instagram of her and her daughter in matching fruit-and-vegetable-patterned pajamas.
"A lazy Sunday with my little [love]," she captioned the image.
View this post on Instagram
While Kaling said Novak and her aren't romantically involved, she did say he is "a real staple in my household," according to Good Housekeeping.
"When you've known someone for as long as I've known him—the time that we met each other, which was like 24. Now, we're both almost 40. It's such a long time that he truly is just a part of my family," she added.
The two met during the beginning filming of "The Office" back in 2004. She posted a flashback photo on Instagram and captioned the post, "This is 25! Flashback Fridayz courtesy of Jenna Fischer."
View this post on Instagram
Previously, Kaling told InStyle, "He is not my boyfriend, but he is not my best friend. I guess you could describe our relationship as a 'romantically charged camaraderie with loud arguments,' but I don't think Facebook would accept this as a new status."
Novak also addressed his relationship with the former Office costar. He told People magazine in 2014, "Complicated," when asked how he would describe Kaling in one word: "A really complicated person and a really complicated friendship, but I wouldn't trade it for anything in the world."
Meanwhile, Kaling also spoke about her fears around raising her daughter by herself when she gave the commencement speech at her alma mater, Dartmouth College, in 2018, according to Entertainment Tonight.
"After my daughter was born in December, I remember bringing her home, and being in my house with her for the first time and thinking, 'Huh, according to movies and TV, this is traditionally the time when my mother and spouse are supposed to be here, sharing this experience with me,'" she recalled.
"And I looked around and I had neither, and for a moment it was kind of scary, like, 'Can I do this by myself?'" she continued. "But then that feeling went away because the reality is, I'm not doing it by myself. I'm surrounded by family and friends who love and support me."
She also posted about the speech on her Instagram, where she captioned the image with: "Thank you @dartmouthcollege, my Alma Mater, for welcoming me back to deliver today's commencement speech. To say it was an honor is an understatement."
From NTD.com