Millions of Tons of Chinese Grain Poisoned by Heavy Metals
February 10, 2013 10:41 pm Last Updated: October 1, 2015 11:11 am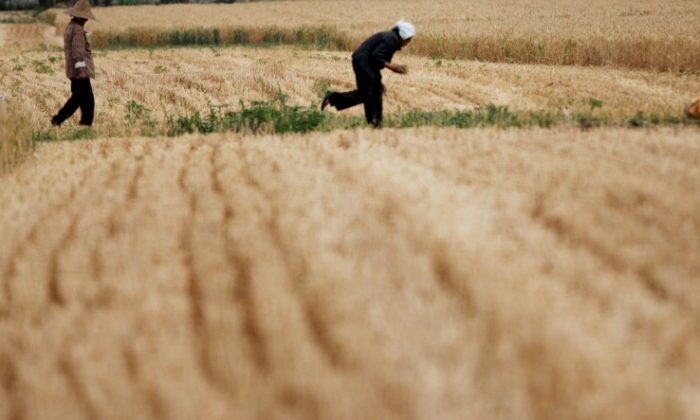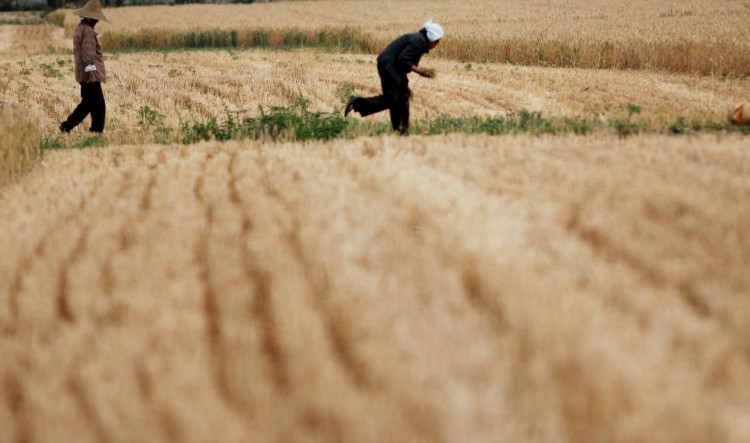 At least 36,000 hectares of farmland in China are contaminated with excessive levels of heavy metals, according to a document authored by the Ministry of Environmental Protection of China. As a result, 12 million tons of crops harvested in China each year are contaminated, which translates into 20 billion yuan (US$ 3.2 billion) of economic losses every year. 
According to Time Weekly, the Ministry of Environmental Protection and the Ministry of Land and Resources conducted a nationwide investigation into soil pollution in 2006. To avoid bias, the surveyed land was divided into 4-by-4 kilometer (about 2.4-by-2.4 miles) square grids using GPS technology, and soil samples were taken from each grid. The investigation took three years to complete, with almost 20,000 staff collecting and analyzing soil samples from around the country. 
The investigation cost 1 billion yuan, but its results were never made public. On Jan. 31 this year, Dong Zhengwei, an attorney based in Beijing, submitted an inquiry to the Ministry of Environmental Protection asking it to "publish the data from the nationwide soil pollution investigation and the causes of the pollution." The ministry never replied to Dong. 
Although the ministry never officially released the full investigation report, it appears that parts of the report were later leaked to the public.
Poisoned Rice
Based on the leaked documents, which appeared on the Internet recently, long-term industrial pollution has resulted in the accumulation of agricultural chemicals, heavy metals, and non-biodegradable organic pollutants in the soils in developed regions such as the Pearl River Delta, the Yangtze River Delta, and the Bohai Economic Rim. 
The polluted regions are also expanding. In some cities in southern China, half of the farmland was found to be polluted with toxic heavy metals such as cadmium, arsenic, and mercury, as well as petroleum-based compounds. In the Yangtze River Delta, 10 percent of the sampled farmland was found to be no longer suitable for growing crops, because of heavy metal pollution.
The document said that up to 10 million hectares, or over 10 percent of China's farmland, has been contaminated with heavy metals, with most of the pollution occurring in more economically developed regions. 
In 2002, the China National Rice Research Institute conducted tests on rice samples from markets across China. The result showed that 28 percent of the sampled rice contained excessive levels of lead, and 10.3 percent had excessive levels of cadmium. In 2007, professor Pan Genxing from Nanjing Agricultural University led a research group in a similar nationwide study, which also found that about 10 percent of the rice in China's markets contained cadmium. 
Reliance on Imports
The most immediate impact of soil pollution is the damage it causes to food production. At least 10 million tons of rice each year are lost due to pollution from pesticides, fertilizers, and industrial waste, according to Li Fasheng, a researcher at the Department of Soil Pollution Control in Chinese Research Academy of Environmental Sciences, who spoke to Chinese media.
According to Han Jun, the deputy director of the Development Research Center of China's State Department, "China imported 80.25 million tons of grain in 2012. Assuming that the average person consumes 400 kg of grain a year, we imported enough grain alone last year to feed 190 million people in China."
Read the original Chinese article. 
The Epoch Times publishes in 35 countries and in 21 languages. Subscribe to our e-newsletter.