Parents Outraged by Officials' Milk Safety Propaganda, More Quit the Party
October 7, 2008 6:25 pm Last Updated: October 1, 2015 10:46 pm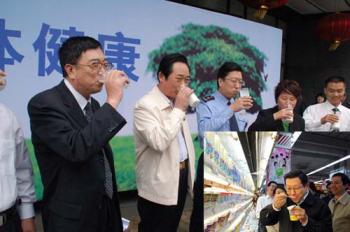 China's minister of General Administration of Quality Supervision, Wang Yong, and other high-ranking officials are boldly drinking milk in public to convince Chinese residents that the melamine scare is over. In contrast to their expectations, the milk drinking performances have caused more anxiety, anger and renunciations of the Chinese Communist Party (CCP) by the Chinese public.
Chinese officials have been singling out a few culprits and claiming to have "decontaminated" and "quality tested" milk formulas for melamine, but they have failed to address the root of the problem. In stead, officials have focused on putting on milk drinking shows to prove that quality assurance tests have been passed.
Parents whose children are victims of the contaminated formulas refuse to believe the CCP officials safety claim. Some parents expressed intentions to quit the CCP and its affiliated organizations such as the Communist Youth League (CYL) as a protest against the melamine scandal.
Quality Supervision Minister: All Passed Quality Testing
On October 2, China News reported that inspectors from the General Administration of Quality Supervision, Inspection and Quarantine found no melamine from their testing. The inspectors spot checked 418 samples from 65 brands five times.
Wang Yong, Minister of Quality Supervision drank Mengniu brand milk during his investigative visit to Hebei Wangdu Mengniu Dairy Product Company, Ltd. and Hebei Xinxiwang Tianxiang Dairy Products Company, Ltd. Wang Yong has publicly praised milk products as "tasty!" and something his family never stops consuming.
Parents of children who drank contaminated milk, such as Mr. Wang, an engineer from Qingdao City, are angered by the milk propaganda. Wang's son, now three, has been drinking Sanlu milk formula since he was six months old. His son is hospitalized and examinations show development of kidney stones.
Wang said that the public milk drinking demonstrations are deceiving people to consume contaminated food, which is equal to continually poisoning people. Wang had quit the CCP after being tired of all the lies and disgrace. "It once again shows that the regime does not take people's lives seriously. This scandal is far from over," Wang added.
Ms. Han, a middle school political science teacher in Shanghai, said, "The drinking demonstration is a stupid political show. The officials think they have enough credibility to influence people, but their reputation has long been ruined."
Ms. Han requested to quit the CCP and said, "The CCP is a cancer for China. As long as the root of the cancer still exists, it's impossible to eliminate contaminated food. Today I formally declare that I am quitting the CCP. Although I quit the party in my mind a long time ago, I still want to do it formally."
According to Mr. Guo, an accountant from Wuxi, Jiangsu Province, this is not the first time the officials have done similar public demonstrations. Guo said that during the algae bloom in Tai Lake last year, the local party Chief held a water drinking demonstration. People later learned that the water he drank had already been filtered by advance technology imported from Germany.
Mr. Guo also expressed the wish to quit the CCP. He said, "Today I solemnly declare that I am quitting the CYL. Nobody believes communism anymore, and especially after this scandal, I believe more people will lose their confidence in the CCP completely. I stopped paying the membership fees a long time ago, and today officially I quit. It is also a heavy stance against the contaminated food scandal."
Officials Engage in Conflict of Interest
Kong Defeng, a Beijing lawyer, wrote an article, pointing out that the milk demonstrations constitute conflict of interest for the officials. He believes that as officials, they need to monitor the milk supply, but that can't be done objectively if they are also trying to promote milk consumption regardless of safety concerns
According to Kong, a government entity and its officials are the monitors of the market. The officials cannot speak on behalf of any enterprise. Kong believes that it's obvious that through the milk drinking demonstrations, the officials are advertising for the dairy enterprises and using their assumed credibility to endorse and promote the enterprises.