New Zealand Dairy Says Its Products Are Safe
August 14, 2010 12:20 pm Last Updated: October 1, 2015 7:20 pm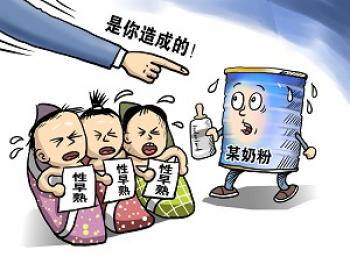 [ New Tainted Milk Health Scare in China NTDTV ]
In the midst of yet another possible wave of tainted milk powder products from China, New Zealand dairy giant Fonterra stated on Aug. 11 that as a supplier of milk powder to China's Synutra International, the company "remains 100% confident about the quality of its products."
Synutra is a leading infant formula company in China, with market shares said to be in the top three of the country.
Chinese media reported that three infant girls in Wuhan City, Hubei Province developed premature sexual symptoms, and that growth hormone present in milk powder from Synutra was a suspected cause.
Synutra issued a statement on Aug. 9 that the company has "participated in exhaustive quality control testing at all required government levels," and that "upstream ingredient suppliers are also reliable and trusted around the world".
On its Chinese website, Synutra stated the whole milk powder used in the concerned formula series was supplied by Fonterra and before that, Eurosérum from France had been the supplier of the whole milk powder.
However, the company does have another formula series that uses whole milk powder from northeast China.
Many concerned young Chinese mothers reacted by taking their babies to the hospital for a checkup after the issue was exposed. Not long afterwards, Chinese media reported a dozen of similar cases in Jiangxi, Shanghai, Shandong, Guangdong, and other places.
Health Times (Jiankang Shibao), a weekly paper put out by the regime's mouthpiece, People's Daily, reported that an infant girl from Wuhan was diagnosed with an estradiol level as high as 48.83 pmol/L. By contrast, an adult female's minimum level is 22 pmol/L.

The premature sexual development that occurred, allegedly after consumption of Synutra milk, included symptoms such as breast growth, the hardening of tissue under skin, and inflammation of the vagina.
In its Aug. 9 web disclosure, Synutra said,"We do not add hormones to our products and we have invested heavily in research, quality control, formulas and ingredients."
The victim's mother took issue with the company. According to Qianjiang Evening Newspaper, Ms. Deng from Wuhan indicated that her daughter's vaginal inflammation was obviously ameliorated after being taken off of the Synutra milk formula, though hard tissue remained in the infant's breast. She wanted to have the product analyzed, but the relevant agency would not deal with individual requests, and hormone testing was not included in its standard milk analysis testing.
Health Times reported that this current incident bears similarities to the Sanlu company incident in 2008: the melamine-tainted milk powder scandal that left at least six infants dead, and hundreds of thousands ill. A reporter in Wuhan commented to Health Times that before Sanlu admitted the crime, "I've visited all possible places. Yet no one cares, and not a single [government] department wanted to be the first to conduct the analysis."
Deng Haihua, a spokesman for China's Health Ministry, said on Tuesday that food safety officials are investigating a specific infant formula brand for the premature sexual symptoms associated with its alleged consumption.