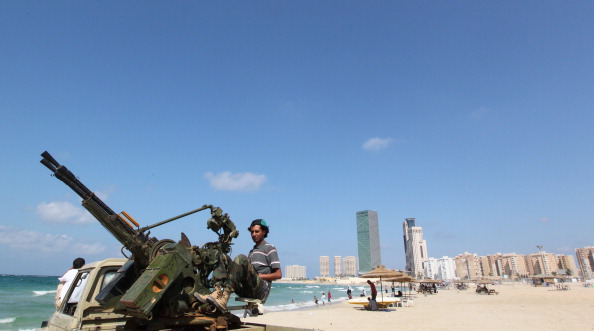 Gun battles between rival militia groups erupted near center of the Libyan capital, Tripoli, on Wednesday, a sign that there is still much work to be done three months after the collapse of Moammar Gadhafi's regime.
Reporters with Sky News and Reuters said they could hear heavy and light machine gun fire near El Saadi beach, near the location of the home of Gadhafi's son, Saadi. Witnesses told Sky that the militias were trying to establish control over the compound.
Both militias who were exchanging gunfire with one another were involved in the toppling of Gadhafi's regime last year, Reuters reported.
The Interior Ministry blocked a one-kilometer (0.6 miles) section of a road alongside the beach, a spokesperson told Reuters. The official said that the fighting was between groups who fought in Misrata and Zintan last year.
"Misrata controls a police academy building up the road and they are fighting with Zintan. We do not know why they are fighting," the official told the news agency.
Several groups have set up military camps outside of Tripoli, and they fight with one another at times.
The interim National Transitional Council has faced a series of hurdles in trying to reunite the country, with reports of fighting in the town of Bani Walid last week. Rights groups have also recently criticized the government for allowing torture and mistreatment to take place in prisons throughout the country.
Saadi Gadhafi, a businessman and former soccer player, fled in September to Niger and was granted asylum by President Mahamadou Issoufou, who said he was doing so on "humanitarian grounds." Gadhafi, who is wanted by Interpol, was in charge of a special forces unit during last year's civil war.