Military trucks carried the bodies of those killed by the CCP virus out of an Italian town where the crematorium has been overwhelmed, as the national death toll soared to 475 in one day.
Bergamo, a wealthy town just 30 miles from the capital Milan, lies in the northeastern Lombardy region, which has been hardest hit by the pandemic with 300 deaths in one day.
The local crematorium in Bergamo—itself the worst-hit province—has been working 24 hours a day but unable to handle the growing numbers, according to local reports.
Videos of military trucks leaving the area circulated on social media on Thursday as an Army spokesman confirmed that 15 trucks and 50 soldiers had been deployed to move the bodies to to other provinces, according to Reuters. With the crematorium unable to keep pace, the number of bodies in coffins had built up in the town to over a hundred, with some stored in the local church, according to one local media report.
Italy is the worst affected nation outside of China, with a total of 35,713 confirmed cases and 2,978 deaths so far caused by the CCP virus, commonly known as the novel coronavirus.
On Wednesday, 475 people died from the virus that day alone. The 24-hour death toll a day before was 345, according to ANSA.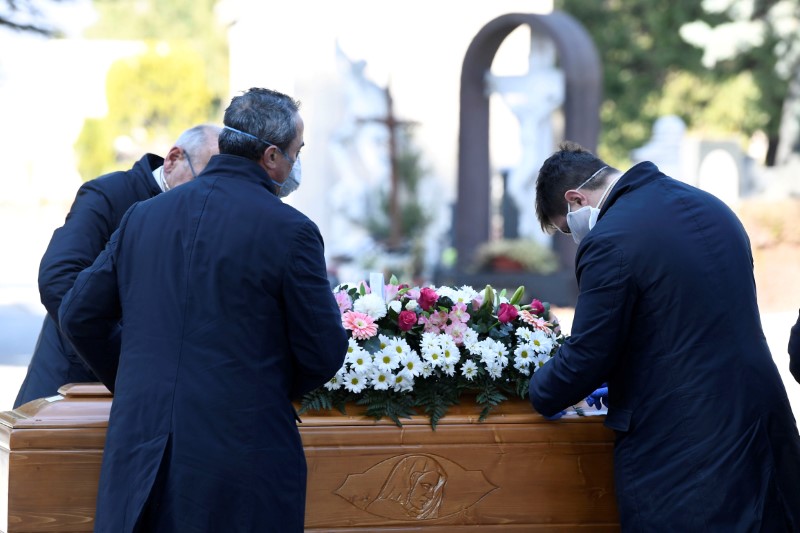 Just over 8 percent of the nation's health workers have become infected with the CCP virus, according to authorities.
The military has been drafted into the fight with the virus in other ways in Italy.
The Ministry of Army showed images of military field hospitals being set up in the town of Piacenza, about 40 miles southwest of Milan.
Hospitals in northern Italy, where the pandemic got its first toehold in Europe, have been pushed to the breaking point, as cases rise across the rest of the country, putting pressure on the national health system.
The government announced on Tuesday that it will rush 10,000 medical students into service, waiving their qualifying exams as the nation struggles to handle the outbreak. Those graduates will be sent to general practitioners' clinics and at retirement homes, leaving the more experienced doctors to handle the rapidly filling hospitals.
Outside of China, Europe has become a secondary epicenter of the virus in the last week, with Spain, Germany, and France picking up more than 40,000 confirmed cases total.
Spain, France, and Italy, along with some other European nations, have adopted various stringent lockdowns in an effort to stem the spread of the virus.
The Epoch Times refers to the novel coronavirus as the CCP virus, because the Chinese Communist Party's coverup and mismanagement allowed the virus to spread throughout China and create a global pandemic.