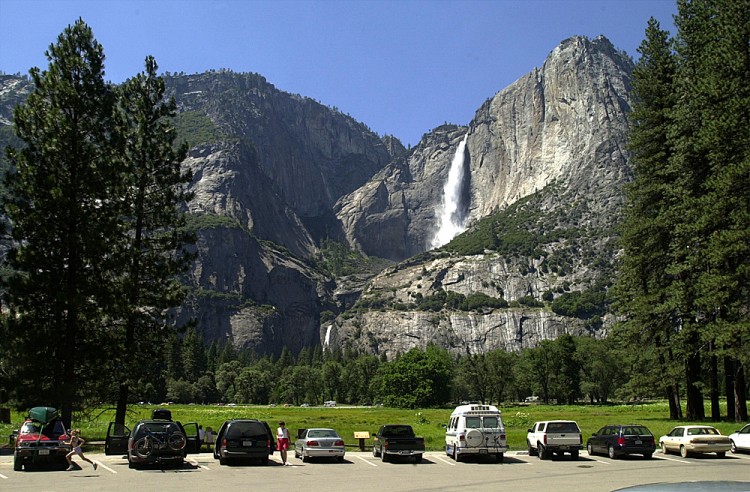 Members of the military will be eligible for an annual pass providing free access to national parks and recreational sites across the United States, the federal government announced Tuesday.
The pass is part of the Joining Forces initiative, founded by First Lady Michelle Obama and Dr. Jill Biden, to mobilize all sectors of American society in providing support for U.S. service members and their families.
"First Lady Michelle Obama and I started the Joining Forces initiative last year as a way to honor, recognize, and support our veterans and military families," said Dr. Biden. "This effort is a wonderful way to give something back, giving our military men and women and their families a chance to reconnect with their loved ones, experience the beauty of this country, and simply have a little fun."
The pass involves a number of U.S. government agencies, including the Fish and Wildlife Service, USDA Forest Service, and the National Park Service. It will grant free access to more than 2,000 national parks, wildlife refuges, national forests, and other public lands.
The program was announced at a ceremony in the Colonial National Historical Park in Yorktown, Va., on Tuesday.
"Our nation owes a debt of gratitude to our service men and women who make great sacrifices and put their lives on the lines to protect our country and preserve our freedom," Department of the Interior (DOI) Secretary Ken Salazar said at the ceremony. "In recognition of their contributions and service, we are putting out a welcome mat for these brave men and women and their families at America's most beautiful and storied sites."
The annual pass—which has an extensively long official title—is better known as the America the Beautiful Military Pass, and is available to active duty service men and women in the Army, Air Force, Navy, Marines, and Coast Guard, as well as activated National Guard and Reserve members.
The pass was given out to service men and women attending the Virginia ceremony but will be nationally available Saturday, May 19, as part of Armed Forces Day.
The pass is not transferable but will be available to any active duty personnel and dependents, provided they have a current, valid military identification card.
The pass will cover not only the pass owner but any passengers in a private non-commercial vehicle, or the pass owner and up to 3 additional adults for sites that charge per person. Children under 15 are free.
"Our soldiers, sailors, and airmen give so much to this country. The federal family is honored to thank them for their service by offering them an opportunity to visit the natural resources that they defend," said Assistant Secretary of the Army (Civil Works) Jo-Ellen Darcy.
Recognizing Service Members
First Lady Michelle Obama and Dr. Jill Biden have become a powerful team in supporting American service men and women. Last month Dr. Biden and Gen. Martin Dempsey, chairman of the Joint Chiefs of Staff, announced the winners of the Joining Forces Community Challenge, which sought to encourage and highlight organizations that are helping military families.
Among the winners was Defending the Blue Line (DTBL), a hockey-focused program that facilitates everything from free tickets to matches, equipment, and holiday clinics for kids.
Shane Hudella, a founder of DTBL, told the audience at a recent award ceremony that he and others in the organization have been personally impacted by the children they have helped.
The organization recently donated hockey equipment to a 7-year-old boy whose father was killed during his deployment. They learned that the boy loved playing hockey, and that it was so important for him to get to the rink and bond with other kids.
His coaches formed a web of support for the boy while he was grieving, and they have become like father figures to him. The group says the equipment DTBL provided for him is helping him through his grief.
The Epoch Times publishes in 35 countries and in 19 languages. Subscribe to our e-newsletter.