Military Exercises Demonstrate Weaknesses
October 23, 2006 12:00 am Last Updated: October 23, 2006 12:00 am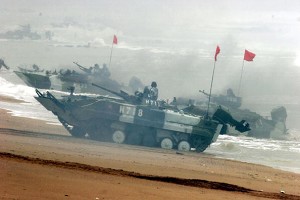 CHINA—During five days of rigorous war exercises, dubbed Queshan 2006, four departments of the Chinese People's Liberation Army's (PLA) assessed the capabilities of their troops.
On October 13 the first military exercises jointly organised by four departments of the PLA (General Staff, General Political Warfare, General Logistics, and General Armament) began in Zhengzhou, Henan Province.
Over five days and five nights, the troop's fighting capabilities were tested, sometimes under an electromagnetic environment. During the exercises a motorised division under PLA Jinan Military Area Command maneuvered 10,000 soldiers over almost 1,000 kilometers.
CCP mouthpiece Xinhua News Daily reported that Major General Cui Yafeng, general director of the Queshan 2006 military exercises, spent 30 minutes reporting the results of the evaluation, of which 28 were used to summarise the major faults that occurred and the other two stating the successes.
The report indicated the main problems were: the commander of the attacking division postponed the attack three times, which resulted in the division being left in a vulnerable position for almost 50 minutes in front of enemy lines, when the division requested firepower support, it did not give the precise timing and location, and when the attacking troops fired the new missiles at five targets, only two were hit. Also, some of the division's detachments communicated with cell phones instead of the required military radios.