Former heavyweight boxing champion Mike Tyson claimed that he offered a large sum of cash to fight a silverback gorilla in 1986.
Tyson, 52, who previously owned a number of exotic animals during his heyday, said he wanted to pay $10,000 to fight a gorilla, saying he wanted to "smash the silverback's snotbox."
He told The Sun that he was walking around the zoo with his then-wife Robin Givens. That's when he apparently saw a dominant alpha male bullying the rest of the gorillas in a zoo enclosure.
"I paid a worker at New York's zoo to re-open it just for me and Robin," "Iron Mike" told the news outlet. "When we got to the gorilla cage there was one big silverback gorilla there just bullying all the other gorillas."
The gorillas, he said, "were so powerful" but he noted an innocence in their eyes.
"I offered the attendant $10,000 to open the cage and let smash that silverback's snotbox. He declined," Tyson said.
He obviously wasn't successful in getting the zookeeper to allow him to fight the animal.
Would Mike Defeat a Gorilla?
Even though Tyson's speed and ferocity in the ring in the 1980s were legendary, he likely wouldn't stand a chance against a male silverback, which can weigh in excess of 400 pounds depending on the species.
According to SeaWorld's website, "An adult gorilla's upper body strength is six times more powerful than that of an adult human, enabling them to lift, break, and squeeze heavy objects."
Gorillas, meanwhile, have large, sharp canine teeth as they mature, according to the website.
"Gorillas' arms are longer than their legs. This allows them to walk on all four limbs while still remaining somewhat upright," says LiveScience.
Meanwhile, as a relatively small heavyweight, Tyson weighed only about 220 pounds in his prime.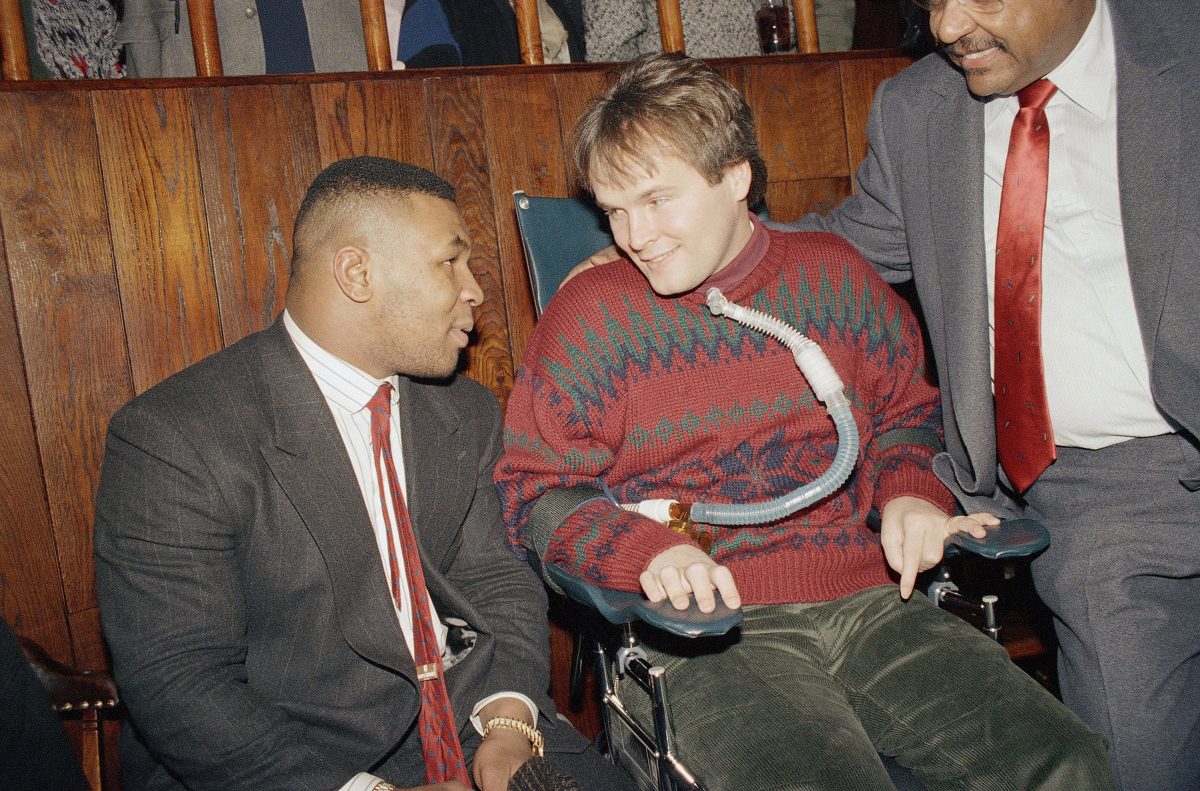 Tyson has famously raised pigeons in his hometown of Brooklyn and even owned several tigers when he was making millions per fight in the 1990s.
Before that, he won gold medals at the 1981 and 1982 Junior Olympics before winning the World Boxing Council (WBC) heavyweight title after defeating Trevor Berbick in 1986.
In 1988, he knocked out Michael Spinks and took the lineal title before defending his heavyweight title nine times.
A Look Back: Mike Tyson Wrestles His Tiger at Mansion for Roseanne Barr – https://t.co/dUAEgJWjes pic.twitter.com/sA1T5iIBZR

— LSUoogle (@LSUoogle) February 17, 2019
But in 1990, Tyson was stunningly knocked out by Buster Douglas.
A few years later, he was convicted of rape and got six years in prison, but he was released on parole after serving three years.
Tyson took the WBC and WBA titles in 1996. Later, he lost twice to Evander Holyfield, including the infamous 1997 match when he was disqualified for biting his opponent's ear.
In his prime, Mike Tyson wrestled his pet tiger. No wonder he was unstoppable in the ring. pic.twitter.com/M0nPkNFQow

— Welile 'Wellington' G (@WelsWG) February 15, 2019