Former Arkansas Governor Mike Huckabee, the father of White House Press Secretary Sarah Sanders, said in a recent interview that he thinks his daughter would make a "great candidate and terrific office-holder" if she decides to take a political route after stepping down from her current role.
Huckabee appeared on Fox's "America's Newsroom" to talk about Sanders's decision to leave the White House at the end of the month and discuss her possible future plans.
"President Trump has treated her with the highest level of respect and kindness," Huckabee said during the interview on June 14, where he said he was proud of Sanders for serving the president "admirably, loyally. and faithfully."
"She is incredibly loyal to him and indeed grateful for the experience of a lifetime. Just last week I was going through and getting some Chick-fil-A and she was dining with Queen Elizabeth and the next day having lunch with Prince Charles," Huckabee said, referring to the president's state visit in the UK.
"What a life she has been able to enjoy," he continued. "She loves this president and will always be grateful for the way that she treated him and for the extraordinary experience that she has been able to have."
Trump announced on June 13 that Sanders would be leaving the administration at the end of the month and return home to Arkansas.
"She is a very special person with extraordinary talents, who has done an incredible job! I hope she decides to run for Governor of Arkansas—she would be fantastic. Sarah, thank you for a job well done!" Trump wrote.
….She is a very special person with extraordinary talents, who has done an incredible job! I hope she decides to run for Governor of Arkansas – she would be fantastic. Sarah, thank you for a job well done!

— Donald J. Trump (@realDonaldTrump) June 13, 2019
During an emotional farewell speech on June 13, Sanders said the opportunity to take on the role of press secretary had been an "honor of a lifetime," Fox News reported.
"This has been the honor of a lifetime, the opportunity of a lifetime. I couldn't be prouder to have had the opportunity to serve my country and particularly to work for this President. He has accomplished so much in these two and a half years, and it's truly been something I will treasure forever," she said.
"It's one of the greatest jobs I could ever have. I've loved every minute. Even the hard minutes, I have loved it. I love the President. I love the team that I've had the opportunity to work for. The president is surrounded by some of the most incredible and most talented people you could ever imagine. And it's truly the most special experience."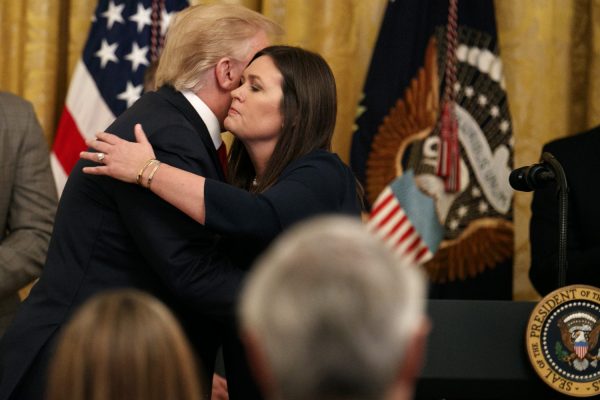 She also added that the only thing better than serving in the Trump administration was being a mother.
Trump described Sanders as "a warrior," which was echoed by Huckabee on June 14, and he expressed appreciation for her "outstanding job."
"I have three amazing kids, and I'm going to spend a little more time with them. And, in the meantime, I'm going to continue to be one of the most outspoken and loyal supporters of the president and his agenda," she said.
During the June 14 interview, Huckabee said he was not sure what Sanders's next steps are but said his daughter would likely spend the next few months readjusting to life outside the nation's capitol.
"She wants to decompress, spend time with her kids and enjoy the summer away from it," he said. "She will start looking to the future. She hasn't made specific plans. I don't know if she will run for office, but if she does she will be a great candidate and terrific office-holder whatever it might be."
White House Looking at Candidates
During an interview with Fox & Friends on June 14, Trump said he's looking at a number of potential candidates to replace Sanders.
"I have a lot of people that want it," he said during an interview on Fox & Friends.
Trump named several people, including Stephanie Grisham, director of communications for First Lady Melania Trump, who he said was "terrific."

He also said that he likes Anthony Scaramucci, former White House communications director, but added that he should stay in his current role as a political consultant.
Two sources told Fin Gomez of CBS, formerly of Fox News, that interviews could begin next week and that Grisham was a strong candidate.
"Stephanie Grisham is well-respected by the first couple and has impressed the president, according to the sources. Grisham was among the staff who worked on the president's 2016 campaign," Gomez noted.
Other possible replacements included Tony Sayegh, who was spokesman for Treasury Secretary Steven Mnuchin, Steve Cortes, a pro-Trump CNN contributor, and Hogan Gidley, Sanders's deputy press secretary, Gomez reported.
NTD reporter Zachary Stieber contributed to this report.