Amid the recent calls to pack the court following President Donald Trump's push to appoint Supreme Court Justice Amy Coney Barrett, the founder of the Article III Project organization said such a move would be tantamount to a "radical assault" on the judicial system.
"Court-packing is a radical assault on judicial independence," Mike Davis, the founder of the organization, told The Epoch Times on Tuesday. And it differs from "what President Trump and Senate Republicans are doing," he said, adding they "are filling existing vacancies and doing their job very well."
Davis cited former President Franklin D. Roosevelt's ultimately unsuccessful efforts to expand the court from 9 justices to 15 justices in a bid to get his New Deal programs passed in the mid-1930s.
But FDR ultimately "failed," and top members of the Democratic Party "rejected this as too radical," he said. Decades later, the late Justice Ruth Bader Ginsburg in 2019 "made the extraordinarily extraordinary public announcement of court-packing" and termed "it an assault on judicial independence," Davis added.
"The Democrats want to pack the Supreme Court. They don't want to be honest about it," he argued.
Following Barrett's confirmation on Monday night, various celebrities, and leftist politicians called for the court to be expanded.
"Expand the court," wrote Rep. Alexandria Ocasio-Cortez (D-N.Y.) on Twitter in a highly-shared post before she accused the GOP of taking advantage of Democrats who they didn't think would take action.
"Republicans do this because they don't believe Dems have the stones to play hardball like they do. And for a long time they've been correct. But do not let them bully the public into thinking their bulldozing is normal but a response isn't. There is a legal process for expansion," she later said.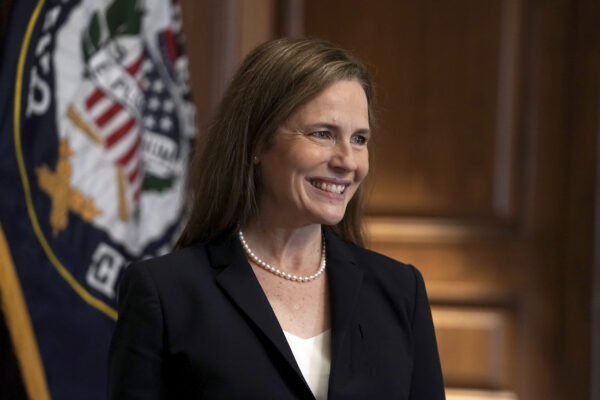 Throughout Barrett's confirmation hearings, Democrats have argued that Republicans were acting without precedent by attempting to confirm a justice so close to a presidential election. They also asserted that when Justice Antonin Scalia died in 2016, former President Barack Obama tried to nominate Merrick Garland, a liberal judge, to replace Scalia but were ultimately blocked by Senate Republicans and Majority Leader Mitch McConnell (R-Ky.).
McConnell last month contended that Barrett's nomination fell within precedent and proceeded with the confirmation hearings in the Senate Judiciary Committee.
In the midst of the push to pack the court, Democratic presidential candidate Joe Biden his vice-presidential pick Kamala Harris have remained mostly mum on the idea. Biden has proposed a bipartisan commission to evaluate the court system, but would not explicitly rule out packing the court.
Davis told The Epoch Times that if Biden and Harris secure the White House in November and Democrats win in the Senate and House, they will attempt to make transformative changes to the way government works.
"They will nuke the legislative filibuster, something that's been around since the 1830s, meaning they will lower the vote threshold from 60 to 51 votes, they will pack the Supreme Court, they will add new states D.C., Puerto Rico, maybe the Virgin Islands. So you'll have two, four, maybe six New Democrat senators, they'll lock in their gains, and they will have a permanent majority in the House, in the Senate and on the courts for you know, permanently," he warned.
David asked: "Do we want to have a nine-member supreme court with justices like justice Amy Coney Barrett? Or do we want to pack the Supreme Court and turn it into a purely political body with justice Hillary Clinton, and they get to decide when we get to speak and when we have to remain silent, they get to decide where we can associate … they can decide when, when it's acceptable for us to worship when it's not acceptable for us to worship … they get to decide whether we get to have arms to protect ourselves, and protect our families while they have their government-funded security details. That's what's on the line."
Jan Jekielek contributed to this report.