A blog post alerted China's netizens to the plight of the migrant workers in Yunnan: Homesick, short on the cash needed for train tickets, and with Chinese New Year fast approaching on Feb. 19, they've chosen to walk back to their hometowns, some hundreds or over a thousand miles away.
A Feb. 14 post on the social networking site Weibo by a netizen calling himself "Suchen migrant worker" described how construction workers at the Suchen construction company in Dali Prefecture in Yunnan Province had not been paid for months despite repeatedly badgering management for their wages.
"With no money, those of us who are homesick have decided to make the journey home on foot," the post read.
Included in the Weibo post were photos showing some 20 workers, luggage or children in tow, as they headed away from Dali. In one photo, the workers are shown begging for money at the train station, but to no avail.
With no money, those of us who are homesick have decided to make the journey home on foot.
After the blog post, the Chinese regime mouthpiece Xinhua picked up the story. The workers hail from all across China, from neighboring Sichuan to the far-flung coastal province of Fujian, over a thousand miles from the mountainous Yunnan, Xinhua reported.
One worker, Zhao Lianfu, told Xinhua that the construction site, a tunnel and bridge project run by Suchen since November 2013, employs over 1,000 people. The company currently owes its workers over $11 million (70 million yuan) in unpaid wages.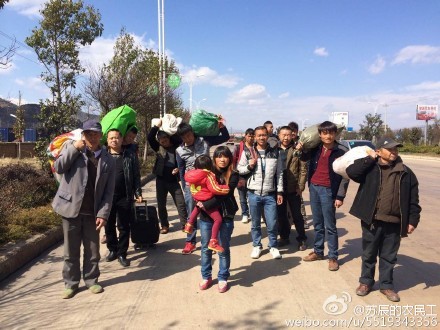 Violent Repression
The migrant workers protested multiple times to receive their wages, but doing so proved hazardous. On Feb. 10, when hundreds demonstrated at the construction site, riot police showed up and beat over 100 of their number. Dozens were arrested and detained.
Following state reporting on the scandal, Internet users posted their disdain for previous media coverage of Dali:
"Such irony. Just the other day, CCTV-2 was reporting about Dali's progressive status in not being in arrears on migrant workers' pay! Now it has become a joke!" reads one post on the Chinese website NetEase.
Another user, in mockery of a 2012 propaganda stint by Chinese state television that purported to show the high state of life in China, wrote, "Why doesn't CCTV ask if you are happy?"
Other users criticized the role of police in suppressing the workers.
To shield itself from public criticism, the Suchen company offered its workers cash to cover their transportation fees, while still refusing to pay their wages.
"The foreman caught up with us the day before yesterday," Shang Fameng, one of the workers, told New York-based New Tang Dynasty Television, "and gave us each 1,000 yuan (about $160) for our travel expenses. So yesterday morning we took the bus home."
The migrant workers protested multiple times to receive their wages, but riot police showed up and beat them.
According to the state-run Dali Daily, the bridge and tunnel project was started in October 2013. Suchen, a private firm, was paid $38 million (240 million yuan) to fund the construction, but "internal disputes" regarding costs led to delays in employee compensation.
The Dali city government has established a working group to ensure that Suchen pays its workers, the report said. Since the city government dispatched riot police who beat the workers protesting for their wages, its good faith may be questioned.
Economic Crisis
The mistreatment of migrant workers is not unusual in China. Reports of companies drastically underpaying workers, or not paying them at all, are common.
Why Suchen was unable to pay its workers is not known. The recent downward slide of the Chinese economy raises the question of whether other companies may be facing similar difficulties.
According to Lombard Street Research, a macroeconomic forecasting consultancy, the Chinese economy may be in dire straits: China's real rate GDP growth in Q4 2014 was a mere 1.7 percent, a fraction of the 7.3 percent announced by Chinese authorities in January.
In recent years, China has also seen an explosion in capital flight, as high-ranking officials liquidate their assets and move it overseas.
China's debt has quadrupled since 2007, according to estimates by consultancy McKinsey & Co. A report published this month shows that total debt in 2014 was $28 trillion, compared to just $7 trillion in 2007. China's debt load is 282 percent of its GDP, higher than that of the United States or Germany.
While debt is generally manageable provided the economic activity it generates is profitable, China's debt is overly concentrated in the real estate sector and off-balance government transactions at the local level.
Much of the investment carried out by Chinese private and state-owned enterprises has not resulted in successful growth. Overcapacity in the industrials, as well as the infamous "ghost towns" reflect the nature of China's authoritarian market system.