A migrant has been sentenced to 8 1/2 years in prison for killing his 15-year-old German ex-girlfriend.
The person, who is known only as Abdul D., owing to Germany's privacy rules, stabbed the girl at a drug store in the small southwestern town of Kandel, in December 2017.
The slaying shocked Germany and has fueled a debate about violence committed by migrants, more than a million of whom have entered the country since 2015.
Last month, the fatal stabbing of a 35-year-old man, reportedly by migrants from Syria and Iraq, in the city of Chemnitz, prompted protests from groups opposed to Germany's migration policies.
In March, an Afghan migrant, who was denied asylum in Germany, killed his girlfriend in the city of Flensburg for refusing to convert to Islam and wear a headscarf.
Related Coverage
On Sept. 1, there were protests in Kandel, with 350 people gathering, and in Chemnitz, where 11,000 anti-migrant and counter-protesters faced off.
Authorities haven't confirmed Abdul D.'s nationality or age, but German media have reported that he may be from Afghanistan and was on trial as a juvenile. He apparently entered the country in April 2016, according to a statement released in late 2017.
Entered Germany as a Minor
Abdul D. told authorities that he was 15 when the stabbing occurred, but German news agency DPA reported that an age evaluation during the trial found that he was at least 17.
Asylum-seekers who enter Germany as minors receive better treatment than those who are older, so some lie about their age. There are now calls for authorities to better assess the age of migrants when they enter the country.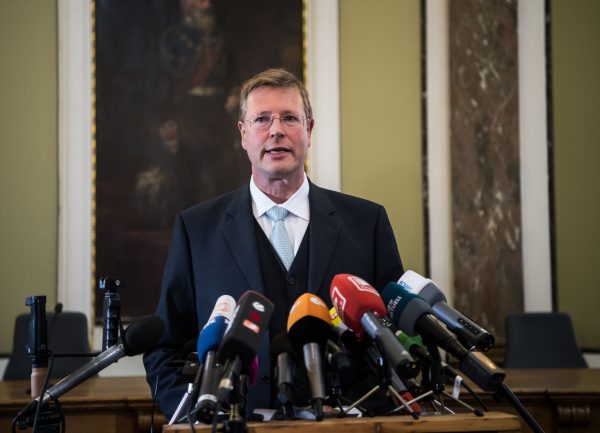 The girl, who was identified only as Mia V. during the trial, had ended the relationship with Abdul D. some weeks before the slaying, DPA reported. They met at school and dated for several months, prosecutors said. Twelve days before she was stabbed, she went to the police to press charges, including threat and insult, against him.
During the trial, prosecutors said that Abdul D. wanted revenge. He stabbed the victim seven times with a kitchen knife on Dec. 27, 2017.
'Appropriate Verdict'
Defense lawyer Maximilian Endler told reporters outside the court that it was the "right verdict."
"It came after we all made every effort to shed light on the darkness of this crime," he said, according to Reuters. "I think we were able to do that, as far as is possible in a criminal trial. And, as such, this is an appropriate verdict."
Endler had sought a sentence of 7 1/2 years in youth custody, but for manslaughter rather than murder, according to German court spokesman Robert Schelp. The public prosecutor called for the most severe juvenile punishment of 10 years for murder.
Endler said: "The public prosecutor has assessed how much of the sentence must be served. There will at some point be a decision about that and then it may be that the conditions are met for deporting him back to his own country. That is if deportations to that country are being carried out at that time, which we do not know."
The migrant doesn't intend to appeal the verdict, DPA reported, citing Endler.
There have been regular demonstrations in Germany against Chancellor Angela Merkel's liberal refugee policies.
After the protests in Chemnitz on Sept. 1, the widow of the man who was stabbed to death there told German media that he wouldn't have wanted the demonstrations.
"Daniel would never have wanted it! Never!" she said, adding that the protests were "not about Daniel anymore."