PIEDRAS NEGRAS, Mexico—Iris Rodriguez Portillo, 38, said she joined the migrant caravan after hearing about it on social media. She brought her 6-year-old daughter from Honduras.
"I was coming with the original caravan that was going to Tijuana, but the first people that arrived in Tijuana were causing trouble, so I decided to sidetrack and not continue on with the group," Portillo said on Feb. 15, through a translator. "When this other caravan started coming over here, I joined it."
She arrived in Piedras Negras, Mexico, on Feb. 4 with 1,800 other mostly Central American migrants, and has been staying in an old factory. Mexican officials say the de facto migrant camp will be cleared out by Feb. 21.
Portillo said that while she was in Tapachula, Mexico, the United Nations gave her 3,700 pesos (US $193) for her daughter, to help with food and other necessities.

As with many other migrants, Portillo had been told she could easily walk into the United States and claim asylum. However, in reality, it's not quite so simple, as she discovered when she arrived at the old factory after being transported in buses and trucks most of the way.
Mexican authorities issued Portillo and her daughter humanitarian visitor visas that are good until July 2020. But she wants to cross to the United States and apply for asylum as soon as possible.
Dispersing the Caravan
Over the past week, the caravan of mostly Central Americans has been broken into smaller groups and bused to other border cities in Mexico, including Juárez, Acuña, Reynosa, and Matamoros. On the U.S. side of those cities are El Paso, Del Rio, McAllen, and Brownsville.
Piedras Negras Mayor Claudio Bres told Mexican media that about 500 of the migrants have had their legal stay in Mexico rejected and now have 30 days to leave the country. Many others were granted a one-year humanitarian visa to live and work.
At least 100 criminals were identified among the migrants and subsequently deported, according to Secretary of Public Security of Coahuila José Luis Pliego Corona.
About 25 MS-13 gang members who travelled with the caravan also have been deported, according to Coahuila Gov. Miguel Riquelme.
"We had around 10 gang members identified. Today, there are around 25 identified, who have been deported by [our] joint efforts with the Mexican government," Riquelme told Mexican media on Feb. 18.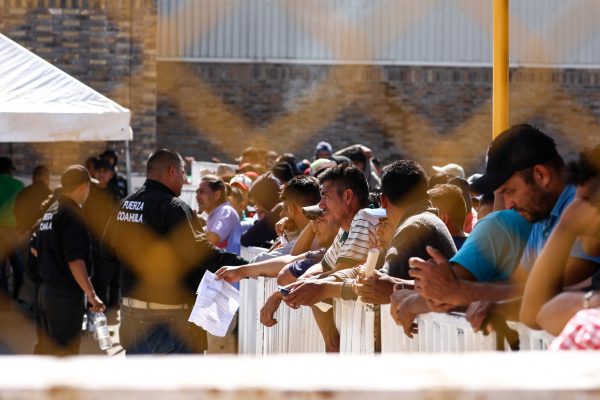 President Donald Trump signed a national emergency declaration on Feb. 15, saying the southern border is in crisis. The administration has identified $6.1 billion in the defense budget and $600 million from the Treasury Department to reappropriate toward building more fencing along the border.
"If you're going to have drugs pouring across the border, if you're going to have human traffickers pouring across the border in areas where we have no protection, in areas where we don't have a barrier, then it's very hard to make America great again," Trump said on Feb. 15.

Plans to Cross Illegally
Marvin Ruiz, 26, said he's fleeing the MS-13 gang, whose members tried to recruit him in Honduras. He said he heard about the caravan on social media and left his wife and child to join it.
"My wife and child are in danger now, but I didn't have the finances to bring them," he said.
Ruiz has a visitor visa for Mexico that expires in February 2020, but his goal is to get into the United States.
"Yes, I will cross river illegally. At the right time, I will go across," he said. He said he has a relative in Georgia.

Araceli Davila, 42, traveled from El Salvador with her two children, aged 24 and 14. She also heard about the caravan through social media. She only has a 45-day temporary permit, which expires on Feb. 23. Davila said she applied for a humanitarian visitor visa when in Tapachula, but left with the caravan before she received it.
"My brother lives in North Carolina, and I want to go there and work," she said.
Illegal Crossings Spike
Even running at 150-percent capacity, Customs and Border Protection in Eagle Pass, Texas, can only handle around 20 asylum claims per day.
Consequently, illegal crossings into the United States have surged in the area, and Border Patrol has been busy rescuing migrants who attempt to cross the deceptively swift and deep Rio Grande.
Many small groups cross easily from Mexico onto one of several small islands in the river under the international bridges; but the second part of the crossing is highly risky.

On Feb. 18, border agents saved a 12-year-old Honduran boy's life after hauling him unconscious from the Rio Grande, as he tried to cross with his brother and a Nicaraguan man. Agents pulled the boy's limp body onto their boat and resuscitated him with CPR, according to Customs and Border Protection.
"This incident highlights the dangers of attempting to enter the United States illegally," said Del Rio Sector acting Chief Patrol Agent Matthew Hudak. "If not for the training and quick response by our marine agents, this young boy would have lost his life."
On the same day, Border Patrol agents arrested a 35-year-old Honduran who crossed illegally into the United States. The man was a confirmed member of the MS-13 gang who had previously been deported in 2006.
"Violent criminals continue to illegally cross the border and attempt to enter the United States," Hudak said. "Our agents remain vigilant to prevent these types of criminals from entering and harming our communities."
The Epoch Times watched several groups attempt to cross the river on Feb. 16, with most getting into distress and having to be rescued, while some retreated to Mexico.
Border Patrol agents joked that their boat is called "the ferry"—as they basically ferry illegal crossers to the United States.

Border Patrol apprehended almost 400,000 illegal border crossers in fiscal year 2018. The volume this fiscal year is on target to hit 600,000. Border Patrol agents have encountered 58 groups of 100 or more people so far this fiscal year, compared to 13 total in fiscal 2018.
On Feb. 19 Mexican media reported violence on the country's southern border, as a group of at least 600 migrants from Central America forced its way over the border, throwing rocks at police.

Caravan Rumors
Rumors and folklore are rife in the migrant caravans and this one was no exception. When asked who was organizing it, several people mentioned a Honduran man named Carlos, an unnamed Mexican man, and a lawyer.
Portillo said a Mexican man joined the caravan as it passed through Oaxaca, Mexico, and took over the organization, escorting it all the way to Piedras Negras. She said the migrants were told to do what the man said, and that he was getting paid a lot of money to make sure they got to the U.S. border. Portillo couldn't provide the man's name, but said he had already gone back to get another caravan organized.
Ruiz said the lawyer was advising them on what to say, what to watch out for, and what to expect when entering the United States.

San Diego-based open borders group Pueblos Sin Fronteras ("People Without Borders") has been involved in assisting previous caravans, but there were no verifiable ties to this one. The group provided major assistance to last year's caravan that ended up in Tijuana, Mexico.
Another group, Los Angeles-based Al Otro Lado ("To the other side") was also in the Tijuana migrant camp advising migrants on the asylum process and how to deal with certain questions.
"It's important to be eligible for asylum," the organization's litigation director, Erika Pinheiro, said over a loudspeaker at the migrant camp at the Benito Juarez sports complex on Nov. 19.
"[Withholding of removal] is not a road towards residency and citizenship. That is, you'll only have a work permit; you'll never be able to leave the United States; you can't apply for your family members; you can't vote in the United States. Basically, you won't be deported but it doesn't have many benefits."

Beyond the Border
Department of Homeland Security Secretary Kirstjen Nielsen traveled to El Salvador on Feb. 20 to meet with her counterparts from Guatemala, Honduras, and El Salvador to discuss migration and security issues in the region.
The meeting is part of a campaign to step up cooperation in the region to bolster border security, target human-smuggling and trafficking organizations, prevent the formation of new migrant caravans, and address the root causes of the migration crisis, according to a Homeland Security statement.
The Trump administration announced a $10.6 billion foreign aid package for southern Mexico and Central America on Dec. 18.
The administration is also expanding the scope of the Alliance for Prosperity plan that began at the end of 2014. It was started by Guatemala, Honduras, and El Salvador and has been supported each year since by a U.S. congressional allocation of $460 million to $750 million.
The plan was based on a similar one in Colombia that helped to dismantle drug cartels, increase security, and foster economic activity.
About half of Central America's population—located in El Salvador, Guatemala, and Honduras—lives in poverty, according to State Department estimates.
In 2015, El Salvador and Honduras had the highest global rates of intentional homicides, respectively, according to data from the United Nations. And although the homicide rates in both countries dramatically declined in 2017, according to State Department data, they still exceed those of most countries in the region.
However, the migration flow is primarily driven by economic concerns and lack of economic opportunity, and poverty and localized violence aren't grounds for asylum under United States and international law.
Asylum-seekers need to prove that they have suffered past persecution or have a well-founded fear of future persecution in their home country because of their race, religion, nationality, political opinion, or membership in a particular social group.
But persecution is generally considered state-sanctioned or -condoned, which means the government of the alien's home country is the sponsor of the persecution. For example, in North Korea, the regime itself persecutes Christians.