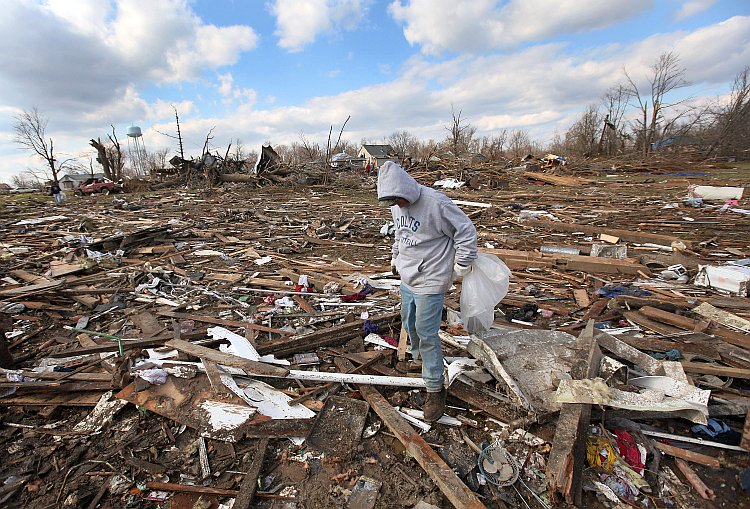 Residents are picking up the pieces after an early season storm that spawned several powerful tornadoes that smashed into towns in Indiana, Kentucky, and several other states, killing dozens.
"There's toys everywhere and stuff embedded in trees," said Harrisburg, Ill. resident Alice Retzloff, according to a report from WMC-TV in Memphis. "I'm nervous, I'm shaky, I'm tired. I just don't even have words for everything that you feel."
For folks in the vacation destination of Branson, Mo., the answer to the question of whether to stay and rebuild was clear.
"It's going to be tough, and it's going to be tough on Branson," Bob Pavelonis said, according to a report from Louisiana's KPLC 7 News. "But knowing the spirit of Branson, they're going to rebuild."
At least 38 people were killed in Friday's storms across five states, with local officials saying that 21 deaths were reported in Kentucky and 12 in Indiana.
Kentucky's Magoffin, Menifee, and Morgan counties were hit the hardest in the storms—considered the worst to hit the eastern part of the state in 25 years, reported the Lexington Herald-Leader newspaper.
The Indiana city of Henryville, located right on the state's southern border with Kentucky, was perhaps the worst affected area during Friday's storms, with images showing the wanton destruction left by several powerful tornadoes, according to the RTV-6 television station.
The two tornadoes that hit Henryville and nearby Chelsea were ranked EF-4, with both having winds of 166 to 200 miles per hour, reported Indiana-based WISH television, citing the National Weather Service.
The tornadoes left a large amount of debris on major roads including Interstate 65, which prevented rescue workers and others from getting to communities that were devastated. "Right now, we're getting by through the night as best we can," Maj. Chuck Adams of the Clark County Sheriff's Department in Indiana told RTV-6.
Aliene Hamm of Henryville said that while she was waiting in her car on Friday before the storms hit, she could see a funnel cloud. "It was about four miles from our house, but it was so large I could see it," she told the Indianapolis Star.
Indiana Gov. Mitch Daniels announced that he would travel to the affected areas on Saturday, according to a statement from his office.
"We've learned so much and improved so much in disaster preparedness, warning systems and responder communications but still we are no match for Mother Nature at her worst," he said in the statement.
On Saturday, after the storms passed, many local residents were tasked with sifting through the wreckage.
In West Liberty, Ky., where the National Weather Service said was hit by an EF3 tornado, local Martha Hall said she prepared just in time.
"We covered ourselves just in time," she told the Red Cross, who published her quotes on its website. "It went boom. You could feel the house move."
Roger Rose of West Liberty sorted through what was left of his furniture store. "The building is gone, and all the furniture is gone. I don't know. I have some insurance. I probably don't have enough," he told the Herald-Leader.
Across several states, where blizzard-like conditions are impending, the Red Cross opened 25 shelters to provide help for around 250 people.