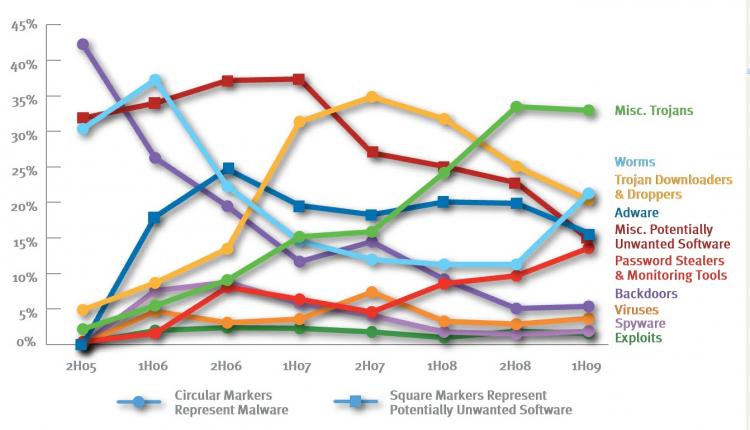 Fans of fantasy online multiplayer games like World of Warcraft or Lineage have been hit by a worm called Taterf, which steals personal data from the infected computer. Taterf is now at the number two spot for computers worms worldwide with 4.9 million infections, according to the newly released Security Intelligence Report from Microsoft.
The number one worm threat, which was detected mainly in enterprise environments, was Conficker with more than 5 millions infected computers, according to the study. Although Microsoft issued a patch in October 2008, the worm continues to infect computers worldwide.
The most common forms of cyber-threats are still prevalent, but their severity differs from country to country.
Trojans were the most prominent threat in the United States, United Kingdom, France and Italy. Users from Brazil suffered mostly from malware targeting online banking. Internet worms were prevalent in Spain and Korea. In China, several language-specific browser-based threats were prevalent.
Phishing as a fraudulent attempt to acquire sensitive information rose in the first half of 2009, targeting a wider range of websites, mostly gaming hubs, portals and websites of major corporations. Phishing attacks rose sharply in May due to a campaign targeting social networks.
The most common forms of e-mail spam were product advertisements (69%), of which the most prominent types were pharmacy products. Most of the spam originated from North America (33.4%), followed by Asia (30.3%) and Europe (23.8%).
Windows Vista more secure than XP
Microsoft's study confirmed that systems using the most current service pack are the most secure, measured by the number of infections per 1,000 computers. Windows Vista was infected 62% less than Windows XP, according to the report.
Windows 7, the latest addition to the family of operating systems from Microsoft, was not included in the report, which covers the first half of 2009 (1H09).
Another common threat listed in the report was Microsoft Office file format exploits, which targeted versions of Office which did not have the latest service pack updates applied. Most of those attacks targeted Office 2003 users.
The data presented in the study were gathered from Microsoft's security products such as Windows Defender, the Malicious Software Removal Tool (MSRT), or the recently released Security Essentials. Windows Defender and the MSRT are automatically installed with Windows updates or in the latest versions of Windows.