Microfinance in India: Small Loans, Big Impact
April 16, 2013 4:54 pm Last Updated: April 18, 2013 4:02 pm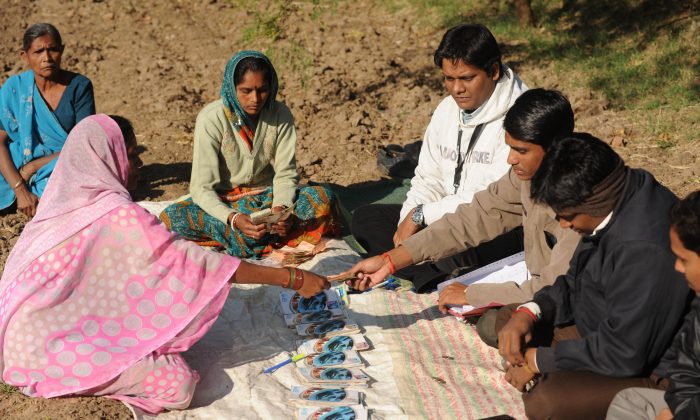 Since the concept was born in Bangladesh almost three decades ago, "microfinance has proved its value, in many countries, as a weapon against poverty and hunger," Kofi A. Anan, former United Nations secretary general, once said.
"It really can change people's lives for the better, especially the lives of those who need it most," Anan added, according to the United Nations website.
Baby Mangalath, an Indian entrepreneur in this industry, defines microfinance: "Microfinance is the organizing of marginalized people to offer them financial assistance through small loans which they could never get otherwise."
Economist Muhammad Yunus won the Nobel Peace Prize in 2006 for popularizing the concept. His microfinance work began in his native village of Bathua, Bangladesh, in the 1970s and spread far and wide over the next three decades. It is a growing business in India—one that Yunus has said can break a vicious cycle of poverty by providing opportunities for self-employment generation of income.

How It Works
Mangalath worked for microfinance companies for more than 10 years. Now, he runs his own business, Life Foundation, in Kerala State in Southern Indian. With 20 employees, he introduces microfinance schemes in villages all across the state.
Before going to a village, they arrange for a letter to be sent to every household, or for a village committee member to go to each home, to inform the people that a presentation on microfinance will take place. Mangalath and his team give a presentation, particularly geared toward women.
The team discusses viable projects with the villagers and projects are selected. The team tallies up the start-up funds needed, and disburses the loans—which come from banks as well as the microfinance company—accordingly.
Mangalath and his team follow up regularly and provide assistance along the way, including skills training.
"If you don't follow up, then there is a higher chance of the loan getting defaulted," says Mangalath.
Microfinance companies act as a sort of liaison with the community. Banks and financial institutions provide the funds, but don't have the manpower to send employees to village-level meetings, to visit villages and tell the people about business opportunities and guide them through the process. Mangalath says this is the service his company provides.
The work may look unorganized, but the accounts are all properly maintained, he assured The Epoch Times.
He explains why he focuses on projects for women: "Women are the backbone of the family. Their betterment leads to the well being of the whole family."
They are also less likely to default on loans, he said.
The projects often relate to farming, animal husbandry, or other small-scale enterprises.
With no access to formal financial services, the only other alternative available to people in many towns or rural communities is local moneylenders who charge extremely high interest rates. The borrowers are caught in an interest trap and keep paying all their lives sometimes. They end up paying many times the amount they originally got for the loan.
In rural India, moneylenders often make farmers work for no wages. Poor weather conditions, the need to have seeds, and equipment to compete with industrial farms, and other factors can cause a farmer to rely heavily on loans.
The high suicide rate among farmers in India has caused alarm over the past decade and has been much discussed in the media. Indian Agriculture Minister Sharad Pawar said last year that the government was increasing investment in agriculture to address the problem, according to the BBC.
A study published in the peer-reviewed medical journal, The Lancet, found, however, "Although most suicide deaths occur in rural areas, our findings do not suggest that suicide is any more prevalent in agricultural workers (including farmers) than it is in any other profession."
The Future
Microfinance plays a major role in the economic development of developing countries such as India, where the majority of people are poor or middle class. The industry is undergoing constant evolution as the needs of each person are unique and to meet them, new models must be created.
Companies such as Kiva.org are popping up online to provide people around the world with small loans starting at $25.
There are still many factors affecting the microfinance industry, as it is still in its infancy. With 1.2 billion living in extreme poverty all over the world, according to a World Bank estimate, the demand for microfinance certainly exists.